Search Results - New Mexico
---
As far as population density goes, New Mexico is one of the sparsest states in the nation with a total population of 1,984,356. However, there are still ample New Mexico commercial real estate listings to consider.
The government of New Mexico does a great deal to promote business in the state and offers tax credits and technical assistance. With the goal of creating new jobs, the law in New Mexico allows the government to provide buildings and commercial realty to businesses. In some communities, there is an Economic Development Gross Receipts tax that is collected in order to market areas for business development.
The economy of New Mexico is based largely on oil and gas. As the state is one of the largest producers of crude oil and natural gas in the country, much industrial space and office space is dedicated to these endeavors. In 2010, the Gross Domestic Product was $79.7 billion.
If you are looking for investment property in New Mexico, it is important to note that property tax will be assessed on commercial real estate listings. However, property taxes do not apply for personal-use property.
Multi-family - 213 Madison Street NE, Albuquerque, NM
$259,000
1,800 Sq. Ft.
OPPORTUNITY!! NOB HILL area duplex with 2BDR/1 FULL BATH in each unit!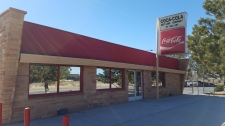 Industrial - 2522 E. Highway 66, Gallup, NM
$199,000
27,139 Sq. Ft. on 2.06 acres
Former Coca-Cola Bottling Facility, Gallup, NM
Multi-family - 448 Kentucky Street SE, Albuquerque, NM
$85,000
Great Investment opportunity.
Others - 1809 N. Garden, Roswell, NM
$150,000
4,087 Sq. Ft.
A commercial property in a GREAT location for a business.
---
Retail - 91 W Texas Street, Ruidoso, NM
$450,000
MIDTOWN RUIDOSO RETAIL with on site living quarters..
Office - 425 Mechem Drive, Ruidoso, NM
$299,500
Great location on Mechem. Currently used as office but loads of potential, possibly live/work?
Office - 1003 Main Street SW, Los Lunas, NM
$259,900
1,628 Sq. Ft. on 0.33 acres
Great office building located right on Main Street. Seller had Podiatrist practice in this building.
---
Retail - 3717-3719 4th Street NW, Albuquerque, NM
$275,000
Commercial opportunity near North Valley with bathroom facilities. No active utilities.
Office - 116-120 11TH ST., Clovis, NM
$118,000
2,902 Sq. Ft.
COMMERCIAL OFFICE SPACE
Office - 1100 - 1102 Sudderth Dr., Ruidoso, NM
$375,000
3,298 Sq. Ft. on 0.29 acres
Recently Paved Parking Lot!!
Multi-family - NM-38, Red River, NM
$1,600,000
24,652 Sq. Ft.
2 side by side lodges fully furnished, ready for guests.
Others - 3200-3201 AXTELL, Clovis, NM
$950,000
15,000 Sq. Ft.
COMMERCIAL PROPERTY.
Others - 103 E Smokey Bear, Capitan, NM
$199,500
0.04 acres
RECENTLY REMODELED Multi-use Property in the heart of Capitan.
Office - 1516 San Pedro Dr NE, Albuquerque, NM
$575,000
6,494 Sq. Ft. on 0.45 acres
Conveniently located in the NE Heights, this professional office building offers a large open floor
Others - 702-8 Mechem Drive, Ruidoso, NM
$211,000
1,800 Sq. Ft.
SUPER NICE REMODELED COMMERCIAL OFFICE/RETAIL CONDO UNIT! New carpet, paint and tile.
Others - 518 Date, Truth Or Consequence, NM
$129,900
FANTASTIC MEDICAL OFFICE.
Land - Highway 528 & Iris Road NE, Rio Rancho, NM
$2,222,082
8.72 acres
• +/- 540 Feet of Frontage on Highway 528/Pat D'Arch Highway •
Land - Iris Road & Lilac Place NE, Rio Rancho, NM
$1,087,911
9.25 acres
•
Multi-family - 415 Coal Avenue SW, Albuquerque, NM
$799,000
3,005 Sq. Ft.
A fantastic Downtown opportunity! Currently used for vacation and film set rental (
Others - 4240 US 64, KIRTLAND, NM
$750,000
1,800 Sq. Ft. on 2.28 acres
Commercial - KIRTLAND, NM
---