---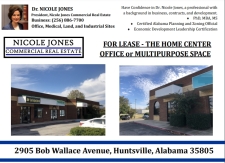 Office - 2905 Bob Wallace Avenue, Huntsville, AL
FOR LEASE — The Home Center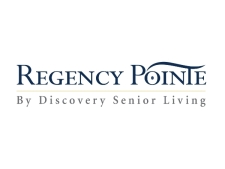 Senior Facilities - 510 E Grand Ave, Rainbow City, AL
Regency Pointe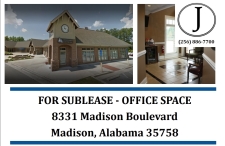 Office - 8331 Madison Boulevard, Suite 100, Madison, AL 35758, Madison, AL
$500 SqFt/Month
FOR SUBLEASE- PROFESSIONAL OFFICE SPACE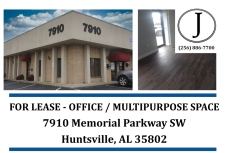 Office - 7910 Memorial Parkway SW, Huntsville, AL
$1,100-1,200 Month
1,000 SqFt
FOR LEASE - OFFICE SPACE IN SOUTH HUNTSVILLE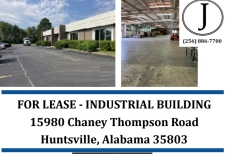 Industrial - 15980 Chaney Thompson Road, Huntsville, AL
$11,756 Month
28,500 SqFt
FOR SUBLEASE - FREE-STANDING INDUSTRIAL/WAREHOUSE BUILDING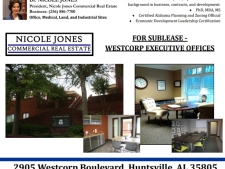 Office - 2905 Westcorp Boulevard, Huntsville, AL
$450 SqFt/Month
FOR SUBLEASE - WESTCORP EXECUTIVE OFFICES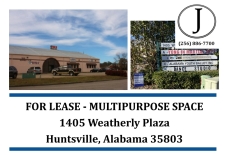 Office - 1405 Weatherly Plaza, Huntsville, AL
$700 Month
800 SqFt
FOR LEASE - OFFICE or MULTIPURPOSE SPACE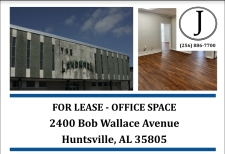 Office - 2400 Bob Wallace Avenue, Huntsville, AL
$1,100 SqFt/Month
850 SqFt
FOR LEASE - OFFICE SPACE THE LANDMARK BUILDING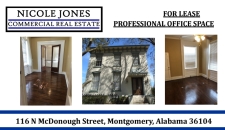 Office - 116 N McDonough Street, Montgomery, AL
$650-700 Month
FOR LEASE PROFESSIONAL OFFICE SPACE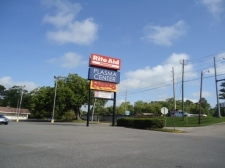 Shopping Center - 5301 Moffett Road, Mobile, AL
$8 SqFt/Year
1,229-8,873 SqFt
Overlook Shopping Center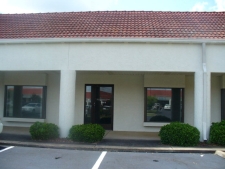 Industrial - 3245 Montgomery Highway, Dothan, AL
1,200 SqFt
Dogwood Court features Broadband, Public Utilities Located near Wiregrass Commons Mall.
Industrial - 3680 W Main, Dothan, AL
6,120 SqFt
6,120 SQ FT of executive office space. 10 + offices, break room, elevator and possible furnishings.
Industrial - 4674 Westgate, Dothan, AL
Sub-Lease of a current FedEx terminal. Sub-lease goes through 10/31/24.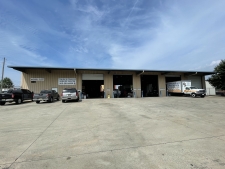 Industrial - 800 3rd Ave North, Birmingham, AL
$6.50 SqFt/Year
13,241 SqFt
Truck Repair Shop for Lease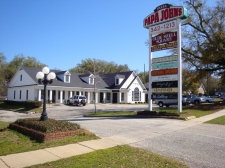 Retail - 5546 Old Shell Rd. Unit D, Mobile, AL
$13-15 SqFt/Year
1,700 SqFt
Beautiful retail/restaurant leasing opportunity in the heart of West Mobile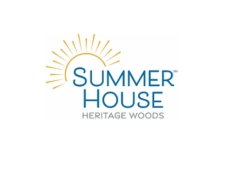 Senior Facilities - 3440 Hillcrest Rd, Mobile, AL
SummerHouse Heritage Woods is a desirable retirement community in Mobile, AL.
Alabama's economy is driven by a variety of industries all of which influence commercial real estate listings in the state. A variety of crops are grown in Alabama, ranging from peaches and peanuts to such staple crops as corn, soybeans and grains. Alabama's annual production is also driven by livestock products, accounting for about 82% of agricultural production. These two factors drive demand for rural land. Alabama's industrial sector is also diverse with automotive manufacturers; such as Hyundai, Honda, Toyota, Mercedes-Benz, and BF Goodrich Tire. These companies and their industrial space have a large presence in the state. Steel production, lumber and NASA's George C. Marshall Space Flight Center are all major fixtures in Alabama's economy. Thus, industrial space is plentiful in the region.
Major cities include Birmingham, Mobile, Huntsville and Montgomery. Those interested in commercial real estate listings will be interested to learn that the state's population has grown considerably since 1990, jumping by 12% in the last 20 years. Alabama's largest city is Birmingham with about 210,000 people, according to the 2010 Census, and the state capital is Montgomery. Office space, commercial property, retail space and investment property have all grown alongside Alabama's general population growth. Commercial real estate listings are plentiful in Alabama's largest cities.
---