---
In terms of landmass, Alaska simply dwarfs every other state. When contrasted to the size of the Continental United States, Alaska is nothing short of immense. Purchased from Russia in 1867, Alaska stands as America's last geographic frontier. It is the least densely populated state in the United States, and one of the least densely populated areas on the planet. However, there is still quality investment property in the state.


While Juneau stands as the capital of Alaska, the bulk of the commercial real estate listings can be found in Anchorage. Alaska has a population of approximately 710,000, according to the 2010 Census, and about half of that population is located in the Anchorage area.


Due to its geography and abundance of natural resources, Alaska enjoys a healthy economy. Fishing and the oil and gas industry are major players in the Alaskan economy. The Trans-Alaska Pipeline can pump millions of barrels of oil every single day, and Alaska provides the United States with a sizable percentage of its oil needs. Office space, retail space and commercial realty are plentiful as a result of Alaska's healthy economy and large supply of energy resources.
Others - 2560 E Parks Hwy, Wasilla, AK
$950,000
1.26 acres
Wasilla's Golden Mile. 32,000+/- cars pass by this property according to State of Alaska.
Others - 3601 E Birch View Dr, Wasilla, AK
$300,000
0.96 acres
Seward Meridian Frontage, Corner lot in the heart of Medical and Commercial district.
Land - NHN SAINT NICHOLAS DRIVE, North Pole, AK
$175,000
0.84 acres
Great piece of land with city water and sewer and highway access and visibility.
Others - 35041 Kenai Spur Hwy, Soldotna, AK
$1,300,000
0.58 acres
MYKELS RESTAURANT & SOLDOTNA INN in a prime location.
---
Others - 1311 Kiana Ln, Kenai, AK
$299,500
1.02 acres
KENAI COMMERCIAL OPPORTUNITY! Spacious building/studio w/4884 sf & HUGE paved parking lot.
Others - 6719 S Bogle Bluff Dr, Wasilla, AK
$380,000
1.22 acres
SELLER WANTS THIS HOUSE SOLD!!! 3000 SQ FT SHOP!! Welcome To A Business Owners Dream!
Others - 25307 W Speedway Rd, Willow, AK
$295,000
3.17 acres
Great Business or Investment Opportunity! Motel & Cafe located at Mile 75.
---
Industrial - 609 3RD STREET, Fairbanks, AK
$800,000
10,000 Sq. Ft. on 0.92 acres
The old Campbell Sports, Alaska Athletic Club & Fairbanks Tent/Tarp.
Industrial - 1435 VAN HORN ROAD, Fairbanks, AK
$1,600,000
24,528 Sq. Ft. on 2.54 acres
Great location with prime Van Horn Frontage! This 2.
Others - 16424 Happy O Ave, Ninilchik, AK
$449,000
1.49 acres
This 7 bedroom lodge has been ''fishing central'' for large groups coming up from the lower 48 for y
Others - Mi1313.5 Alaska Hwy, Tok, AK
$159,900
0.75 acres
This charming and quaint building is FOR SALE!
Industrial - 537 E 14th, Anchorage, AK
$199,900
1,700 Sq. Ft. on 0.16 acres
This unique style duplex is located in historic downtown Anchorage!
Resort - 000 Katmai National Park, Iliamna, AK
$10,800,000
120 acres
Unusual and Exotic Alaska Property - 120 Acre Fishing/Hunting Lodge
Others - 35960 Kenai Spur Hwy, Soldotna, AK
$464,000
2.63 acres
Alaska's Auto Country is RELOCATING!
Retail - 0000 Retail Location, Anchorage, AK
$700,000
Longstanding retail outdoors business with a strong record of sales and profits. If you have been d
Others - 34622 Kalifornsky Beach Rd, Kenai, AK
$345,000
1.3 acres
IMMACULATE 6000 SF COMMERCIAL SHOP on K-Beach Road. Is PRICED TO SELL!
Others - 1401 W Parks Hwy, Wasilla, AK
$75,000
Turn key business, ready for new owners.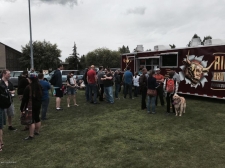 Others - 1401 W Parks Hwy, Wasilla, AK
$75,000
288 Sq. Ft.
Turn key business, ready for new owners.
Others - 2445 Ben Hogan Ave, Wasilla, AK
$299,500
5 acres
5 acre unrestricted parcel with Church Road frontage, next to Mission Hills Subdivision!
Others - 11111 Old Eagle River Rd, Eagle River, AK
$1,200,000
6,624 Sq. Ft. on 0.18 acres
Ideal investment opportunity in Eagle River! 14 units including 1 grand and 1 small suite.
---