---
Industrial - 2636 MISTLETOE DRIVE, North Pole, AK
$334,900
1,740 Sq. Ft. on 1.03 acres
Location, Location, Location, lots of exposure for a start up business.
Industrial - 519 12th Avenue, Fairbanks, AK
$127,500
Great commercial location in downtown Fairbanks .
Industrial - 2570 MISTLETOE DRIVE, North Pole, AK
$550,000
4,372 Sq. Ft. on 4.48 acres
Business property off the Richardson Highway !!
Others - 43783 Kenai Spur Highway, Nikiski/north Kenai, AK
$379,000
0.7 acres
Great Business location with endless possibilities!
Land - L18 Spruce Haven Street, Nikiski/north Kenai, AK
$23,500
4.34 acres
Beautifully treed 4.34 acre lot only 15 minutes from town!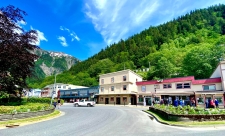 Multi-Use - 307 South Franklin Street, Juneau, AK
$4,900,000
4,800 Sq. Ft. on 0.1 acres
307 South Franklin Street Juneau Alaska
Industrial - 160 W 91st, Anchorage, AK
$3,500,000
10,984 Sq. Ft. on 1.15 acres
Like new building comes with the empty lot next door. Lots of room to expand.
Retail - 6525 Glacier Highway, Juneau, AK
$6,000,000
122,278 Sq. Ft. on 10.76 acres
6525 Glacier Highway Juneau Alaska former Walmart
Others - 1317 E 72nd Avenue, Anchorage, AK
$445,000
0.23 acres
COMMERCIAL USE ONLY.
Others - 35671 Kenai Spur Highway, Soldotna, AK
$399,000
0.46 acres
1,800 SF building with 2x6 construction on a concrete slab foundation.
Retail - 19194 Sterling Hwy., Cooper Landing, AK
$1,400,000
6,511 Sq. Ft.
PROFITABLE Cooper Landing, AK Convenience Store
Motel - Mile 79 Richardson Hwy., Copper Center, AK
$1,899,999
8,000 Sq. Ft. on 16 acres
Historic Lodge/Hotel in Copper Center, Alaska on the Tonsina River
Others - 35348 K B Drive, Soldotna, AK
$1,209,600
1.84 acres
HUGE INVESTMENT POTENTIAL. Good rental history with long term tenants.
Industrial - 1200 QUEEN'S WAY, Fairbanks, AK
$575,000
7,091 Sq. Ft. on 1.17 acres
Location, location, location!
Industrial - N/A PARKS HIGHWAY, NENANA, AK
$399,900
2,832 Sq. Ft. on 2.9 acres
Exciting Business Opportunity awaits......
Industrial - 1905 Livengood Avenue, Fairbanks, AK
$950,000
10,000 Sq. Ft. on 0.46 acres
Great building in Phillips Field Area, warehouse space and office space, as well as a 4 bedroom apar
Industrial - 859 LAKLOEY DRIVE, North Pole, AK
$2,800,000
12,820 Sq. Ft. on 6.36 acres
VWCI (Valley Water Company INC)
Others - 44835 Trevor Avenue, Soldotna, AK
$699,000
2.07 acres
Dont miss this excellent commercial opportunity just out of Soldotna!
Land - NHN 30th AVENUE, Fairbanks, AK
$395,000
8.23 acres
Great piece of Commercial land, with Highway frontage, H2O/Sewer/Gas Available .
Land - 2681 Old Richardson Highway, North Pole, AK
$59,900
1.16 acres
Commercial building lot on frontage road in North Pole, city water and sewer, highway access and wal
In terms of landmass, Alaska simply dwarfs every other state. When contrasted to the size of the Continental United States, Alaska is nothing short of immense. Purchased from Russia in 1867, Alaska stands as America's last geographic frontier. It is the least densely populated state in the United States, and one of the least densely populated areas on the planet. However, there is still quality investment property in the state.
While Juneau stands as the capital of Alaska, the bulk of the commercial real estate listings can be found in Anchorage. Alaska had a population of approximately 710,000, according to the 2010 Census (estimated to be 740,000 in 2019), and about half of that population is located in the Anchorage area.
Due to its geography and abundance of natural resources, Alaska enjoys a healthy economy. Fishing and the oil and gas industry are major players in the Alaskan economy. The Trans-Alaska Pipeline can pump millions of barrels of oil every single day, and Alaska accounts for around 25% of the United States total oil production. Office space, retail space and commercial realty are plentiful as a result of Alaska's healthy economy and large supply of energy resources.
---