---
Others - 3342 CHENA HOT SPRINGS ROAD, Fairbanks, AK
$89,000
4,692 Sq. Ft. on 4.46 acres
Building - Fairbanks, AK
Others - N/A PARKS HIGHWAY, Nenana, AK
$399,900
2,832 Sq. Ft. on 2.9 acres
Multi-purpose - Nenana, AK
Others - NHN 30TH AVENUE, Fairbanks, AK
$395,000
8.24 acres
Commercial - Fairbanks, AK
Others - 1005 CHENA PUMP ROAD, Fairbanks, AK
$749,900
9,000 Sq. Ft. on 2.38 acres
COMMERCIAL/INDUSTRIAL - Fairbanks, AK
Others - 1521 HILTON AVENUE, Fairbanks, AK
$1,200,000
4,056 Sq. Ft. on 1.07 acres
Building - Fairbanks, AK
Others - 33077 Sterling Highway, Sterling, AK
$199,500
1.22 acres
Prime Sterling commercial location. 2 lots combined are 1.22 acres, all gravel and level.
Others - 3331 FIFTH WHEEL STREET, Fairbanks, AK
$399,900
7,000 Sq. Ft. on 1 acres
Warehouse - Fairbanks, AK
Others - 35671 Kenai Spur Highway, Soldotna, AK
$379,000
0.46 acres
1,800 SF building with 2x6 construction on a concrete slab foundation.
Others - 1317 E 72nd Avenue, Anchorage, AK
$435,000
0.23 acres
COMMERCIAL USE ONLY.
Industrial - 160 W 91st, Anchorage, AK
$3,500,000
10,984 Sq. Ft. on 1.15 acres
Like new building comes with the empty lot next door. Lots of room to expand.
Land - 213 Fidalgo Avenue, Kenai, AK
$125,000
0.57 acres
Location Location!Large .
Others - 1.5 Mile Haines Hignway, Haines, AK
$1,600,000
Golfing in Southeast Alaska Welcome to one of the most unique golf courses in the world!
Others - 201 W Herning Ave, Wasilla, AK
$190,000
Phillys Best Phillys is a Wasilla treasure with a loyal clientele.
Land - 000 North Kenai Spur Highway, Nikiski/north Kenai, AK
$17,000
0.28 acres
.28 acres with gas and electric on property. Two lots for sale side by side.
Others - 44835 Trevor Avenue, Soldotna, AK
$699,000
2.07 acres
Dont miss this excellent commercial opportunity just out of Soldotna!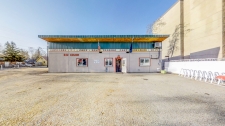 Retail - 309 2nd ave, Fairbanks, AK
$450,000
1,882 Sq. Ft. on 0.31 acres
Downtown Freestanding Gem
Land - 66417 Alder Avenue, Ninilchik, AK
$49,500
0.92 acres
Nice level lot with thick gravel pad covering almost the entire acre.
Land - 000 North Kenai Spur Highway, Nikiski/north Kenai, AK
$17,000
0.28 acres
.28 acres of commercial property right off the Kenai Spur Hwy, .28 acres behind it for sale also.
Land - 1971 N Broadway Drive, Wasilla, AK
$120,000
0.94 acres
Two half acre lots available at the corner of Midtown Drive and Broadway Drive.
Retail - 6525 Glacier Highway, Juneau, AK
$9,000,000
122,278 Sq. Ft. on 10.76 acres
6525 Glacier Highway Juneau Alaska former Walmart
In terms of landmass, Alaska simply dwarfs every other state. When contrasted to the size of the Continental United States, Alaska is nothing short of immense. Purchased from Russia in 1867, Alaska stands as America's last geographic frontier. It is the least densely populated state in the United States, and one of the least densely populated areas on the planet. However, there is still quality investment property in the state.
While Juneau stands as the capital of Alaska, the bulk of the commercial real estate listings can be found in Anchorage. Alaska had a population of approximately 710,000, according to the 2010 Census (estimated to be 740,000 in 2019), and about half of that population is located in the Anchorage area.
Due to its geography and abundance of natural resources, Alaska enjoys a healthy economy. Fishing and the oil and gas industry are major players in the Alaskan economy. The Trans-Alaska Pipeline can pump millions of barrels of oil every single day, and Alaska accounts for around 25% of the United States total oil production. Office space, retail space and commercial realty are plentiful as a result of Alaska's healthy economy and large supply of energy resources.
---