---
Arizona is a large and diverse state with nearly 6.4 million people according to the 2010 Census. This large population gives rise to a wide-variety of commercial real estate listings of various types. Arizona might be known for its great winter weather, but there is much more to this diverse and interesting state than sunny days. Arizona is home to several large cities including Phoenix, Tucson, Mesa, Chandler, Scottsdale and Tempe. By far the largest city in the state is Phoenix, which is home to a vast assortment of industrial space, commercial reality, retail space and office space.


The largest employer in Arizona is Wal-Mart; however, the state's diverse economy means that there are many employers of various sizes with commercial property and retail space. This fast growing state has a diverse economy and remains a major mining center and producer of cotton. The warm winter weather and geographical wonders, such as the Grand Canyon, further stimulates the state's economy in the form of tourism. Rich in resources, natural beauty and a wonderful winter climate, Arizona continues to enjoy population growth. The state has a variety of commercial property and commercial real estate listings available.
Retail - 334 E Main St, Springerville, AZ
$95,000
2,749 Sq. Ft. on 0.63 acres
Highway frontage with this building that will give you options for office or retail.
Others - 1600 State Rte 89A, Sedona, AZ
$650,000
0.16 acres
Great opportunity!!
Industrial - 7118 W Frier Dr, Glendale, AZ
$975,000
Freestanding commercial building can accommodate a variety of users & its ready for your business.
Others - 2625 NORTHERN AVENUE, Kingman, AZ
$100,000
0.87 acres
Six lots three on Northern with C-1 Commercial Neighborhood Zoning (parcel #'s 324-14-943-944 &
---
Others - (No Address), Lake Havasu City, AZ
$130,000
1,145 Sq. Ft.
Investment opportunity on this very nice commercial office space in the Havasu Commerce Center.
Others - 30 Acoma S Blvd Unit 106, Lake Havasu City, AZ
$89,700
997 Sq. Ft.
Investment opportunity. Currently leased through September 2019 along with Unit 109.
Others - 2745 Country Club N, Tucson, AZ
$549,000
5,797 Sq. Ft. on 0.51 acres
Two 4-plexes and a pool! All rented! One 2-bedroom unit, five 1 bedroom units, 2 studio units.
---
Others - 2638 S Union Drive, Cottonwood, AZ
$189,900
2,675 Sq. Ft.
Commercial - Cottonwood, AZ
Land - 213 W Main St 4, Payson, AZ
$289,000
Location, Location, Location,Here's the place to build your dream business.
Others - 1145 W Frontage Road, Rio Rico, AZ
$277,000
2,533 Sq. Ft. on 0.22 acres
Office - Rio Rico, AZ
Office - 4265 STOCKTON HILL RD, KINGMAN, AZ
$325,000
Commercial modular building on an acre and a half of land on Stockton Hill Rd.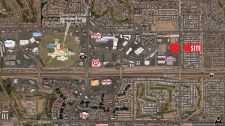 Land - SWC Sossaman Road & Hampton Avenue, Mesa, AZ
3 acres
EAST VALLEY COSTCO PADS AVAILABLE - CALL FOR PRICING
Others - 2710 Park S, Tucson, AZ
$250,000
4,040 Sq. Ft. on 0.54 acres
Listing includes 2710 S. Park Ave- a commercial retail building (2,800 SF), 2714 S.
Others - 3806 W LINDA LN, Yuma, AZ
$134,900
OTHER - Yuma, AZ
Others - 509 6th S, Tucson, AZ
$2,000,000
4,803 Sq. Ft. on 0.23 acres
Queen Anne Victorian, Downtown Tucson! Detailed Restoration surpasses museum quality.
Others - 1902 Craycroft S, Tucson, AZ
$1,100,000
13,283 Sq. Ft. on 0.7 acres
13,255 SF Retail Center located at the SWC of Craycroft Rd & 29th St.
Others - 17226 N 17th Street, Phoenix, AZ
$395,000
2,508 Sq. Ft.
Groomers, Handlers and Rescuers ! Don't Miss this Rare opportunity !
Others - 26 Avenida De Piedras, Sedona, AZ
$5,100,000
1.83 acres
Profitable, professionally managed luxury boutique inn - prime locationimmediately across from the S
Others - 2181 State Route 89A, Cottonwood, AZ
$897,000
1.19 acres
Location, location, location!
Others - 2126 McCulloch #14 and 16 Lane N, Lake Havasu, AZ
$159,000
0.03 acres
Located in the famous SHAMBLES VILLAGE, Uptown McCulloch Blvd district, MAIN STREET.
---