---
Arizona is a large and diverse state with nearly 6.4 million people according to the 2010 Census. This large population gives rise to a wide-variety of commercial real estate listings of various types. Arizona might be known for its great winter weather, but there is much more to this diverse and interesting state than sunny days. Arizona is home to several large cities including Phoenix, Tucson, Mesa, Chandler, Scottsdale and Tempe. By far the largest city in the state is Phoenix, which is home to a vast assortment of industrial space, commercial reality, retail space and office space.


The largest employer in Arizona is Wal-Mart; however, the state's diverse economy means that there are many employers of various sizes with commercial property and retail space. This fast growing state has a diverse economy and remains a major mining center and producer of cotton. The warm winter weather and geographical wonders, such as the Grand Canyon, further stimulates the state's economy in the form of tourism. Rich in resources, natural beauty and a wonderful winter climate, Arizona continues to enjoy population growth. The state has a variety of commercial property and commercial real estate listings available.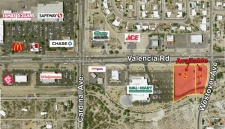 Retail - SWC of Valencia Rd. and Westover Ave, Tucson, AZ
113,256 Sq. Ft. on 0.91 acres
Valencia Village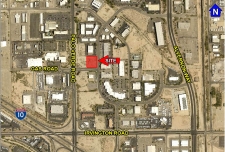 Industrial Park - 3561 E. Gas Rd. Butterfield , Tucson, AZ
$250,000
48,886 Sq. Ft.
Butterfield Commerce Park- Lot 7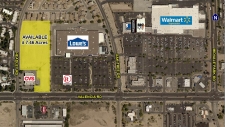 Retail - 1860 W. Valencia Rd. Valencia and Hadley, Tucson, AZ
6 acres
Northeast Corner of Valencia Rd. & Headley Rd.
Shopping Center - SEC La Canada Dr. & Duval Mine Rd, Block 3. SPP PAD , Sahuarita, AZ
$500,000
34,332 Sq. Ft. on 0.78 acres
Sahuarita Palms Plaza
---
Industrial - 3101 E. Ajo Way , Tucson, AZ
$515,000
720 Sq. Ft. on 36488 acres
CAR LOT AVAILABLE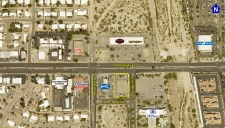 Retail - 50 S. Broadway, Tucson, AZ
$750,000
4,800 Sq. Ft. on 35005 acres
Broadway and Prudence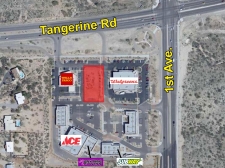 Retail - SWC of First Ave. & Tangerine Rd., Oro Valley, AZ, Tucson, AZ
2,230 Sq. Ft.
Placita De Oro
---
Others - 608 E White Mountain Blvd, Pinetop, AZ
$399,000
6,760 Sq. Ft.
GREAT INCOME POTENTIAL! MULTIPLE USE PROPERTY-ALREADY MAKING INCOME-CENTER OF PINETOP, ARIZONA.
Multi-family - 2466 W. State Route 89A, Sedona, AZ
$4,700,000
CB#- Hard to find property in West Sedona, Zoned C-2 with excellent development potential.
Others - 1025 S. Kelli Lane, Cottonwood, AZ
$500,000
CB# 13918/ Well established Day Care since 1989. Turn key operation. Includes real estate,business &
Multi-family - 113 SPRUCE STREET, KINGMAN, AZ
$159,000
0.44 acres
This unique Historic Ranch House Apartment Conversion is located in the hills above Old Town Kingman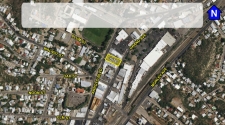 Land - 317-321 N Grand (Nogales), Tucson, AZ
$500,000
0.46 acres
Nogales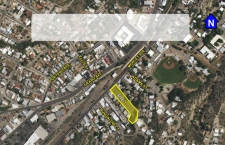 Land - 540 N Morley Ave , Nogales, AZ
$800,000
49299.44 acres
540 N Morley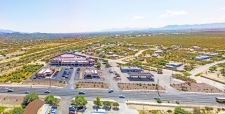 Land - 13160 E Colossal Cave Road, Vail, AZ
Old Vail Station
Land - NEC of Oracle and Pastime Roads, Tucson, AZ
12,116 Sq. Ft.
Oracle Gateway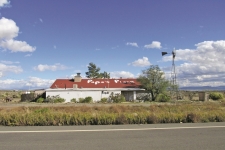 Multi-Use - 19150 E Copper Star Rd, Mayer, AZ
3,500 Sq. Ft. on 1.95 acres
Commercial Real Estate Auction
Others - 2183 McCulloch N Blvd, Lake Havasu City, AZ
$4,995,000
This a "turn key " sale of Sam's Shooters Emporium. It includes the 1,753 sq. ft.
Land - 000 SIXTH STREET, COTTONWOOD, AZ
$550,000
3.1 acres
CB#12617- Nice flat usable 3.10 acre C-1 property across from Cottonwood Recreational Center.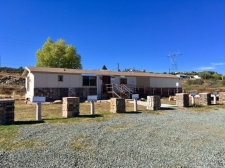 Retail - 10580 s State Route 69, Mayer, AZ
$190,000
1,064 Sq. Ft. on 2 acres
2 acre commercial lot with an ADA compliant 1064 sq. ft. mobile converted to a retail use.
Others - (No Address), Lake Havasu City, AZ
$130,000
1,145 Sq. Ft.
Investment opportunity on this very nice commercial office space in the Havasu Commerce Center.
---