Search Results - Arkansas
---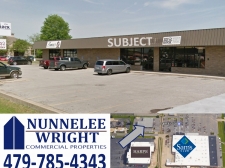 Retail - 3325A South 74th Street, Fort Smith, AR
$8/SqFt/Month
6,000 SqFt
Retail location next to Sam's Club!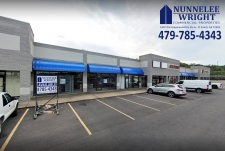 Retail - 4900 Rogers Ave, Suite CDE, Fort Smith, AR
$8/SqFt/Year
3,600 SqFt
Former tanning salon in Walmart Shopping Center!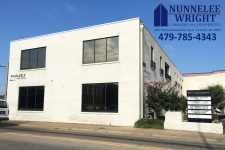 Office - 423 Rogers Ave, Suite 103A, Fort Smith, AR
$14.1/SqFt/Year
400 SqFt
1st Floor Office Suite in Downtown!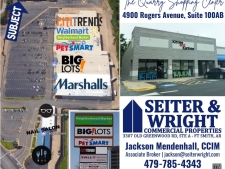 Retail - 4900 Rogers Ave Ste 100AB, Fort Smith, AR
$8-10/SqFt/Year
1,200-6,300 SqFt
Retail Space in High Traffic Center!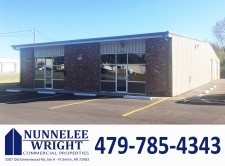 Industrial - 1018 Fresno Street, Fort Smith, AR
$3.43/SqFt/Year
7,000 SqFt
Warehouse on Fresno with 7,000 Square Feet!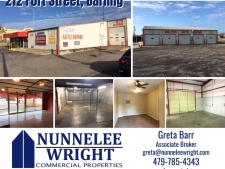 Others - 212 Fort Street, Barling, AR
$7.09-7.9/SqFt/Year
4,860 SqFt
Auto Repair building in Barling!
Industrial - 8521 Geyer Springs, Little Rock, AR
$15/SqFt/Year
1,350 SqFt
Very nice shopping center with lots of traffic and visibility. Call agent for showing.
Industrial - 1020 One Mile RD, Fayetteville, AR
1,271 SqFt
Excellent location for your business, C-2 Zoning, just off of MLK / Hwy 62, great for a Dr's/medical
Industrial - 212 N 13 ST, Rogers, AR
2,612 SqFt
RETAIL LEASE SPACE AT BARGAIN PRICE!
Industrial - 1 N Halstead CIR Unit #8, Rogers, AR
1,100 SqFt
This is an upstairs office unit.
Industrial - 1910 S Zero ST Unit #A, Fort Smith, AR
6,000 SqFt
Excellent location and site for your business, great traffic counts, 3000 square feet available.
Industrial - (No Address), Rogers, AR
927 SqFt
Great set up downstairs reception area or conference area and 2 private offices upstairs one complet
Industrial - 1751 1st ST, Rogers, AR
10,680 SqFt
Location, Location! "Clean" Heated/AC warehouse, two dock doors, 3 phase.
Industrial - 2603 N Storage PKWY, Rogers, AR
10,222 SqFt
Great Location-less than 2 miles from I-49. Close to new proposed Walmart global headquarters.
Industrial - 2605 N Storage PKWY Unit #1, Rogers, AR
4,209 SqFt
Great location less than 2 miles from I-49. Close to New Proposed "Global Walmart Headquarters".
Industrial - 1379 Elm Springs RD, Springdale, AR
4,000 SqFt
4000 s.f. building with 5 roll up doors, high ceilings, office, bathroom.
Industrial - 2418 Gregg AVE Unit #2 & 3, Fayetteville, AR
2,100 SqFt
Excellent location with high traffic counts, easy access to College, I-49 &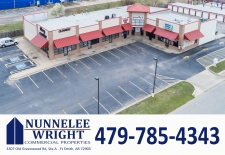 Retail - 2900 Zero St, Fort Smith, AR
$12/SqFt/Year
1,080-3,600 SqFt
Retail or Office Location on Zero St just down from Walmart Supercenter!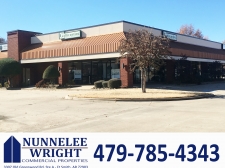 Retail - 4300 Rogers Ave, Suite 29, Fort Smith, AR
$12/SqFt/Year
2,744 SqFt
Prominently Located Retail Suite in Greenpointe Center!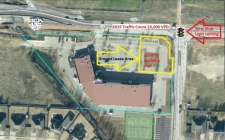 Land - 2003 SW Regional Airport Blvd, Bentonville, AR
$12/SqFt/Year
1,500-3,100 SqFt
Bentonville Land for Lease - 1 space available from 1,500 SF to 3,100 SF
Arkansas is home to approximately 3 million people and has a variety of diverse commercial real estate listings that continue to consistently draw attention from those interested in commercial realty and investment property. Home to a variety of national parks, Arkansas has many impressive natural wonders. Agriculture dominates the state's economy with everything from cattle, poultry and hogs to cotton and rice playing a role in the state's robust agricultural industry.
Manufacturing is also well represented in Arkansas, as automotive manufacturers have a strong presence. Other manufacturing, such as machinery manufacturing, also plays a role in the state's economy. This factor stimulates office space, industrial space and commercial realty alike. Large corporations, such as Wal-Mart and Tyson Foods, are headquartered in Arkansas and stand as major holders of office space and industrial space. Another major employer in the state is education.
Little Rock is by far the largest city in the state with nearly 200,000 residents, and it also serves as the state's capital. Those interested in commercial real estate listings and commercial property will find that Little Rock offers many options. Other cities of note include Fort Smith, with roughly 88,000 residents, and Fayetteville with approximately 85,000 residents.
---