Search Results - Arkansas
---
Industrial - 1268 & 1269 Jaro Lane, Springdale, AR
$999,000
1,860 Sq. Ft.
Excellent investment opportunity, frontage for commercial and possible multi family in back, propert
Industrial - 1201 W Monroe, Lowell, AR
$2,900,000
14.93 Acres on Hwy 264 with 1019 ft of frontage.
Industrial - 410 N 8th Street, Rogers, AR
$975,000
8,945 Sq. Ft.
Multi purpose office Building.
Industrial - 1100 S 12 Place, Rogers, AR
$595,000
7,022 Sq. Ft.
One of NWA's most beautiful churches For Sale! The Church is relocating.
Industrial - 46 Hillside Avenue, Eureka Springs, AR
$1,150,000
7,000 Sq. Ft.
Highly praised and successful Bed and Breakfast!
Industrial - 2001 Highway 412, Siloam Springs, AR
$495,000
5,136 Sq. Ft.
Excellent location with ample HWY 412 frontage.
Industrial - 300 E Pridemore Drive, Lincoln, AR
$300,000
5,422 Sq. Ft.
All property is being sold "AS IS".
Industrial - 9 N West Avenue, Fayetteville, AR
$1,110,000
4,464 Sq. Ft.
Located in the heart of Downtown Fayetteville, backing up to the greenway this professional office b
Industrial - 266 E Robinson Avenue, Springdale, AR
$315,000
1,100 Sq. Ft.
Two buildings, 1 acre, Zoned C5, lots of traffic.
Industrial - 3257 Wagon Wheel Road, Springdale, AR
$1,600,000
3,500 Sq. Ft.
Several options with this property, 396 feet of commercial frontage on Wagon Wheel Rd, (Hwy 264)
Industrial - 11911 W 264 Highway, Bentonville, AR
$3,483,058
ATTENTION DEVELOPERS!
Others - 2022 S Buerkle Street, STUTTGART, AR
$194,000
2,154 Sq. Ft.
Commercial property enjoys prominent visibility on a busy main road w/easy access to local residents
Others - 4328 Central Avenue, HOT SPRINGS, AR
$2,040
2,040 Sq. Ft.
Located along busy retail highway corridor near stop light intersection and close to dozens of other
Others - 108 N Steele St, Sparkman, AR
$18,000
Commercial lot in downtown Sparkman, AR.
Industrial - 3204 N Culberhouse, Jonesboro, AR
$150,000
1,200 Sq. Ft.
Great commercial opportunity for someone wanting to own a wrecker/towing business.
Land - 7343 AR-164, Clarksville, AR
$32,500
3.68 acres
Improved property w/ all utilities on site including septic, natural gas, electric, & water (
Retail - 721 & 725 E Johnson, Jonesboro, AR
$455,000
18,780 Sq. Ft. on 0.86 acres
Formerly Bill's Supermarket, available for Retail or Warehouse space, dock high loading dock with 18
Others - 746 & 748 Crystal Hill Road, HOT SPRINGS, AR
$459,900
5,600 Sq. Ft.
Restaurateurs and Investors take notice. The successful and profitable Crawfish Hole can be yours.
Others - 7323 Mabelvale Cut Off Road, Little Rock, AR
$225,000
5,480 Sq. Ft. on 0.7 acres
Building and Land - Little Rock, AR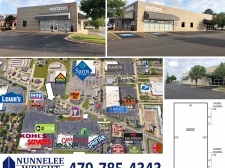 Retail - 7723 Rogers Avenue, Fort Smith, AR
$2,000,000
5,000 Sq. Ft. on 0.72 acres
Investment Opportunity on Fort Smith's Major Retail Corridor!
Arkansas is home to approximately 3 million people and has a variety of diverse commercial real estate listings that continue to consistently draw attention from those interested in commercial realty and investment property. Home to a variety of national parks, Arkansas has many impressive natural wonders. Agriculture dominates the state's economy with everything from cattle, poultry and hogs to cotton and rice playing a role in the state's robust agricultural industry.
Manufacturing is also well represented in Arkansas, as automotive manufacturers have a strong presence. Other manufacturing, such as machinery manufacturing, also plays a role in the state's economy. This factor stimulates office space, industrial space and commercial realty alike. Large corporations, such as Wal-Mart and Tyson Foods, are headquartered in Arkansas and stand as major holders of office space and industrial space. Another major employer in the state is education.
Little Rock is by far the largest city in the state with nearly 200,000 residents, and it also serves as the state's capital. Those interested in commercial real estate listings and commercial property will find that Little Rock offers many options. Other cities of note include Fort Smith, with roughly 88,000 residents, and Fayetteville with approximately 85,000 residents.
---