Search Results - Arkansas
---
Industrial - 1268 & 1269 Jaro Lane, Springdale, AR
$999,000
1,860 Sq. Ft.
Excellent investment opportunity, frontage for commercial and possible multi family in back, propert
Industrial - 410 N 8th Street, Rogers, AR
$975,000
8,945 Sq. Ft.
Multi purpose office Building.
Industrial - 2001 Highway 412, Siloam Springs, AR
$495,000
5,136 Sq. Ft.
Excellent location with ample HWY 412 frontage.
Industrial - 300 E Pridemore Drive, Lincoln, AR
$300,000
5,422 Sq. Ft.
All property is being sold "AS IS".
Industrial - 3257 Wagon Wheel Road, Springdale, AR
$1,300,000
3,500 Sq. Ft.
Several options with this property, 396 feet of commercial frontage on Wagon Wheel Rd, (Hwy 264)
Industrial - 11911 W 264 Highway, Bentonville, AR
$3,483,058
ATTENTION DEVELOPERS!
Industrial - 706 S West Avenue, Lincoln, AR
$399,000
7,990 Sq. Ft.
There are two buildings. Formerly a truck maintenance bulidings for Cargill Egg.
Industrial - 15768 Highway 62, Prairie Grove, AR
$374,500
24,200 Sq. Ft.
There are multiple rentals, one is a separate pole building 28 x 30, behind the main building.
Industrial - 298 S Main Avenue, Fayetteville, AR
$799,000
7,720 Sq. Ft.
Huge building & area with Asphalt parking lot in front. Chain link fence, and large area in back.
Industrial - 2564 N College Avenue, Fayetteville, AR
$1,333,333
4,255 Sq. Ft.
Prime commercial location. Property for sale only, business not included.
Industrial - 1108 W Poplar Street, Rogers, AR
$495,000
2,254 Sq. Ft.
FIRST TIME ON MARKET IN YEARS, This is a must see if you need office in the downtown Rogers area, ha
Industrial - 4214 S 48th Street, Springdale, AR
$350,000
1,378 Sq. Ft.
2.07 acres of land zoned C-2.
Industrial - 45 Bear Ridge Road, Eureka Springs, AR
$1,169,000
4,822 Sq. Ft.
What an opportunity to have architecturally designed buildings for your future Business.
Industrial - 14746 W Highway 102, Decatur, AR
$2,999,000
9,987 Sq. Ft.
EVENT VENUE - BED &
Industrial - 2212 S 8th Street, Rogers, AR
$675,000
8,000 Sq. Ft.
Zoned C-2, 151' on 8th St. Location Location.
Industrial - 651 Highway 62, Berryville, AR
$385,000
4,708 Sq. Ft.
Now here is your opportunity to own a business in town. The restaurant is currently renting for $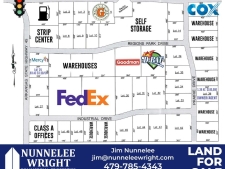 Land - 4550 Regions Park Drive, Fort Smith, AR
2.46 acres
Vacant Lots in Business Park near Interstate!
Others - 3427 N Hwy 59, Van Buren, AR
$135,000
2,028 Sq. Ft. on 3 acres
Beautiful land that would be great for new homes, multi family or a business.
Others - 3968 HWY 101, Gamaliel, AR
$110,000
Real Estate Only - Gamaliel, AR
Others - 5224 W Hensley, LITTLE ROCK, AR
$75,000
1,500 Sq. Ft.
Looking to buy a building right in Hensely. It's a great building for any business!!! Full kitchen.
Arkansas is home to approximately 3 million people and has a variety of diverse commercial real estate listings that continue to consistently draw attention from those interested in commercial realty and investment property. Home to a variety of national parks, Arkansas has many impressive natural wonders. Agriculture dominates the state's economy with everything from cattle, poultry and hogs to cotton and rice playing a role in the state's robust agricultural industry.
Manufacturing is also well represented in Arkansas, as automotive manufacturers have a strong presence. Other manufacturing, such as machinery manufacturing, also plays a role in the state's economy. This factor stimulates office space, industrial space and commercial realty alike. Large corporations, such as Wal-Mart and Tyson Foods, are headquartered in Arkansas and stand as major holders of office space and industrial space. Another major employer in the state is education.
Little Rock is by far the largest city in the state with nearly 200,000 residents, and it also serves as the state's capital. Those interested in commercial real estate listings and commercial property will find that Little Rock offers many options. Other cities of note include Fort Smith, with roughly 88,000 residents, and Fayetteville with approximately 85,000 residents.
---