Search Results - Colorado
---
Anyone interested in commercial real estate listings will certainly find beautiful Colorado to be an intriguing choice. The capital city of Denver is home to about 600,000 people, but the Denver area boasts a population of about 2.5 million residents, making it a prime choice for commercial realty. Aurora is second in overall population with about 325,000 residents. In the last decade, Colorado has seen an impressive increase in population.


Colorado is home to agriculture, mining, manufacturing and oil production and its industrial space represents all of these sectors. The state is impressively diverse as cattle, corn and wheat are all major contributors to the local economy and growth of commercial real estate land.


Mining places a huge role in Colorado's economy, and gold and silver mining are still prominent to this date. Colorado's natural resources range from oil and natural gas to timber and likewise contribute greatly to not only the industrial space in the state, but also to the overall economy.


Colorado's diverse economy means diverse commercial real estate listings as well. Those interested in industrial space, buildings, office space and commercial property should find that Colorado has a good deal to offer.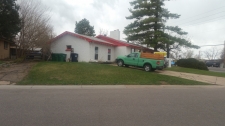 Retail - 6590 S Broadway , Centennial, CO
$700,000
3,021 Sq. Ft. on 0.25 acres
Stand alone building with frontage on S Broadway!!
Industrial - 97 Main St #W-105, Edwards, CO
$585,000
1,347 Sq. Ft.
OWNER WILL FINANCE. Well constructed building with excellent viability, parking and foot traffic.
Multi-family - 337 S Townsend Avenue, Montrose, CO
$820,000
7,536 Sq. Ft.
14 units ranging from studio, 1 and 2 bedrooms. New Boiler installed in 2017.
Industrial - 255 E 2nd Street, Palisade, CO
$349,000
7,269 Sq. Ft.
Very tall stand-alone shop with 14' OH doors, floor drains and 400 amps of 3 phase power.
---
Retail - 2842 North Avenue, Grand Junction, CO
$960,000
3,066 Sq. Ft.
Well maintained QSR location with drive-thru and full move access in desirable east Grand Junction m
Industrial - 2486 Commerce Boulevard A, Grand Junction, CO
$295,000
2,962 Sq. Ft.
Centrally located office/shop space located just East of Mesa Mall area.
Industrial - 702 23 1/10 Road D4, Grand Junction, CO
$440,000
6,185 Sq. Ft.
6,185 sf industrial warehouse condo with high volume ceiling and multiple overhead doors.
---
Industrial - 257 Sherman Street, Ridgway, CO
$2,549,000
9,152 Sq. Ft. on 0.51 acres
This is most Beautiful building in Ridgway.
Industrial - 536 E Victory Way, Craig, CO
$1,100,000
82,764 Sq. Ft.
MOTIVATED SELLER: TURN-KEY SPORTS BAR AND GRILL. This place is on the Eastside of Craig, CO.
Retail - 1224 N 25th Street, Grand Junction, CO
$500,000
5,200 Sq. Ft.
Large 5,200 sf stand-alone retail space.
Retail - 215 S 15th Street, Grand Junction, CO
$495,000
5,586 Sq. Ft.
Retail and/or service building with two units of 2,798 sf each on a downtown corner location.
Industrial - 1250 N 3rd Street, Grand Junction, CO
$400,000
8,490 Sq. Ft.
Successful counter top manufacturing company with over $967,000.
Industrial - 2326 Grand Park Drive, Grand Junction, CO
$1,995,000
20,380 Sq. Ft.
20,380 SF fully leased building on 10.69 acres.
Office - 1015&1025 N 4th Street, Grand Junction, CO
$375,000
4,076 Sq. Ft.
2048 Sq.Ft. former insurance office and adjacent rental house being sold together.
Industrial - 2699 Patterson Road, Grand Junction, CO
$995,000
4,385 Sq. Ft.
Professional office/ retail space one of Grand Junction's busiest and most visible corners.
Industrial - 3720 G Road, Palisade, CO
$1,550,000
Palisade farm ground in the path of growth. Zoned CB (Commercial Business)
Industrial - 322 County Road 8, Meeker, CO
$650,000
1,680 Sq. Ft.
100-Unit RV Park in Meeker, Co. Lender owned and in good condition.
Industrial - 1629 Airport Road, Rifle, CO
$1,250,000
5,000 Sq. Ft.
Two story office/shop sitting on 4 acres of security-fenced yard. Large concrete parking lot.
Industrial - 17460 County Road 501, Vallecito Lake Bayfield, CO
$499,000
7,798 Sq. Ft.
Here is your chance to own one of the largest restaurant properties at Vallecito Lake.
Industrial - 739 3rd Avenue, Grand Junction, CO
$850,000
18,228 Sq. Ft.
18,000+ SF of ground level manufacturing area/warehouse with 576 SF of front office and reception ar
---