Search Results - Colorado
---
Anyone interested in commercial real estate listings will certainly find beautiful Colorado to be an intriguing choice. The capital city of Denver is home to about 600,000 people, but the Denver area boasts a population of about 2.5 million residents, making it a prime choice for commercial realty. Aurora is second in overall population with about 325,000 residents. In the last decade, Colorado has seen an impressive increase in population.


Colorado is home to agriculture, mining, manufacturing and oil production and its industrial space represents all of these sectors. The state is impressively diverse as cattle, corn and wheat are all major contributors to the local economy and growth of commercial real estate land.


Mining places a huge role in Colorado's economy, and gold and silver mining are still prominent to this date. Colorado's natural resources range from oil and natural gas to timber and likewise contribute greatly to not only the industrial space in the state, but also to the overall economy.


Colorado's diverse economy means diverse commercial real estate listings as well. Those interested in industrial space, buildings, office space and commercial property should find that Colorado has a good deal to offer.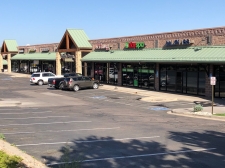 Retail - 363 Village Square Lane, Castle Pines, CO
$21/SqFt/Year
1,916-3,074 SqFt
Retail/Office Space For Lease at Village Square at Castle Pines
Industrial - 635 Pitkin Avenue, Grand Junction, CO
6,208 SqFt

Retail - 683 Horizon Drive 110 &111, Grand Junction, CO
2,800 SqFt

Office - 305 Main Street 1, Palisade, CO
1,471 SqFt

---
Industrial - 41008 County Road 5, Meeker, CO
10,225 SqFt

Retail - 683 Horizon Drive 110, Grand Junction, CO
1,600 SqFt

Industrial - 2486 Commerce Boulevard A, Grand Junction, CO
---
Retail - 2381 Patterson Road 141, Grand Junction, CO
2,500 SqFt

Industrial - 2192 H Road, Grand Junction, CO
27,163 SqFt

Office - 760 Horizon Drive 200-3, Grand Junction, CO
2,150 SqFt
Three professional offices, a security accessed front entrance, a shared conference and kitchen area
Industrial - 2275 Logos Court West, Grand Junction, CO
6,000 SqFt

Office - 826 North Crest Drive C-2, Grand Junction, CO
800 SqFt

Retail - 683 Horizon Drive 111, Grand Junction, CO
1,200 SqFt

Retail - 2381 Patterson Road 121, Grand Junction, CO
1,500 SqFt

Office - 1401 N 1st Street Upper Floor, Grand Junction, CO
3,205 SqFt

Retail - 683 Horizon Drive 100 & 101, Grand Junction, CO
2,327 SqFt

Retail - 305 Main Street 2, Palisade, CO
1,617 SqFt

Retail - 2650 North Avenue 117, Grand Junction, CO
3,050 SqFt

Office - 2501 Blichmann Avenue 120, Grand Junction, CO
148 SqFt

Retail - 2381 Patterson Road 131, Grand Junction, CO
1,500 SqFt

---