---
Industrial - 112 Ben Burton Cir Ste B, Bogart, GA
9,600 SqFt
Space can be leased in its entirety or broken into as many as 4 bays.
Industrial - 1213 Merchants Way #101, Statesboro, GA
1500 sq ft office space available in the market district. Previously a Dr. Office. 5-6 offices.
Retail - 4010 Northside Dr, Macon, GA
$0.19/SqFt/Month
10,550 SqFt
· Suites B-C: 3,000± SF - Open Space with two (2) restrooms - Two (2)
Retail - 3745 Kings Highway, Douglasville, GA
$1700/SqFt/Month
1 SqFt
This property is situated less than two miles from I-20 and approximately 30 minutes from Downtown A
Retail - 7855 Roswell Road, Atlanta, GA
$17/SqFt/Year
14,786 SqFt
Space for lease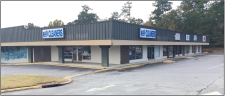 Retail - 2980 Riverside Drive, Macon, GA
$0.12/SqFt/Month
21,450 SqFt
· 2,000 ± SF Retail Space - Former Bass Cleaners · Plentiful asphalt paved parking ·
Retail - 1474 Riverside Dr, Macon, GA
$1.67/SqFt/Month
600 SqFt
Former Auto Detail/Used Car Lot
Industrial - 4900 Mercer University Dr, Macon, GA
$0.09/SqFt/Month
12,000 SqFt
Suite B: 1,500± Square Feet (30' X 15')
Office - 691 Wellborn Road, Warner Robins, GA
$13/SqFt/Year
38,950 SqFt
· 38,950± SF Total Office Building - 16,964 SF Remaining for Lease ·
Industrial - 199 Woodfield Dr, Macon, GA
$0.44/SqFt/Month
5,000 SqFt
5,000 SF Warehouse (1,500 SF Office/Showroom; 3,500 SF Warehouse) .
Retail - 3186 Glenwood Rd SE, Decatur, GA
$2710/SqFt/Month
1 SqFt
Great opportunity in a popular shopping center with great viability and high traffic count.
Industrial - 130 Satellite Boulevard, Suite E, Suwanee, GA
$5.85/SqFt/Year
9,735 SqFt
9,735 SF Distribution Center Sublease in Suwanee
Office - 246 W Pike Street, Lawrenceville, GA
$15.42/SqFt/Year
1,400 SqFt
1,400 SF of Office/Retail Space Available in Lawrenceville, GA
Office - 345 Parkway 575, Woodstock, GA
$1055/SqFt/Month
1 SqFt
Great office space location in Woodstock.
Retail - 4075 Pio Nono Avenue, Macon, GA
$0.75/SqFt/Month
1,000 SqFt
· Formerly Sunshine Diner · 1,000± SF Originally Pizza Hut - Open space with one (1) restroom
Office - 3333 Northside Drive, Macon, GA
$1/SqFt/Month
1,100 SqFt
· 1,100± SF Office Space - Reception Area - Waiting Area - Four (4) Offices - Storage Area
Office - 152 North Crest Blvd, Macon, GA
$10/SqFt/Year
2,310 SqFt
· 2,310± SF Office Space - Two (2) Front Door Entrances - Large Reception/Waiting Area - Six (
Retail - 2952 Vineville Ave, Macon, GA
$0.13/SqFt/Month
8,000 SqFt
1,000 - 2,000 SF Glass Front Retail / Office Available Average Daily Traffic Count:
Office - 375 Northridge Rd, Atlanta, GA
$23.5-27/SqFt/Year
200-1,148 SqFt
200-1,148 SF Class A Office Sublease
Office - 3040 Riverside Drive, Macon, GA
$0.01/SqFt/Month
75,000 SqFt
Four Buildings - Each with own entrance off parking lot Average Daily Traffic Count of 23,700 Vehicl
Many people do not realize that Georgia is an economic powerhouse with a gross state product of $602 billion and ample commercial real estate listings. One of the reasons that Georgia has such an impressive state economy is that 21 Fortune 500 companies have office space located in the state. Further, 30 Fortune 1000 companies have retail space and industrial space in Georgia including Coca Cola, Delta, and Home Depot.
Aside from the large corporations that have headquarters in the state, a great deal of Georgia's economy and commercial rural land is based on agricultural endeavors. The state is famous for outputs of a variety of foods including peaches, peanuts and tobacco. Industrial space in Georgia is dedicated to everything from food processing and paper product manufacturing to chemical products and equipment for transportation.
Much of the state's commercial real estate listings are based in Atlanta. This city is a major hub for transportation, government, industry and communications. Amongst the large corporations with office space headquarters in Atlanta are Rubbermaid, UPS, Chick-fil-A and Delta Airlines.
While the majority of the Georgia's commercial real estate listings may be in Atlanta, other highly populated areas include Augusta, Columbus, Savannah and Athens.
---