Search Results - Illinois
---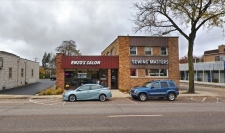 Retail - 1112-14 Waukegan Rd., Glenview, IL
$950,000
5,960 Sq. Ft. on 10837 acres
Glenview - Rarely Available Mixed Use Property for Sale
Business - 3832 N Lincoln Ave, Chicago, IL
$1,399,000
5,489 Sq. Ft. on 0.11 acres
North Center - 2-Story Building with Pizza/BBQ Restaurant Business for Sale
Retail - 510 N Cunningham Ave, Urbana, IL
$1,300,000
22,500 Sq. Ft. on 49299.44 acres
This single story 22,500 SF plus facility has 14 units all currently occupied, with plenty of onsite
Office - 108 Northwest Highway, Fox River Grove, IL
$185,000
1,694 Sq. Ft.
- Commercial Office Building - Main level:
Industrial - 2404 Spring Ridge Rd, Spring Grove, IL
$1,050,000
31,500 Sq. Ft. on 1.84 acres
Coldwell Banker Commercial NRT has been selected to exclusively market for sale an investment offeri
Retail - 3400-3498 W. Vollmer Road, Olympia Fields, IL
$5,850,000
54,858 Sq. Ft. on 5.62 acres
Coldwell Banker Commercial is pleased to present Olympia Square Shopping Center, a regional shopping
Industrial - 1700 Lake Land, Mattoon, IL
$214,900
15,635 Sq. Ft.
Need HIGH traffic on Lake Land??? This is your spot!!! Shop in back, 2 or 3 retails spaces in front!
Industrial - 612 Jackson Avenue, Charleston, IL
$49,000
Affordable Commercial Opportunity. Come be a part of the revival of Charleston's downtown.
Retail - 120 Dettro Drive #Unit B, Mattoon, IL
$14
Prime retail or office space location.
Industrial - 1111 S SUNSET, Duquoin, IL
$99,877
Location Location Location...Perfect for Assisted Living/Medical, Retail, Office Site.Disclosure:
Industrial - 205 W WILLOW, Carbondale, IL
$314,000
Willow Street Studio is legendary and Internationally known.
Industrial - 121 N 13TH, Herrin, IL
$160,000
Are you looking to relocate your business or searching for an investment opportunity?
Industrial - 309 S MAIN, Royalton, IL
$42,500

Industrial - 201 N 16TH, Herrin, IL
Gorgeous modern building for lease! This would be perfect to put your new business!
Industrial - 802 S PINE, Zeigler, IL
$89,500

Industrial - 216 N WASHINGTON, Carbondale, IL
$59,900
ENTERPRISE ZONE -- TIF DISTRICT TOO! Great place for your new business venture!!
Industrial - 409 E POPLAR, Harrisburg, IL
$295,000
Office space in Harrisburg Illinois for sale.
Industrial - 1101 Opdyke, Chester, IL
$159,900
This building could be put to all sorts of uses!
Industrial - 2912 N 17TH, Herrin, IL
$19,900
Looking for a great spot for your business.
Industrial - 2525 11th Street, Rockford, IL
$384,000
This property is a former manufacturing site.
Illinois is one of the most populated states in the country, and this factor means that there are ample Illinois commercial real estate listings. Many of these commercial property listings are based in its largest city Chicago. This fact can only be expected, as Chicago is the third most populated city in the entire country.
The Chicago area is the home to 75% of the people who live in the entire state of Illinois, which has an estimated population of 12.74 million people. Other cities with notable Illinois commercial real estate listings include Aurora, Rockford and Joliet.
Agricultural products like corn, soybeans, cattle, wheat and dairy make up some of the state's rural commercial land. Manufacturing is also key for the state's economy. Since 38% of the state's manufacturing plants are located in Cook County, there is a great deal of commercial property in this region. Products manufactured include chemicals, machines, food, fabricated metal, electronics, plastics and transportation equipment.
---