---
Of all the states in the country, CEO Magazine rated Indiana as the 6th best place to do business. Indiana's capital city, Indianapolis, is a highly populated city with a plethora of commercial real estate listings. In fact, Indianapolis is the second largest capital city in the country.


Indianapolis is home to a variety of commercial real estate listings, and its population is estimated at 829,718. Other populated areas with commercial realty include Fort Wayne, Evansville and South Bend. Agriculture also figures highly into the economy, as the state is in the U.S. Corn Belt and Grain Belt. The valleys of Indiana have very fertile soil and are home to rural commercial land.


The economy of Indiana is based on a diverse array of outputs including manufacturing of pharmaceuticals, cars, electrical and transportation equipment, chemicals, machinery and coal products. Calumet is the largest producer of steel in the country, resulting in a vast amount of industrial space dedicated towards steel production in that part of the state. Pharmaceutical company Eli Lilly and Mead Johnson Nutritionals have their headquarters with office space and industrial space in Indiana.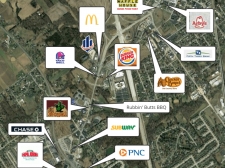 Land - 115 Enterprise Drive, Sellersburg, IN
$3,392,000
32.22 acres
Commercial Land - Development Opportunity, Sellersburg, Indiana
Industrial - 5150 Charlestown Road 1,1A,2A, New Albany, IN
$277,900
3,015 Sq. Ft.
Location! Location !! Rare opportunity for 3,000 sq.ft.
Office - 458 Morthland Drive, Valparaiso, IN
$515,000
1,120 Sq. Ft. on 0.88 acres
Valparaiso/Center Township. Zoned C-1. This property has 5 rentable units. Two are currently rented.
Others - 485 Forks of the Wabash Way, Huntington, IN
$299,900
3,552 Sq. Ft. on 1.08 acres
Rare opportunity awaits.
---
Others - 101 E Columbia Street, South Whitley, IN
$95,000
0.1 acres
Office, Medical/Dental - South Whitley, IN
Others - 1400 Wabash Avenue, Rochester, IN
$749,000
4 acres
Industrial, Industrial Warehouse - Rochester, IN
Others - 3717 Ardmore, FORT WAYNE, IN
$395,000
10.82 acres
Great location for a gas station and convenience store and industrial use.
---
Others - 10820 Wicker Avenue, St. John, IN
$875,000
1,225 Sq. Ft. on 0.97 acres
Re-Development site FOUR LOTS COMBINED.
Others - 111 Main, CHURUBUSCO, IN
$99,900
0.07 acres
Quite possibly the best building when considering location.
Others - 429 W Us Highway 20, Michigan City, IN
$399,100
1 Sq. Ft.
Opportunity Awaits in this Vacant Building on a Busy Corner (1 acre lot)
Others - 122 Main Street, Hebron, IN
$89,900
2,200 Sq. Ft. on 0.05 acres
Well located retail or office space in downtown Hebron.
Industrial - 1040 Wabash Ave., Chesterton, IN
$1,500,000
37,200 Sq. Ft. on 2.43 acres
One of only a few newer multi-purpose industrial buildings available in Porter County.
Land - 9999 Derby Ave, Beverly Shores, IN
$140,000

Retail - 643 S Airport Rd, Seymour, IN
$499,900
23,700 Sq. Ft. on 6.9 acres
Previously Kingpins Bowl, 23,700 retail space in Seymour
Industrial - 1002 E 10th Street, Jeffersonville, IN
$250,000
Great location in the 10th Street Master Plan Area. Property Zoned Commercial. NC (
Single Family - 1607 East 36th Street, Marion, IN
$15,900
1,110 Sq. Ft. on 0.14 acres
Cape Cod Style Single Family Only: $15,900!
Others - 3855, 3885 & 3905 N State Hwy 3, North Vernon, IN
$1,500,000
49.97 acres
Possible Industrial Opportunity! This property offers a total of 49.97 acres with a 4,000 &
Others - 2620 S Madison, Muncie, IN
$425,000
None.
Land - W JFK Dr, North Vernon, IN
$875,000
24.8 acres
Abundance of Possibilities! These 24.
Others - 12632 N State Road 37, Elwood, IN
$80,000
5,310 Sq. Ft. on 4.84 acres
4.84 Acres on SR 37 holds many possibilities residential/agricultural.
---