---
Others - 3711 Everbrook Lane, Muncie, IN
2,850 SqFt
Very well maintained medical office building located in Lyndenbrook.
Others - 2810 W Ethel #7 Avenue, Muncie, IN
532 SqFt
Suite 7 rents for $475 month. Water & sewage included, tenant pays gas & electric.
Others - 225 N High Street, Muncie, IN
19,844 SqFt
Modern office building with 3 suites for lease.
Others - 420 W Washington Street, Muncie, IN
2,147 SqFt
Coming soon 2,147 SF of retail space located in Muncie's White River Canal District.
Others - 3651 S Cowan Road, Muncie, IN
9,141 SqFt
Industrial/Distribution building available for lease. 9100 sq. ft. with 2 large drive in OVH doors.
Others - 1111 E Seymour Street, Muncie, IN
15,550 SqFt
Over 15,000 sq. ft. of heated manufacturing or warehouse/distribution space. 600A - 3 phase power.
Others - 3411 W Bethel Avenue, Muncie, IN
576 SqFt
Office or retail located on Bethel Ave between McGalliard and Tillotson in Northwest Muncie.
Others - 1714 W University Avenue, Muncie, IN
6,867 SqFt
Ball State University location in the heart of the "Village" shopping and restaurant district.
Others - 108 N Center Street, Bremen, IN
1,100 SqFt
Join soon to open Sunrise House of Pancakes in a great space on N Center St. in downtown Bremen.
Others - 2101 W Godman Avenue, Muncie, IN
702 SqFt
Retail or office in a great location.
Others - 2111 W Godman Unit A Avenue, Muncie, IN
3,636 SqFt
Warehouse and office in an ideal location in west Muncie, close to IU Health, Ball State University
Others - 912 Erskine Plaza, South Bend, IN
1,700 SqFt
Join Martin's Supermarket, New China Restaurant, Boost Mobile, and Best Nail Spa in Erskine Plaza on
Others - 112 W Main Street, Hartford City, IN
18,000 SqFt
Fantastic opportunity to locate your business in a beautiful and unique redeveloped Historic buildin
Others - 1208 E 7th Street, Mishawaka, IN
9,888 SqFt
Great industrial space located on 7th St. in Mishawaka.
Others - 108 S Walnut Street, Muncie, IN
7,164 SqFt
Lease space available in the Historic Patterson Block.
Others - 300 E Main Street, Fort Wayne, IN
1,155 SqFt
Kitchen, bakery, and restaurant available for lease inside the Auer Center Downtown Fort Wayne.
Others - 1919 W Western Avenue, South Bend, IN
2,576 SqFt
Excellent price for office space near Downtown South Bend on W Western Ave. (
Others - 202 and 206 W Lincolnway Highway, Osceola, IN
6,800 SqFt
Excellent opportunity for your business or investment on heavily traveled Lincolnway W in Osceola (
Industrial - 203 N South Street, Brookston, IN
$1,600 Month
30,234 SqFt
Located in the charming town of Brookston, just a short drive from West Lafayette, this 4,136 square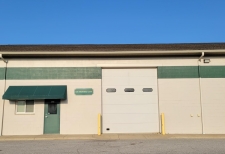 Industrial - 1126 Arrowhead Court, Crown Point, IN
$10 SqFt/Year
2,400 SqFt
2,400 SF Industrial Unit For Lease
Of all the states in the country, CEO Magazine rated Indiana as the 6th best place to do business. Indiana's capital city, Indianapolis, is a highly populated city with a plethora of commercial real estate listings. In fact, Indianapolis is the second largest capital city in the country.
Indianapolis is home to a variety of commercial real estate listings, and its population is estimated at 873,000. Other populated areas with commercial realty include Fort Wayne, Evansville and South Bend. Agriculture also figures highly into the economy, as the state is in the U.S. Corn Belt and Grain Belt. The valleys of Indiana have very fertile soil and are home to rural commercial land.
The economy of Indiana is based on a diverse array of outputs including manufacturing of pharmaceuticals, cars, electrical and transportation equipment, chemicals, machinery and coal products. Calumet is the largest producer of steel in the country, resulting in a vast amount of industrial space dedicated towards steel production in that part of the state. Pharmaceutical company Eli Lilly and Mead Johnson Nutritionals have their headquarters with office space and industrial space in Indiana.
---