---
The 15 largest employers in Kansas have their industrial space and office space in Wichita, Overland Park and Topeka predominantly. These areas are also where you will see a high amount of the state's commercial real estate listings. The state's population is approximately 2,775,997.


Kansas is a highly agricultural state with outputs of wheat, sorghum and sunflowers. Industrial space and rural commercial land is also dedicated to cattle, corn, soy and salt.


A high portion of the state's economy is from oil production. Kansas also ranks 8th in production of natural gas. As a result, much of Kansas commercial property is dedicated to these two industries. You will also see industrial space and office space dedicated to aerospace. Major companies based in Kansas include Spirit, Boeing, Cessna, Learjet and Hawker Beechcraft.


If you are looking for Kansas commercial real estate listings, it is interesting to note that 627 incorporated cities are in Kansas. By population, the largest city is Wichita with approximately 382,368 residents. Overland Park had 173,372 residents and Kansas City has 145,786 residents. Other cities with a sizeable amount of commercial realty include Topeka and Olathe.
Retail - 1707 Main, Parsons, KS
$15,000
5,710 Sq. Ft. on 0.12 acres
Historic downtown Parsons location! All brick, Commercial/retail site now available.
Office - 1116 N Broadway Street, Leavenworth, KS
$75,000
2,286 Sq. Ft.
Veterinary Clinic for sale, could also be Perfect for doggy daycare/groomer!
Land - 1510 S Greenwich Rd, Wichita, KS
$2,400,000
77+/- rolling acres with 20+/- acre lake. Excellent potential for multi-use.
Industrial - 225/219 NW Gordon ST, Topeka, KS
$53,000
Retail liquor in the front; cigarillos & energy drinks sold out the back + 1 bedroom (219)
---
Multi-family - 2525/2527 Winterbrook DR, Lawrence, KS
$220,000
Duplex is in a great neighborhood with fenced yard, new siding, 2 single car garages & more.
Industrial - 2055 SW Clay ST, Topeka, KS
$295,000
The space you can have for a school, office, church.
Industrial - 3400 SW Van Buren ST, Topeka, KS
$549,000
This office space is huge, plenty of room for everything.
---
Office - 314 Delaware Street, Leavenworth, KS
$120,000
2,640 Sq. Ft.

Land - 335 N Chaumont Ct, Andover, KS
$45,000
This is a a lot and a half! NO SPECIAL TAXES! A 6% commission to be paid on the build job.
Others - 314/16 Delaware Street, Leavenworth, KS
$150,000
2,640 Sq. Ft.
Opportunity for an office building and lot with rental income on two apartments $1100 mo income.
Single Family - 55 Cosmos Ave, Elkhart, KS
$18,900
950 Sq. Ft. on 0.16 acres
Single Family Ranch $18,900 Big Profit Potential as a Fixer Upper!
Single Family - 411 Charlotte Street , Harveyville, KS
$12,900
1,904 Sq. Ft. on 0.34 acres
Single-Family Manufactured Home $12,900 Numerous Special Features and Amenities
Farm - 316 Delaware Street, Leavenworth, KS
$30,000
Great Building site downtown with on street parking, public 8 hour lot steps away and rear alley acc
Land - 8631 Amber Rdg, Viola, KS
$25,000
This is it - three acre platted lot - open to licensed contractor - NO HOA!
Others - 224 N Pennsylvania Ave, Independence, KS
$250,000
Central Business District. Corner lot. Building divided for 3 different businesses.
Others - 5200 10th Street, Great Bend, KS
$174,900
2,000 Sq. Ft. on 0.22 acres
Convenience store at the corner of 10th Street and Eisenhower.
Industrial - 500 Cherry St, Dodge City, KS
$2,400,000
Campground, 82 ac pond, 12 Acre island, 456 ac ft water rights, shop, office, propane business, 116
Multi-family - 2715 N 77th St, Kansas City, KS
$165,000
Remodeled duplex with new roof, new deck, new carpet, new appliances, new kitchens with new cabinets
Retail - 649 Main Street, Osawatomie, KS
$119,000
7,500 Sq. Ft. on 0.25 acres
PRIME LOCATION! HIGH TRAFFIC AREA located in downtown Osawatomie* 7500 sq.ft.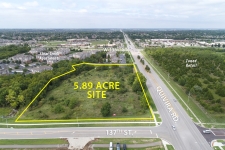 Land - Quivira Road & 137th Street, Overland Park, KS
$200,000
5.89 acres
Prime Development Land Auction | Low Reserve at 80% off Previous List Price!
---