---
The 15 largest employers in Kansas have their industrial space and office space in Wichita, Overland Park and Topeka predominantly. These areas are also where you will see a high amount of the state's commercial real estate listings. The state's population is approximately 2,775,997.


Kansas is a highly agricultural state with outputs of wheat, sorghum and sunflowers. Industrial space and rural commercial land is also dedicated to cattle, corn, soy and salt.


A high portion of the state's economy is from oil production. Kansas also ranks 8th in production of natural gas. As a result, much of Kansas commercial property is dedicated to these two industries. You will also see industrial space and office space dedicated to aerospace. Major companies based in Kansas include Spirit, Boeing, Cessna, Learjet and Hawker Beechcraft.


If you are looking for Kansas commercial real estate listings, it is interesting to note that 627 incorporated cities are in Kansas. By population, the largest city is Wichita with approximately 382,368 residents. Overland Park had 173,372 residents and Kansas City has 145,786 residents. Other cities with a sizeable amount of commercial realty include Topeka and Olathe.
Industrial - 1803 E 1st Street, Pratt, KS
$150,000
1,920 Sq. Ft. on 1.3 acres
MOTIVATED SELLER! Conveniently located at the US Hwy 54 & Hwy 61 junction, Ninja Sushi &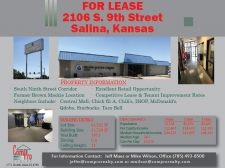 Retail - 2106 S 9th Street, Salina, KS
$1,900,000
21,720 Sq. Ft. on 1.41 acres
Excellent Office or Retail Opportunity
Industrial - 123 W 3rd ST, Alma, KS
$249,900
(Topeka-Manhattan Area).
Industrial - 225/219 NW Gordon ST, Topeka, KS
$58,000
Retail liquor in the front; cigarillos & energy drinks sold out the back + 1 bedroom (219)
---
Industrial - 123 Dakota Ave, Holton, KS
$282,000
Located across from new Walmart; high traffic = positive investment.
Others - 2214 E Kansas Ave, Garden City, KS
$495,000
Previous use Restaurant
Industrial - 103 S 2nd Ave, Dodge City, KS
$220,000
2,249 Sq. Ft.
The Last Chance Saloon is for SALE!
---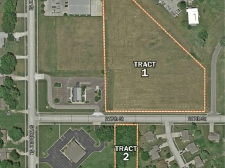 Land - 217th St, Spring Hill, KS
5.45 acres
Kansas Commercial Development Land Absolute Auction
Land - 1705 S Webb Rd, Wichita, KS
$305,000
This is a commercial lot in a high traffic area.
Land - S Vintage, Andover, KS
$300,000
20.8 Acres of undeveloped land in the desirable Andover School District.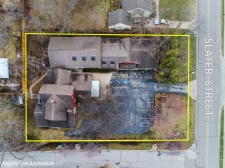 Office - 5905 Slater Street, Merriam, KS
5,400 Sq. Ft.
Office/Retail Buildings For Sale at NO RESERVE AUCTION
Industrial - 808 W Carthage St, Meade, KS
$99,000
1,000 Sq. Ft.
Nice Commercial Building in Meade This 1000 square foot metal building was built in 2010.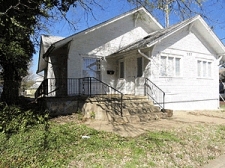 Office - 357 North Hillside Ave., Wichita, KS
1,532 Sq. Ft. on 6410 acres
Home Converted to Commercial/Office Space
Retail - 109 N Washington, Marquette, KS
$64,000
1,979 Sq. Ft. on 0.07 acres
Own a piece of beautiful downtown Marquette. Building is currently used as a bar/tavern.
Land - tbd W Seidl Dr, Garden Plain, KS
$28,525
Attached plat shows available 2+ acre lots.
Retail - 103 S Smith Street, Milford, KS
$159,900
2,585 Sq. Ft.
Great commercial property located near Milford Lake!
Land - 0000 N N H St, Wellington, KS
$24,900
13.1 acres
ITS A NEW DAY THERE IS 7 ACRES THAT CAN BE BUILT ON.
Industrial - 700 W Wyatt Earp Blvd, Dodge City, KS
$700,000
5,078 Sq. Ft.
Call Brian Delzeit @ 620-408-8816. Building constructed in 1985 as a Golden Corral restaurant.
Others - 7877 Highway 24, Manhattan, KS
$190,000
Great half acre location off 24 highway on the east side of Manhattan.
Others - 16211 Santa Fe Trail, Leavenworth, KS
$345,000
9,890 Sq. Ft. on 1.7 acres
A rare opportunity for warehouse & industrial space in the heart of Leavenworth.
---