---
Industrial - 4015 SW 21st St, Topeka, KS
$250,000

Industrial - 200 S Broadway Street, Leavenworth, KS
$245,000
12,000 Sq. Ft.
The property has many functions.
Retail - 1610 W 23rd Street, Lawrence, KS
$323,500
3,133 Sq. Ft.
Great opportunity!
Industrial - 1100 Columbine DR, Holton, KS
$2,100,000
Prime Medical Center property available - Office space, Medical Exam Center perfect for specialist g
Industrial - 115 Washington St., Marquette, KS
$74,000
3,077 Sq. Ft.
What a fantastic space!
Industrial - 818 N Kansas AVE, Topeka, KS
$249,900
Incredible opportunity - from bare stone years ago, this facility has been updated from the floor to
Industrial - 109 Washington St., Delphos, KS
$25,000
2,054 Sq. Ft.
50 year rubber membrane roof installed 2014. Shooting range located in basement. Has regular &
Industrial - 655 Santa Fe Ave., Salina, KS
$549,900
6,800 Sq. Ft.
Premier location just a few blocks south of Downtown Salina on Santa Fe Ave.
Industrial - 1310 12th Rd., Lyons, KS
$400,000
4,192 Sq. Ft.
Endless opportunities for this property. 35.1 acres more or less total with 29 acres farm ground.
Industrial - 110 River Rd, Dodge City, KS
$45,000
1,480 Sq. Ft.
Shop located in South Dodge on .18-acres. Building is a concrete block 20x74x9. 3-overhead doors.
Industrial - 3414 SW 6th Ave, Topeka, KS
$97,000
Multi occupancy retail stores. 3 separate units. Over 4500 sq.ft. available. Close to Gage Park &
Others - 1723 N 38th St, Kansas City, KS
$100,000
792 Sq. Ft. on 0.07 acres
Fantastic opportunity - turn on the open sign and start making money - busy area with high traffic f
Land - 635 N 78th Street, Kansas City, KS
1.8 acres
Unique parcel of land next to Wendy's and Quick Trip on corner of 78th St. and Tauromee Ave.
Industrial - 630 Shawnee Street, Leavenworth, KS
$199,500
5,928 Sq. Ft.
24 hour notice is required. No exceptions. Well respected business is closing.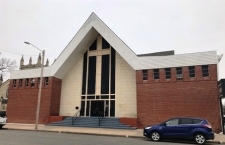 Others - 118 S 8th St, Salina, KS
$905,000
13,208 Sq. Ft. on 0.46 acres
Church Facility
Others - 202 S. 1st St., Wakeeney, KS
$280,000
3,830 Sq. Ft. on 0.33 acres
This unique building waiting for a new owner that sees the big picture.
Industrial - 215 S 15th Street, Elwood, KS
$299,000
Great Industrial Building! Mixed use, excellent shape and large lot.
Industrial - 510 W 4th Ave, Ashland, KS
$150,000
1,600 Sq. Ft.
Don't miss this opportunity to own your own business. Inventory list in file and fuel sales.
Office - 2701 Hall St, Hays, KS
$545,000
1,971 Sq. Ft. on 29248 acres
Prime location in northwest Hays on fantastic corner lot with ample off-street parking and still roo
Industrial - 124 S Vermont Ave, Anthony, KS
$189,000
3,000 Sq. Ft. on 0.58 acres
The sky is the limit with this 3,000 sq.ft. building in downtown Anthony, KS . Zoned commercial &
The 15 largest employers in Kansas have their industrial space and office space in Wichita, Overland Park and Topeka predominantly. These areas are also where you will see a high amount of the state's commercial real estate listings.
With a population size of 2.9 million, Kansas is a highly agricultural state with outputs of wheat, sorghum and sunflowers. Industrial space and rural commercial land is also dedicated to cattle, corn, soy and salt.
A high portion of the state's economy is from oil production. Kansas also ranks 8th in production of natural gas. As a result, much of Kansas commercial property is dedicated to these two industries. You will also see industrial space and office space dedicated to aerospace. Major companies based in Kansas include Spirit, Boeing, Cessna, Learjet and Hawker Beechcraft.
If you are looking for Kansas commercial real estate listings, it is interesting to note that 627 incorporated cities are in Kansas. By population, the largest city is Kansas City with approximately 489,000 residents. Overland Park has 191,000 residents and Wichita has around 390,000 residents. Other cities with a sizeable amount of commercial realty include Topeka and Olathe.
---