---
Industrial - 116 S Main St, Offerle, KS
$29,000
480 Sq. Ft.

Land - 231st Street, Easton, KS
$90,000
Looking for a perfectly situated tract of affordable land that is the ideal corridor for monster Kan
Industrial - 225 NW Gordon ST, Topeka, KS
$48,500

Land - Nc #1, Ness City, KS
$100,250
79 acres
Great piece of land, with really good soil types.
---
Land - NW 208 Rd, Jetmore, KS
$150,870
158.81 acres
This CRP has yearly payments until 2025.
Industrial - 1410 Corporate Drive, Parsons, KS
$76,000
8,050 Sq. Ft. on 0.49 acres
Metal building with 8,050 sq. ft.
Industrial - 112 Pearl St, Dodge City, KS
$385,000
7,800 Sq. Ft.
This is an excellent opportunity to start your own business. 7800 SF and sits on 2.16 acres.
---
Industrial - 107 E 2nd AVE, Eskridge, KS
$35,500
Former large Church building just waiting for your creative use!
Industrial - 1101 SE Lafayette ST, Topeka, KS
$120,000
Rare opportunity. Family-owned 5,236 sq.ft building. Corner lot in S.
Industrial - 1878 E 50th Rd, Lecompton, KS
$169,900
22,520 sq feet zoned commercial.
Land - Lot 2 142nd Street, Bonner Springs, KS
$82,000
Beautiful rolling 5+ acre tract ready for you to build your dream home!
Land - Lot 4 Archer Road, Bonner Springs, KS
$89,000
Beautiful 5+ acre lot to build the home of your dreams!
Land - 11320 W Fontana, Wichita, KS
$52,000
Great lake lot that is the last lot in the Estates of Fontana!
Land - 300 Block W 13th Street, Junction City, KS
$5,000
0.17 acres
Nice residential building site now available on the 300 block of West 13th street.
Others - 300 E. Main, Parsons, KS
$950,000
68,958 Sq. Ft. on 6 acres
68,958 sq. ft. commercial building on 6 acres.
Land - 335 N Chaumont Ct, Andover, KS
$45,000
This is a a lot and a half! NO SPECIAL TAXES! A 6% commission to be paid on the build job.
Land - Lot 10 Woodridge Drive, Leavenworth, KS
$91,900
Nestle your home into this amazing setting in the well desired Woodridge subdivision!
Others - 126 W 4th Street, Chapman, KS
$55,000
Real Estate - Chapman, KS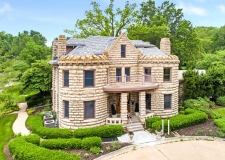 Multi-Use - 12401 Johnson Drive, Shawnee, KS
6,600 Sq. Ft. on 1.1 acres
Caenen Castle Commercial Building | Shawnee, Johnson County, KS
Others - 700 Vine St., Hays, KS
$350,000
2,168 Sq. Ft.
List price is for the building and the land.
The 15 largest employers in Kansas have their industrial space and office space in Wichita, Overland Park and Topeka predominantly. These areas are also where you will see a high amount of the state's commercial real estate listings. The state's population is approximately 2,775,997.


Kansas is a highly agricultural state with outputs of wheat, sorghum and sunflowers. Industrial space and rural commercial land is also dedicated to cattle, corn, soy and salt.


A high portion of the state's economy is from oil production. Kansas also ranks 8th in production of natural gas. As a result, much of Kansas commercial property is dedicated to these two industries. You will also see industrial space and office space dedicated to aerospace. Major companies based in Kansas include Spirit, Boeing, Cessna, Learjet and Hawker Beechcraft.


If you are looking for Kansas commercial real estate listings, it is interesting to note that 627 incorporated cities are in Kansas. By population, the largest city is Wichita with approximately 382,368 residents. Overland Park had 173,372 residents and Kansas City has 145,786 residents. Other cities with a sizeable amount of commercial realty include Topeka and Olathe.
---