---
Industrial - 4015 SW 21st St, Topeka, KS
$220,000

Industrial - 512 Cherokee Street, Leavenworth, KS
$560,000
Redevelopment opportunity in historic downtown Leavenworth. 12,000 Sq. Ft. per floor.
Industrial - 728 Eisenhower Road, Leavenworth, KS
$489,000
Great potential with this large piece of ground on north side of Eisenhower Road, just west of Highw
Industrial - 1535 S 2nd Street, Leavenworth, KS
$1,600,000
19 Acres of land located on the Missouri river in Leavenworth Kansas.
Office - 1101 N 5th Street, Leavenworth, KS
$475,000
Great building in growth area next to Ft. Leavenworth! Opportunity zone!!
Others - 1310 12th Rd., Lyons, KS
$379,000
4,192 Sq. Ft.
Endless opportunities for this property. 35.1 acres more or less total with 29 acres farm ground.
Others - 702 E North St., Lincoln, KS
$999,000
57,060 Sq. Ft.
Prime opportunity! Large industrial/manufacturing plant located in the heart of Kansas.
Others - 804 E Crawford, Salina, KS
$1,050
1,000 Sq. Ft.
Office space available for LEASE, in high traffic location. Three Executive offices &
Others - 1813 S Ohio, Salina, KS
$395,000
6,900 Sq. Ft.
6900 Sq. ft. of "PRIME," COMMERCIAL REAL ESTATE @ 1813 S. Ohio St. SE of the intersection off Ohio &
Others - 109 N Poplar St., Solomon, KS
$158,000
3,475 Sq. Ft.
Very well maintained church in the heart of Solomon. Price well under county value by over $100,000!
Others - 810 Cherokee Street, Leavenworth, KS
$135,000
5,000 Sq. Ft.
Great potential to build your own!
Industrial - 3715 West Jones Ave, Garden City, KS
$525,000
Perfect spot for your Trucking Business...
Office - 906 Broadway St., Marysville, KS
$175,000
1,584 Sq. Ft.
Retail/Office space with income potential from Studio Apartment located on 2nd floor.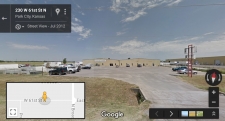 Industrial - 200 W 61st Street N, Wichita, KS
$1,149,000
28,000 Sq. Ft. on 4 acres
Excellent Investment Property, Stays Full, Fastest Growing Excellent Area, Retail, MFG, Industrial,
Industrial - 130 East 15th Street, Horton, KS
$215,000
Beautifully maintained business, all it needs is you!
Others - 35720 Plum Creek Road, Osawatomie, KS
$125,000
PRIME LOCATION! HIGH TRAFFIC AREA located at south end of Osawatomie*
Industrial - 21909 B Street, Winfield, KS
135,976 Sq. Ft. on 28 acres
Auction June 16th – Industrial Assemblage – Winfield, KS
Others - 2450 CR 4525, Coffeyville, KS
$60,000
9 acres
This perfect building site is a gentle sloping 9.98 meadow..
Hotel - 1401 Main St., Stockton, KS
$350,000
0.98 acres
Wow! What an opportunity!
Retail - 708 Minnesota Avenue, Kansas City, KS
$460,000
The Pylon Plaza. Former office/department store in downtown KCK.
The 15 largest employers in Kansas have their industrial space and office space in Wichita, Overland Park and Topeka predominantly. These areas are also where you will see a high amount of the state's commercial real estate listings.
With a population size of 2.9 million, Kansas is a highly agricultural state with outputs of wheat, sorghum and sunflowers. Industrial space and rural commercial land is also dedicated to cattle, corn, soy and salt.
A high portion of the state's economy is from oil production. Kansas also ranks 8th in production of natural gas. As a result, much of Kansas commercial property is dedicated to these two industries. You will also see industrial space and office space dedicated to aerospace. Major companies based in Kansas include Spirit, Boeing, Cessna, Learjet and Hawker Beechcraft.
If you are looking for Kansas commercial real estate listings, it is interesting to note that 627 incorporated cities are in Kansas. By population, the largest city is Kansas City with approximately 489,000 residents. Overland Park has 191,000 residents and Wichita has around 390,000 residents. Other cities with a sizeable amount of commercial realty include Topeka and Olathe.
---