9836 Liberia Avenue, Manassas, VA
Retail for Lease - 1,522 SqFt Available
---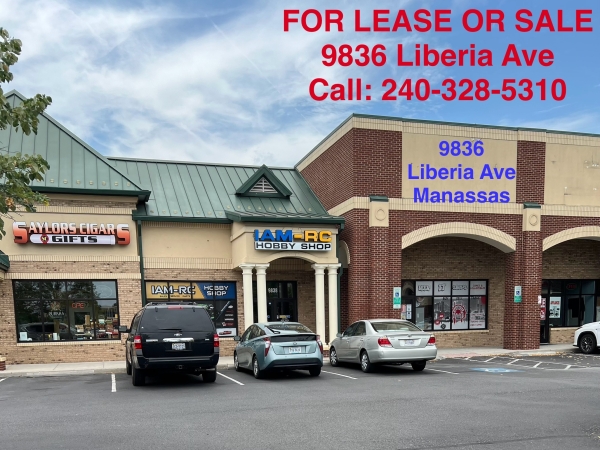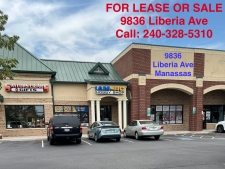 1
Agent Info
---
Property Info
CIMLS#
462999
Location
9836 Liberia Avenue
Manassas VA 20110
Updated
December 14th, 2021
Type
Retail
Price
Upon Request
Building
1,522 SqFt
---
Contact
---
Property Description
GREAT RETAIL STORE FRONT SPACE AVAILABLE FOR LEASE. LOW RENT. MANY USES. 9836 Liberia Ave, Manassas, VA 20110
In the heart of premier retail district, in a shopping center. CALL (240) 328-5310.
RENTAL RATE and LEASE TERMS: NEGOTIABLE. This great location won't last long on the market. Hurry - call us now to come see it for yourself and submit an application.
USAGE: RETAIL, WHOLESALE OR OFFICE: barber shop, hair salon, nail salon, beauty supplies, flower shop, printing company, mailbox, copy or packaging store, package/parcel shipping and mailing, gift shop, antique shop, art and craft shop, book store and coffee, appliances, furniture and home furnishings, specialty food shop, pharmacy, beer wine shop, vitamin-supplements-herbs-sports nutrition-minerals store, production space, CPA, aerobic and dance studio, dance hall, exercise classes, yoga studio, meeting space, classroom space, art studio, medical office- clinic, child care center, thrift shop, convenience store, grocery store, gourmet market, upscale dollar store, discount store, hardware store, home accessories, bike/bicycle sale and repairs, check cashing, pawn shop, carpets and flooring, kitchen cabinets, remodeling, air conditioning and heating sale and service, electrical services, fashion stores, jewelry shop, shoe store, Cell phone sales and repairs or any other general retail or office use.
EXCELLENT BUSINESS OPPORTUNITY FOR: Doctors, Doctor office, Dentists, Endodontists, Orthodontists, Periodontists, Chiropractors, Acupunctures, Psychologists, Psychiatrists, Practitioners, Cardiologists, Orthopedists, Allergists, Internists, Pediatrics, Podiatrists, Pulmonologists, Internal medicine, Urologists, MRI, Dermatologist, Urgent Care facility, Wellness center, CPR training center, Estheticians, Massage Therapists, Holistic Healer, Medical Spa, Weight Loss Services, Physical Therapists, Dieticians, Developmental Disability Training, Mental Health, Medical Supply, Medical billing, any other health related specialties, Spa specialties, Health Salon, Beauty Parlor, Permanent and freelance/event makeup artists, Pharmacist, Social Workers, Counselors, Music Production/Studio, Attorneys, Law Office, Insurance Agency, Tax office, Accountants/CPAs, Recording Studio, estate agency/office/brokerage, Financial Analysts office, Computer Training School, Computer Sale and Repairs, Mobile Phone Sales and Repairs,
ADDRESS: 9836 Liberia Ave, Manassas, Virginia 20110. Located in Fairview Square Shopping Center at the intersection of Liberia Avenue and Signal Hill Road, (PRINCE WILLIAM COUNTY)
GREAT SIZE AND LAYOUT: 1522 square feet of prime retail space facing Liberia Avenue. 26 feet Wide Glass Store Front. The unit was formerly used as a sporting goods shop. There is a storage /stock room in the back of the unit with a rear exit. Includes: Wooden Floor, Exposed Ceiling, Lightings, individual HVAC, duct work, Sprinklers, Emergency Lights, Finished Painted walls, Handicapped Bathroom (ADA complied) and Utility Sink. Ready to move in. All utility is individually metered per unit except water and sewer. Each unit is provided with a janitor's sink and the two hours fire rated steel door.
ACCESSIBILITY AND VISIBILITY: The shopping center has two intersections with traffic light and dedicated turn lanes for easy 3 points of access and excellent visibility to both Northbound and Southbound lanes of roughly 44,000 cars a day on Liberia Avenue. One of the best retail stretches with excellent road signage in Manassas. Excellent visibility from the street.
SURROUNDINGS: This location is surrounded by Aldi Super Market, Starbucks, Dollar Tree, Noodles and Company, Lido's Pizza, Mattress Warehouse, Wendy's, Tutti Frutti, Walmart, Home Depot, Shoppers, Chipotle, Applebee's, Panera Bread, Glory Days Grill, GameStop, Panera Bread and Chick-fil-A, Staples and all other national retailers and franchises. TD Bank is located out front. Lots of town homes and single-family homes nearby, anchored by very strong demographics in Prince William County Corridor.
Located in the highly desirable Prince William County retail corridor at the busy intersection of Liberia Avenue and Signal Hill Road, less than a quarter mile from Prince William County Parkway.
This site sits strategically in between Harris Teeter and Wal-Mart. Across from Office condos and several popular restaurant chains.
PARKING: Plenty of 10' free shared parking spaces.
TRAFFIC COUNT: Over 44,000 vehicles per day on Liberia Avenue.
AVERAGE HOUSEHOLD INCOME: $95,888 (1 Mile) / $94,921 (5 Mile) / $106,714 (10 Mile)
POPULATION: 60,292 (1 Mile) / 121,032 (5 Mile) / 451,313 (10 Mile)
For more detailed information, please call 240-328-5310
---
---
Similar Listings