Search Results - Louisiana
---
Industrial - 401 THOMAS STREET, Farmerville, LA
$350,000
2,000 Sq. Ft.
Have you ever dreamed of owning your own business. Well heres your chance.
Office - 301 HUDSON LANE, Monroe, LA
$324,000
3,994 Sq. Ft.
This is a completely restored office Bldg. Located in the Garden District. This Bldg.
Retail - 501 CONSTITUTION DRIVE, West Monroe, LA
$850,000
7,290 Sq. Ft. on 1.26 acres
Unique and Updated Custom Store that is designed to Show off your Product!
Others - 100 SOUTH GRAND STREET, Monroe, LA
$649,900
5,500 Sq. Ft. on 0.3 acres
Architectural jewel perfectly situated in the historic downtown Monroe area.
Land - Merchant Circle, Robert, LA
$274,500
2.4 acres
Well-placed 2.4 acres located in a light commercial development called The Haven;
Others - 1600 Siebarth Drive, Lake Charles, LA
$2,250,000
24,947 Sq. Ft. on 2.6 acres
Commercial complex sits alongside and parallel to Interstate 210 with high visibility;
Others - 1217 Sam Houston Jones Pkwy, Lake Charles, LA
$190,000
3,227 Sq. Ft. on 0.3 acres
PRIME Commercial property-ZONED C-3(central business commercial).
Others - 700 Ryan Street, Lake Charles, LA
$950,000
8,080 Sq. Ft. on 0.12 acres
Situated on the corner of Ryan and Division sits this Lake Charles historical beauty.
Others - 1751 Hammond Street, Hornbeck, LA
$150,000
5,394 Sq. Ft. on 1 acres
This 5,000+ workshop/warehouse on slab sits on a highly visible lot on Hwy 171 right outside of Horn
Others - 9788 Hwy 27 Highway, Singer, LA
$162,000
15 acres
This expansive commercial property offers 15 acres of HWY frontage just a short drive from the DeRid
Others - 2200 E Prien Lake Road, Lake Charles, LA
$324,900
0.78 acres
LOCATION LOCATION LOCATION!
Others - 3310 Creole Street, Lake Charles, LA
$345,000
0.14 acres
Looking for a new office space for your growing business? This building has a new roof, new HVAC (2)
Industrial - 3601 CYPRESS STREET, West Monroe, LA
$800,000
5,005 Sq. Ft. on 1.4 acres
Location,Location,Location! Situated on A 1.4 Acres corner lot in the main hub of West Monroe!
Industrial - 350 E JEFFERSON AVENUE, Bastrop, LA
$343,000
6.18 acres
WAREHOUSE PROPERTY 11,0000 SF; SITTING ON 6.18 ACRES IN MIDDLE OF TOWN.
Office - 2905 STERLINGTON ROAD, Monroe, LA
$1,060,000
10,091 Sq. Ft. on 1.19 acres
This prime shopping center provides excellent visibility located off of Sterlington Rd/ Hwy 165 and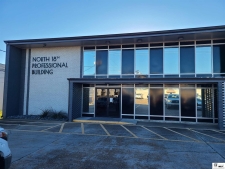 Office - 1205 N 18TH STREET, Monroe, LA
$995,000
1.15 acres
Have you ever wanted to own your own your own office building then now is your chance.
Industrial - 1526 BENNIE BREECE STREET, West Monroe, LA
$125,000
0.84 acres
If you are looking for warehouse space and yard storage then this is your place one covered shed is
Industrial - 6978 CYPRESS STREET, West Monroe, LA
$850,000
4,284 Sq. Ft. on 0.5 acres
Commercial property situated on the extreme high traffic corner of Harrell Rd and Cypress across fro
Office - 105 REGENCY PLACE, West Monroe, LA
$569,000
6,449 Sq. Ft.
Executive office building (formerly ProFoam) located just off Nth 7th on Regency Place (
Industrial - 421 MOORE ROAD, Monroe, LA
$489,000
1,200 Sq. Ft. on 80.3 acres
Commercial property with multiple income potential. Would be a great potential Development Property.
Louisiana population is currently estimated at over 4.66 million (up from 4.5 million as of the 2010 Census), but the state is divided into 64 parishes. A "parish" is the word the state uses to label its counties. The largest parish is New Orleans, and that is where the majority of the Louisiana commercial real estate listings are located.
Many company headquarters are in New Orleans including office space and industrial space for Smoothie King, Gaylord Chemical, Standard Coffee and K&B. Other cities that have a substantial amount of investment property and commercial real estate listings include Baton Rouge, with a population of 225,374 and Shreveport with an estimated population of 192,036.
A good portion of the state's economy is based on agriculture and includes seafood, cotton, soybeans, cattle, dairy and rice. Industrial space is dedicated to factories for chemical products, coal, petroleum and processed foods. While many petroleum and gas companies have their headquarters in Houston, they also have office space in Louisiana.
---