---
Others - 160 W. Bethel Road, Bethel, ME
$169,000
1,480 Sq. Ft. on 1.1 acres
Great income potential! Perfect opportunity to run your own business and save on living expenses.
Others - 945 Main St, Sanford, ME
$699,000
10,681 Sq. Ft. on 1.23 acres
Oakwood Inn!!!
Office - 18 Meadow Road, Augusta, ME
$695,000
10,174 Sq. Ft. on 0.92 acres
Completely IT-Ready. Professional building Cat5 wired. Temp & humidify - controlled server room.
Office - 219 Capitol St., Augusta, ME
$2,200,000
20,989 Sq. Ft. on 1.48 acres
Great investment opportunity. Fully occupied office building with solid tenants and great numbers.
---
Others - 756 Main Street, Madawaska, ME
$310,000
0 acres
Commercial - Madawaska, ME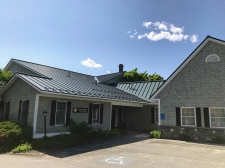 Office - 744 Roosevelt Trail, Windham, ME
$129,500
0.5 acres
3 Commerical Condos for Sale!
Others - 94 Main Rd, Abbot, ME
$115,500
3,595 Sq. Ft. on 1.4 acres
Commercial opportunity on major route to Moosehead Lakes region.
---
Others - 2 Jockey Cap Lane, Fryeburg, ME
$259,900
3,189 Sq. Ft. on 2.1 acres
Multiple commercial uses possible at this high traffic location.
Others - 297 Gagnon Road, Madawaska, ME
$379,000
0 acres
Commercial - Madawaska, ME
Others - 196 Us Route 1, Bucksport, ME
$775,000
Commercial - Bucksport, ME
Land - 32 Rockwood Dr, Rockwood, ME
$40,000
1.05 acres
Great opportunity to build and have a camper to live in while constructing your new home.
Others - 2 North Main Street, Monmouth, ME
$135,000
4,320 Sq. Ft. on 0.62 acres
This property was formerly used as a Church however there are many other possibilities.
Others - 835 Eastern Avenue, Augusta, ME
$139,900
384 Sq. Ft. on 0.83 acres
Great location, corner lot, close to VA hospital.
Others - 364 Corinna Rd, Dexter, ME
$299,000
896 Sq. Ft. on 2.8 acres
Greenhouse and Redemption business.
Others - 382 Water Street, Guilford, ME
$530,000
1,728 Sq. Ft. on 70 acres
Here it is, the perfect investment opportunity in a great location.
Others - 4 Maple Street, Gardiner, ME
$174,900
2,152 Sq. Ft. on 0.1 acres
6-bedroom boarding home with great numbers.
Single Family - 58 Fleming Street, Lincoln, ME
$10,900
936 Sq. Ft. on 0.19 acres
Fixer Upper Single Family A Frame Home Only $10,900
Others - 234 Bog Hill Rd, West Gardiner, ME
$85,000
800 Sq. Ft. on 2 acres
Level and open sun-filled Land plus building is FOR SALE on busy Rt. 126 in West Gardiner.
Single Family - 145 Waverly Street, Pittsfield, ME
$59,900
1,560 Sq. Ft. on 0.2 acres
Rare Find Victorian Home $59,900 Bring It Back to its Original Charm
Land - 195 College Avenue, Watervile, ME
$79,900
2 acres
Great level parcel of land that is ready for your new building! Call today for more info!
Maine is not a densely populated state at 41.3 people per square mile; however, there are still commercial real estate listings to be found. The most densely populated region is Portland, where 20% of people in the state reside.


Maine's economy is based to some extent on agriculture. The state's production of blueberries is important, as it makes up 25% of the North America's blueberries. Apples, maple syrup, dairy, eggs and poultry account for a good portion of the rural commercial land in Maine. Commercial fishing is also important to the state's economy.


One of the key industrial outputs of the state is toothpicks. Office space and industrial space for the largest toothpick plant in the country is located in Strong, Maine. Paper, lumber, wood, textiles and leather also hold an important place in Maine manufacturing.


There are not many corporations with office space headquarters in Maine. Some of the notable ones are Fairchild Semiconductor in Portland, L.L. Bean in Freeport and Cole Hann in Yarmouth. Most of the commercial real estate listings are in Androscoggin County, which fad 107,702 residents as of the 2010 census.


It is important to note that due to uninhabited land, there is neither commercial real estate listings nor office space in large parts of the state's interior.
---