Search Results - Missouri
---
Industrial - 2415 W Saint Joseph ST, Perryville, MO
$129,900
Commercially zoned 11.05 acres+/- is waiting for development.
Industrial - 1601 Old St. Mary's RD, Perryville, MO
$200,000
Highly visible 2.54 acres m/l commercial lot zoned C-2.
Industrial - 1405 Old St. Mary's RD, Perryville, MO
$215,000
A great location with unlimited commercial potential. 2.
Industrial - 0 Hwy 51, Perryville, MO
$1,650,000
Highly visible location along Hwy 51 bypass. Opportunity for development. Zoned C-2.
Industrial - 0 S Hwy 51, Perryville, MO
$345,000
Calling all investors or developers!
Industrial - 30664 Highway 37, Seligman, MO
$35,000
2,280 Sq. Ft.
PRICE REDUCED! Looking for a highly visible place to own your business?
Industrial - 1070 Hwy 37, Seligman, MO
$129,900
1,200 Sq. Ft.
Looking to start your own business, this is the place for you.
Industrial - 000 Hwy 37, Seligman, MO
$65,000
3,360 Sq. Ft.
28x120 Storage building with 12 large units and 10 smaller units of Hwy 37 in Seligman MO.
Industrial - 3100 Industrial Road, Kirksville, MO
$1,000,000
45,000 Sq. Ft. on 10 acres
INDUSTRIAL/DISTRIBUTION consisting of 45,000 sq ft, zoning M-2, 480 3-phase, truck bay doors with do
Others - 23980 Shadow Lake Drive, Wheatland, MO
$775,000
4,500 Sq. Ft. on 163 acres
Other - Wheatland, MO
Office - 1736 E 10th St, Trenton, MO
$250,000
2,480 Sq. Ft. on 0.46 acres
Well Maintained Office Space!
Office - 408 W 19th St, Higginsville, MO
$110,000
Great space for a new business opportunity or if you are looking to expand or branch out your growin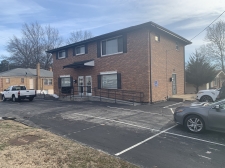 Office - 8434 Page Avenue, St. Louis, MO
$189,000
2,382 Sq. Ft. on 7631 acres
2-Story-2382 SF Office/Apartment Building For Sale/Lease-St. Louis MO
Others - 107-109 North Main Avenue, Bolivar, MO
$87,500
1,740 Sq. Ft. on 0.08 acres
Other - Bolivar, MO
Retail - 3501 S Limit, Sedalia, MO
$359,000
0.69 acres
5600 sq. ft. metal warehouse on US Highway, 2132 sq.ft. office and retail space.
Retail - 602 & 604 Second Street East, Scott City, MO
$250,000
8,594 Sq. Ft.
There are 3 buildings in this listing.
Others - 4230 Saint Joseph Ave, St Joseph, MO
$185,000
1,176 Sq. Ft. on 0.58 acres
Two buildings on a big lot. Has been successful as a used car lot and a restaurant.
Retail - 2634 Oklahoma Ave, Trenton, MO
$85,000
840 Sq. Ft.
Business Opportunity
Others - 2527 South Jefferson Avenue, St Louis, MO
$89,000
2,144 Sq. Ft. on 0.06 acres
Amazing live/work opportunity on high traffic count street at the intersection of Jefferson and Grav
Others - 4626 Gravois Avenue, St Louis, MO
$149,000
11,550 Sq. Ft. on 0.1 acres
Exciting rehab opportunity has prime location in Bevo.
The state of Missouri is one of the most populated states in the country with almost 6 million residents according to the 2010 census. The state sports a diverse number of industries that contribute to its gross state product and thus helps give rise to a wide variety of commercial real estate listings and investment opportunities. Diverse products are manufactured including electrical equipment, machinery, and chemicals.
Mining in various forms, including coal mining, takes place in Missouri. Missouri is also one of the world's top areas for limestone, which is essential for the production of concrete.
There is a large and long tradition of beer manufacturing in the state as well as agriculture throughout the state's commercial rural land. Missouri is one of the nation's leading agricultural states and is one of the top states for the production of livestock.
Missouri commercial real estate listings, buildings and industrial space are quite plentiful both in the state's largest cities, such as St. Louis and Kansas City, which have approximate populations of 319,294 and 459,787 respectively. Those interested in investment property and retail space will find that Missouri has much to offer.
---