Search Results - Missouri
---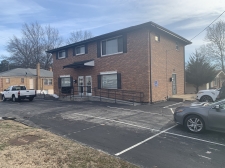 Office - 8434 Page Avenue, St. Louis, MO
$219,786
2,382 Sq. Ft. on 7631 acres
2-Story-2382 SF Office/Apartment Building For Sale/Lease-St. Louis MO
Farm - 8251 Highway N, Mountain Grove, MO
$299,900
15 acres
This beautiful cedar log home is located on 15 acres m/l, with up to 30 acres available w/gorgeous v
Multi-family - 100, 102, 104 Jefferson, Versaillles, MO
$92,500
PRICE REDUCED ON THIS. Excellent opportunity for rental income.
Industrial - 501 Ridge AVE, Festus, MO
$100,000
Great opportunity for a commercial building in Festus.
Industrial - 9438 S Broadway, St Louis, MO
$189,900
1,628 Sq. Ft.
Lots of opportunity in this well updated mixed-use commercial/residential property with additional a
Industrial - 1960 Highway A, Washington, MO
$265,000
1,631 Sq. Ft.
GREAT INVESTMENT OPPORTUNITY!!
Industrial - 1799 Pottery RD, Washington, MO
$79,900
Here is an opportunity to develop this 2.3 acres zoned CD in Franklin County.
Industrial - 317 Highway 50, Union, MO
$192,500
4,388 Sq. Ft.
A SUPERBLY LOCATED INVESTMENT OPPORTUNITY READY FOR YOU NOW!!
Industrial - 679 International AVE 1, Washington, MO
$119,900
nice commercial lot for your business. .85 acre. not in flood plain. Great traffic.
Industrial - 0 S Hwy 51, Perryville, MO
$345,000
Calling all investors or developers!
Industrial - 2327 W Osage, Pacific, MO
$399,900
1,582 Sq. Ft.
Very level 2.
Industrial - 30664 Highway 37, Seligman, MO
$35,000
2,280 Sq. Ft.
PRICE REDUCED! Looking for a highly visible place to own your business?
Industrial - 4356 Orchard, New Haven, MO
$499,000
With a house and 8 buildings on this 22+/- acre parcel the possibilities are endless The house has 2
Industrial - 28850 Main ST, Seligman, MO
$57,500
6,314 Sq. Ft.
PRICE REDUCED! 6314 Sq. ft commercial building priced to sell at less than $
Retail - 28822 Main ST, Seligman, MO
$19,500
1,654 Sq. Ft.
Excellent opportunity to start a business!
Industrial - 319 Ww Industrial Park, Washington, MO
$375,000
Nice lot for your new business location. High traffic. Great signage area.
Industrial - 223 E 2nd ST, Hermann, MO
$334,900
2,168 Sq. Ft.
A REMARKABLE RENOVATION then became The Historic District Inn.
Industrial - 101 E 4th, Hermann, MO
$675,000
7,200 Sq. Ft.
Beautiful decor restaurant and bar.
Industrial - 4687 Highway 50, Leslie, MO
$193,000
TURN KEY STORAGE UNIT PROPERTY/BUSINESS WITH LOTS OF POTENTIAL & ROOM FOR EXPANSION!
Industrial - 1715 E 5th, Washington, MO
$375,000
11,248 Sq. Ft.
Long established motel business in great location.
The state of Missouri is one of the most populated states in the country with almost 6 million residents according to the 2010 census. The state sports a diverse number of industries that contribute to its gross state product and thus helps give rise to a wide variety of commercial real estate listings and investment opportunities. Diverse products are manufactured including electrical equipment, machinery, and chemicals.
Mining in various forms, including coal mining, takes place in Missouri. Missouri is also one of the world's top areas for limestone, which is essential for the production of concrete.
There is a large and long tradition of beer manufacturing in the state as well as agriculture throughout the state's commercial rural land. Missouri is one of the nation's leading agricultural states and is one of the top states for the production of livestock.
Missouri commercial real estate listings, buildings and industrial space are quite plentiful both in the state's largest cities, such as St. Louis and Kansas City, which have approximate populations of 319,294 and 459,787 respectively. Those interested in investment property and retail space will find that Missouri has much to offer.
---