Search Results - Nebraska
---
The largest city in Nebraska is Omaha, with a population of over 400,000, and a good portion of the state's commercial real estate listings are based in that area. However, a variety of commercial realty and investment property can also be found in Lincoln, Nebraska, which has an estimated population of 258,379. Bellevue, Grand Island and Kearney are all sizeable cities with populations of 50,137, 48,520 and 30,787 respectively.
Nebraska is one of the most important states when it comes to farming and ranching. Commercial rural land is dedicated to products including beef, pork, corn and soybeans. When it comes to the industrial space in Nebraska, it is dedicated to various industries including transportation, telecommunications, IT and insurance.
Several highly influential companies have their headquarters and office space in Nebraska including ConAgra, Mutual of Omaha, and Union Pacific Railroad. Also when many people think of companies based in Nebraska, they think of Berkshire Hathaway, which is helmed by Warren Buffet. Buffet is the second wealthiest person in the world.
Land - 2010 S 13th St, Norfolk, NE
$199,950
108,944 Sq. Ft. on 2.5 acres
This commercial lot (200' x 544.72) with 108,944 sq.ft.
Land - S HWY 81 WEST SIDE, Norfolk, NE
$99,500
5.11 acres
Great opportunity available with unlimited development potential. Excellent visibility! Acreage (
Industrial - 146 E 13th Street, Minden, NE
$79,900
2,816 Sq. Ft. on 0.6 acres
2 Lots in Minden zoned Industrial/Commercial/Residential with a 3 bedroom home.
Others - 3770 18th Avenue, Columbus, NE
$175,000
1.4 acres
CHURCH BUILDING FOR SALE ON A LARGE CORNER LOT.
---
Others - 122 - 124 N. Dewey, North Platte, NE
$125,000
0.13 acres
GREAT OPPORTUNITY FOR A DOWNTOWN NORTH PLATTE BUSINESS VENTURE! CURRENT TENANT PAYS ALL UTILITIES.
Retail - 707 Central Ave, Nebraska City, NE
$164,900
Great opportunity in historic downtown Nebraska City.
Office - 425 N OAK ST, North Platte, NE
$140,000
2,370 Sq. Ft.
UNLIMITED POTENTIAL HERE!
---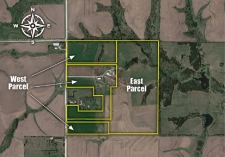 Land - 4300 NW 84th St, Lincoln, NE
$2,800,000
145 acres
Prime Lincoln Development Land For Sale
Land - 00 53rd Ave, Columbus, NE
$71,900
1.2 acres
SEE AREA DESCRIPTION
Land - 00 53rd Ave, Columbus, NE
$84,900
1.23 acres
SEE AREA DESCRIPTION!
Industrial - 3990 Imperial Avenue, Kearney, NE
$599,000
23,500 Sq. Ft.
Over 23,000 sqft of flat warehouse storage facility on the outskirts of Kearney, NE.
Retail - 1004 Avenue I, Scottsbluff, NE
$349,900
7,451 Sq. Ft.
Excellent location and lots of room!
Multi-family - 1623 5th Avenue, Scottsbluff, NE
$525,000
0.64 acres
*1615 5th Ave---3/2 House. Newer Boiler and A/C. Newer counter-top and double sink.
Land - 55th Street N Avenue L2 B2 Whispering Pines, Kearney, NE
$161,140
This a vacant Parcel of Land which would make an ideal office location setting next to a Bank and 2
Others - 110 E. 2nd, North Platte, NE
$54,900
Small Business Owner? Investor? Looking To Open A New Business In A Prime Location? Look No Further!
Others - 1605 Avenue A, Scottsbluff, NE
$319,500
4,760 Sq. Ft.
Totally remodeled building, all new wiring, plumbing, sprinkler system, roof, interior and exterior
Office - 3715 29th Avenue, Kearney, NE
$1,450,000
9,068 Sq. Ft. on 1.03 acres
Hillcrest Professional Building. 4 Suite office spaces. Varied Suite sizes.
Others - 116 W REID AVE, N PLATTE, NE
$16,500
PRIME COMMERCIAL LOT
Retail - 1211 B Street, Schuyler, NE
$120,000
1,600 Sq. Ft.
HIGHLY VISIBLE COMMERCIAL BUILDING FOR SALE IN GREAT LOCATION. 1600 SQ. FT.
Others - 402 Central Avenue, Eddyville, NE
$159,000
Extensive improvements and endless possibilities in this commercial building.
---