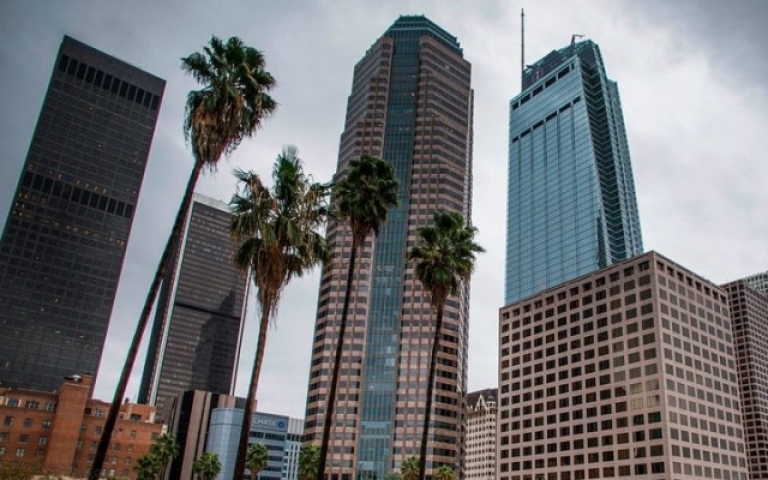 This year has been a challenging one for all of us, balancing our regular responsibilities amid a global pandemic. When many of us were sent home in early March and told to stay there until further notice, we had no idea that this type of WFH adjustment would last through the end of the year and into the next one. Fortunately, in many cities, such as New York City where I reside, there's been a slow but safe move back to the office. There won't be one sweeping moment that everyone decides it's time to return; in reality, it'll be an incremental, progressive shift back to normalcy as we learn more about this deadly virus and hopefully soon have a vaccine in place.
At SquareFoot, https://www.squarefoot.com/ca/los-angeles/downtown-los-angeles/office-space, we began this year with grand plans to launch and establish ourselves in new markets. Although the pandemic has slowed the progress on those types of moves, it certainly hasn't stopped it. As we looked at the data, crunched the numbers, and assessed which city with the circumstances at play right now was the right one to embark on first outside of our hometown Big Apple headquarters, we've landed squarely on Los Angeles.
Now, this might not seem on the face of it to be the right time to be exploring expansion. Many companies are retracting and limiting their scopes. However, once we looked at the prospects in our pipeline already, reflected on past deals we've worked on in LA, and considered what's in store for early 2021, we recognized that it was actually the perfect time. Let me explain our rationale:
My anecdotal understanding is that the downtown LA area currently has roughly 5 percent of people commuting in regularly. That doesn't surprise me. In cities like Chicago and New York, known more for their tendency to cram people into big, tall buildings, there's a certain density that is expected. It's almost a necessity to take on space in those types of towers and busy areas. But in LA, that's not the case. So while LA's downtown area might require several more months before people feel comfortable returning, it doesn't necessarily mean that office space attendance has ceased completely.
If you move your attention away from that one section of LA, and consider its urban sprawl, there are countless areas within driving distance adjacent to the central part of the city that are not only suitable for offices, but have already proven to be desirable. Take, for example, the fact that over the past few years tech companies like Facebook, Google, Amazon, and Apple have all announced big projects to move to LA areas perhaps lesser known for offices. Combined, these companies have committed to over 3 million square feet, https://la.curbed.com/2019/3/19/18202187/google-facebook-los-angeles-offices. Those projects are moving forward, and you can expect those office openings to lead to thousands of job openings and a resulting economic boom. As Hollywood's needs have shifted more toward streaming content, these tech companies have heeded the call and are full speed ahead to anticipate not where the industry has been traditional, rather where it's going.
Over recent decades, we witnessed a similar growth in the FinTech space here in NYC, on the back of Wall Street's generations of success. There was no better place for a gritty startup or an established company looking to stock up both on tech talent and industry insiders to plop down an office and to get started. The same type of opportunity is taking place now in Hollywood's backyard. The Hollywood tech equivalents have deliberately chosen areas like Culver City, https://www.squarefoot.com/ca/los-angeles/culver-city/office-space, for their new spaces, and specifically industrial locations, because they can build from the bottom and carve out the right hubs for themselves that combine both desks to work and studios to shoot in. Plus, if they can move further away from the notoriously tough traffic that LA boasts, even better, as they spend time in the desert and elsewhere capturing their content. Resting outside of the city proper is a win on a number of fronts.
What you have to remember, though, is that not everyone is an actor or a director or a studio executive. What we expect will follow is all of the back-end, sometimes overlooked, financial, legal, and operational firms that keep an industry chugging and growing. That's the opportunity we foresee for SquareFoot clients, to launch either a satellite office or to plant their flags nearby to the new crop of Hollywood disruptors. The same way that in NYC we have assisted, for example, accounting firms that cater to startups to get situated with their first (and also their next) office spaces, we hope to help growing businesses in LA to first see and then to seize the opportunity to embed themselves where the action is taking place. The story of Hollywood's shift isn't one taking place purely in front of you with what you select to stream. There's a behind-the-scenes need, too, far larger than many may realize at first.
Coming out of 2020, when so many people have struggled just to find their footing, we're excited to look ahead at how we can best assist growing companies in LA and elsewhere. This isn't a typical time for commercial real estate. But if you have some vision of what is coming, and where industries overall are heading, there is hope on the horizon.