---
Ohio's population is one of the highest in the nation, as it has about 11.5 million residents and several very large metropolitan areas. As a result, Ohio commercial real estate listings are plentiful. There were over 2 million people living in the Cleveland metropolitan area as of the 2010 census. Other large cities with plentiful commercial realty include Columbus, Cincinnati, Toledo and Akron.
The gross domestic product in Ohio is $478 billion. Those looking for investment property in Ohio will be pleased to hear that the state was recently ranked #4 out of all states for its business climate by Site Selection magazine. Much of the industrial space in Ohio is dedicated to plastics, rubber, electronics and appliances. The state is also a leader in the "green" economy.
Of the 1000 top publicly traded companies in the US, headquarters and office space of 59 of them are in Ohio. These companies include Procter and Gamble, Goodyear, Wendy's and Abercrombie and Fitch.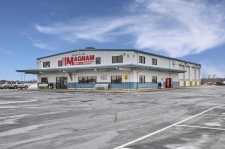 Multi-Use - 3639 E. Bluelick Road, Lima, OH
41,000 Sq. Ft. on 190 acres
190+/- Acres Plus Commercial & Industrial Buildings/Sites & Mini-Farm Sites
Retail - 433 W. Perkins Avenue, Sandusky, OH
1,800 Sq. Ft.
Kentucky Fried Chicken - Franchise and Real Estate
Others - 285 Miami Avenue, Columbus, OH
$285,000
2,056 Sq. Ft. on 0.05 acres
A 2 Bedroom Apartment on 2nd Level. Two detached car garage. Two (2)
Retail - 3434 N High Street, Columbus, OH
$649,000
5,000 Sq. Ft. on 0.34 acres
PRIME CLINTONVILLE LOCATION - Excellent opportunity for restaurant, business, retail or mixed-use
---
Multi-family - 2606 South 9th Street, Ironton, OH
$89,900
1,200 Sq. Ft.
Very nice ranch duplex. Each unit has two bedrooms, air and electric baseboards.
Others - 106-108 S. Main St., Columbiana, OH
$198,800
Restaurant & Bar Business with liquor license.
Others - 6701 Ringwood Rd, Oxford, OH
$450,000
6,000 Sq. Ft. on 2.62 acres
Rare opportunity to purchase Commercial Property (zoned light industrial)
---
Others - 160 N Main Street, Lakeview, OH
$120,000
1,932 Sq. Ft. on 0.2 acres
Investment opportunity. Turn key laundromat for sale in Lakeview!
Others - 2758 Cleveland Avenue, Columbus, OH
$72,000
960 Sq. Ft. on 0.08 acres
Building has one large room upon entrance.
Others - 4056 Mt Carmel Tobasco Road, Union Twp, OH
$1
Former Bar/Lounge available for lease at $3200 per month.Square footage is 3575.
Others - 7927 Broadview Rd, Broadview Heights, OH
$550,000
3.02 acre lot, zoned commercial for development opportunity.
Industrial - 1926 E Siebenthaler Avenue, Dayton, OH
$640,000
13,602 Sq. Ft. on 0.67 acres
NNN investment offering – sale leaseback of 13,602 SF high-tech warehouse with full HVAC.
Retail - 468 Richmond Road, Richmond Heights, OH
$1,850,000
16,891 Sq. Ft. on 1.36 acres
Fully Leased Investment - Richmond Heights, OH
Retail - 8558 & 8562 Mentor Ave., 7432 Murray Ave., Mentor, OH
$800,000
8,860 Sq. Ft. on 1.23 acres
Mixed Use Investment / ReDevelopment Opportunity
Others - 512 E Tiffin Street, Willard, OH
$169,900
13,200 Sq. Ft. on 4.9 acres
Vacant industrial building on 4.997 acres. Conveniently located to Cleveland, Columbus, Toledo.
Others - 690 Youngstown Warren Rd., Niles, OH
$193,300
Approx 2700 Sq Ft brick building, offers 4 exam rooms, reception area, waiting room, records office,
Others - 672 Whitewoman St, Coshocton, OH
$175,000
1,650 Sq. Ft. on 0.77 acres
This is a great, unique opportunity to have a business in Historic Roscoe Village.
Retail - 1012 & 1020 Hospital Drive, Batavia Township, OH
$1,200,000
3,400 Sq. Ft. on 0.91 acres
Batavia Car Wash & Quick Lube – Located at 1012 Hospital Dr (Quick Lube) and 1020 Hospital Dr (
Retail - 116 Madison St, Port Clinton, OH
$170,000
15,520 Sq. Ft. on 0.17 acres
This century building features an abundance of character and curb appeal!
Others - 1225 Tiffin Ave, Findlay, OH
$395,000
2,784 Sq. Ft.
1 Story (Ranch), Real Estate & Business - Findlay, OH
---