---
Office - 1520 Plaza st NW, Salem, OR
$2.10 SqFt/Month
Newly remodeled office suites (zoned CR) available in West Salem.
Office - 2021 NW Grant Ave, Corvallis, OR
$1.66 SqFt/Month
810 SqFt
Hard to find, well maintained office located in a beautiful office complex, close to OSU, shopping a
Retail - 1200-1250 Biddle Rd Ste F, Medford, OR
$2 SqFt/Month
800 SqFt
Join Mens Wearhouse, El Tapitio, Great Clips, Crumbl Cookies, Papa John's, and other Tenants in one
Industrial - 3160 Blossom Drive, Salem, OR
$0.75 SqFt/Month
39,354 SqFt
PROPERTY DESCRIPTION Suite 101 has high ceilings with exposed metal framing and carpeted flooring.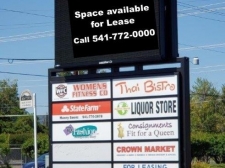 Shopping Center - 535 Stevens Ste E, Medford, OR
$0.85 SqFt/Month
1,375 SqFt
Great Location in a High Traffic Area!#220139786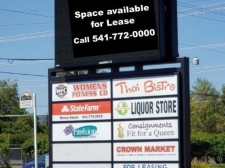 Shopping Center - 535 Stevens St Ste K, Medford, OR
$0.85 SqFt/Month
4,070 SqFt
Eagle's Plaza! 4070sf.#220132638
Office - 122 Lee St SE, Salem, OR
$2.25 SqFt/Month
27,014 SqFt
Premium second floor office space available in one of Salem's near to Class A office buildings.
Office - 808 NW Buchanan Ave, Corvallis, OR
$1.25 SqFt/Month
10,400 SqFt
Flexible office spaces are available in this centrally located office in Corvallis, with plenty of p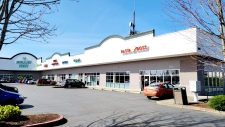 Retail - 2927 Broadway Street NE, Salem, OR
28,645 SqFt
Center is located in the middle of a busy retail location that is right off Salem Parkway and just N
Retail - 1551 Hawthorne Ave NE, Salem, OR
$15 SqFt/Year
81,917 SqFt
Situated at the signalized corner of Market St and Hawthorne Ave in Salem, at the I-5 exit.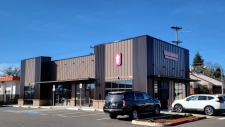 Retail - 120 Hrubetz Rd SE, Salem, OR
$45 SqFt/Year
This new development has various uses available and will meet the needs of the growing South Salem c
Office - 410 Lancaster DR NE, Salem, OR
$1.30 SqFt/Month
Property has three suite available for lease. Rental Rates $1.
Others - 507 S. Front St., Central Point, OR
$1.65 SqFt/Month
High traffic retail/office space now available in Central Point!
Retail - 135 19th St SE, Salem, OR
$12 SqFt/Year
2,145 SqFt
Well maintained Commercial Retail building for lease.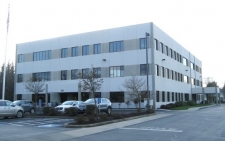 Office - 221 W Stewart #210, Medford, OR
$1.35 SqFt/Month
2,225 SqFt
Class A Office Space for lease! #2987901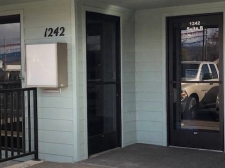 Office - 1242 N Riverside Ave, Medford, OR
$1.36 SqFt/Month
1,400 SqFt
Great Location! #220115840
Others - 740 SE 9th Street 19, Bend, OR
26,150 SqFt
Do not disturb tenant.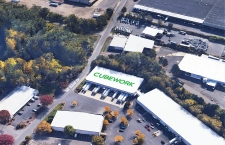 Industrial - 6035 NE 92nd Drive Building 2, Portland, OR
300-30,000 SqFt
Cubework Portland
Others - 350 NE Agness Ave, Grants Pass, OR
$0.95 SqFt/Month
5,789sf space in a high traffic Grants Pass location, next to Grants Pass Parkway &
Industrial - 2345 McGilchrist St SE - Suite 6, Salem, OR
$2,000 Month
PROPERTY DESCRIPTION Industrial flex space and office suite in the McGilchrist Business Park.
When it comes to Oregon's commercial real estate listings, various high technology corporations drive the state's business sector including Tektronix and Intel. Further, the state's inexpensive power and moderate climate has attracted major datacenters run by Google, Facebook and Amazon. Other large corporations with office space in Oregon include Nike, and Harry and David.
A good deal of Oregon's industrial space is dedicated to agricultural endeavors. The state is one of the top hazelnut growing regions in the world, and it is rated 3rd among all U.S states when it comes to wineries. Timber production also ranks high among Oregon's industrial pursuits. Due to the high volume of softwood produced, much of the state's industrial space is dedicated to lumber production.
The bulk of Oregon's population is located among the Willamette Valley, which runs from Eugene in the South of the state to Portland the state's northernmost city. Much of the state's commercial property is also located in Portland, which is the state's most populous city with a population estimated at approximately 583,776 as of the 2010 census. In the Pacific Northwest, only Vancouver, Canada and Seattle, Washington are home to more commercial real estate listings. Other Oregon cities with ample commercial realty include the Salem, the state's capital, and Eugene.
---