Search Results - Pennsylvania
---
The most populated cities in Pennsylvania are Philadelphia, Pittsburgh, Allentown and Erie, and these cities have the majority of the state's commercial real estate listings. Philadelphia is the largest city in the state with an estimated population of over 1.5 million. Pittsburgh is the second largest city in Pennsylvania with a population of 305,704.
Those looking for investment property and commercial realty in Pennsylvania will find that the state offers easy transportation, a highly active economy and easy access to other economically active states including New York, Maryland and Ohio.
Pennsylvania has a high gross state product, which is approximately $570 billion. There are 50 Fortune 500 companies with their headquarters and office space in the state. Pittsburgh alone has 8 Fortune 500 companies. A large part of the Pennsylvania economy is also based on agriculture, and the rural commercial land in the state is dedicated to products including mushroom, chickens, horses and wine.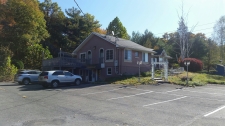 Retail - 3101 Route 611, Tannersville, PA
$449,000
1,620 Sq. Ft. on 1.2 acres
1.2 AC site with 1,620 SF 2-story building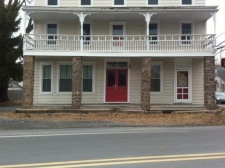 Multi-Use - 569 Interchange Road, Kunkletown, PA
$269,900
5,624 Sq. Ft.
5,625 SF bldg. Former B&B/hotel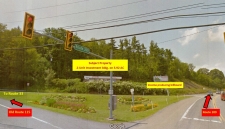 Retail - 2164 Route 209, Brodheadsville, PA
$359,000
1,800 Sq. Ft. on 3.92 acres
2-unit Commercial bldg, fully leased on 3.92 AC with large billboard for additional income!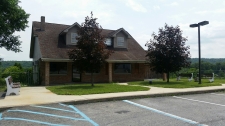 Retail - 6568 Route 209, Stroudsburg, PA
$549,000
4,400 Sq. Ft. on 3.52 acres
Multi-Unit Investment Property
---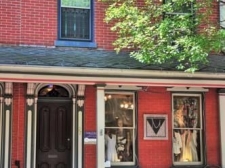 Hotel - 97 Broadway, Jim Thorpe, PA
$575,000
2,900 Sq. Ft. on 0.03 acres
Brick Victorian Elegant Boutique Hotel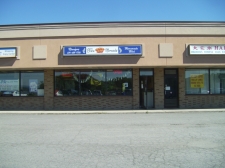 Business - 3160 Route 115, Effort, PA
$15,000
1,000 Sq. Ft. on 15.38 acres
Turnkey restaurant for sale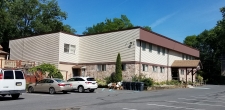 Hotel - 9494 Riverton Road, Bangor, PA
$1,495,000
19,824 Sq. Ft. on 1.49 acres
Restaurant/Hotel/Residence
---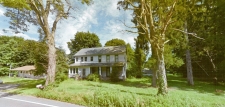 Motel - 5912 Route 209, Stroudsburg, PA
$500,000
4,558 Sq. Ft. on 14.1 acres
Commercial Investment Property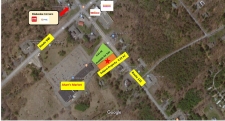 Multi-Use - 5641 Route 115, Blakeslee, PA
$369,900
3,456 Sq. Ft. on 0.69 acres
2 Story retail/office building at the corner of Route 940 and Route 115 in Blakeslee, adjacent to en
Retail - 3101 Route 611, Stroudsburg, PA
$449,000
1,620 Sq. Ft. on 1.2 acres
1.2 acre commercial site w/2 story building. Parking in the front & rear with rear deck. Finishe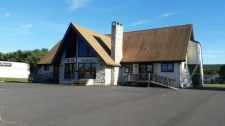 Multi-Use - Route 209, BRODHEADSVLLE, PA
$475,000
3,471 Sq. Ft. on 1.38 acres
PRIME COMMERCIAL PROPERTY: 3,400 +/-sq.ft. on 1.38 AC high visibility. 25 +/- on site parking are wi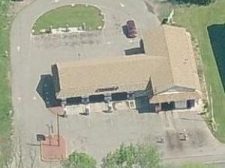 Business - 6152 Paradise Valley Rd., Cresco, PA
$575,000
3,560 Sq. Ft. on 1 acres
Low Maintenance Car Wash. 1 automatic tunnel and 4 self serve bays. Equipment has plenty of mileage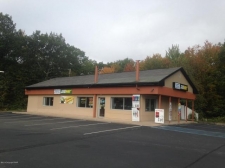 Multi-Use - Rt 940, White Haven, PA
$575,000
1,877 Sq. Ft. on 1.03 acres
Commercial building on 1.033 acres with high traffic exposure from Rt 940, I-80 and PA Turnpike. Ove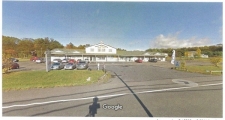 Shopping Center - Star Route 903, Jim Thorpe, PA
$685,000
12,210 Sq. Ft. on 3.42 acres
Neighborhood Center For Sale on Rt 903 in Jim Thorpe. 12,120SF, 6 units, 3+/-AC, corner lot, on site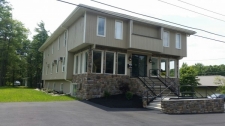 Office - 3324 Route 940, Mount Pocono, PA
$795,000
7,668 Sq. Ft. on 0.38 acres
Completely renovated 3 story office building in great location in Mt. Pocono on Route 940. Exterior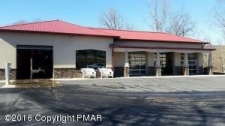 Business - 3054 Route 611, Tannersville, PA
$895,000
7,500 Sq. Ft. on 1.08 acres
High visibility/traffic count Route 611 Bartonsville-Automatic Car Wash and 3 bay quick lube. Built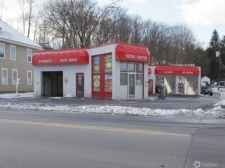 Business - 385 N. Courtland Street, East Stroudsburg, PA
$595,000
2,121 Sq. Ft.
Operating Car Wash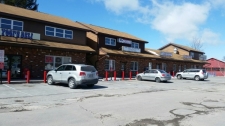 Multi-Use - 3815 Route 115, Blakeslee, PA
$950,000
11,640 Sq. Ft. on 1.31 acres
Neighborhood Center-w/11 rental units and 3500 SF warehouse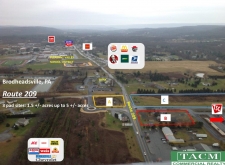 Multi-Use - 106 S. New Brodheadsville Blvd., Brodheadsville, PA
$855,000
3,216 Sq. Ft.
Re-Development Opportunity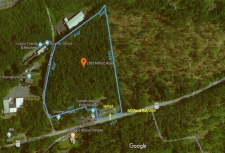 Multi-Use - 164 Route 209, Sciota, PA
$269,000
4.1 acres
10 x 30 Offsite Lit Bollboard on 4.10 AC Commercial
---