Search Results - Tennessee
---
Industrial - 1107 N Main St, Shelbyville, TN
$700,000
1 acres
1 Acre of excellent commercial property. Currently has 2 homes on it.
Industrial - 331 Depot E, Shelbyville, TN
$85,000
0.5 acres
Great commercial lot. It includes one row of the Times Gazette Parking Lot.
Industrial - 1111 Madison St, Shelbyville, TN
$255,000
42,500 Sq. Ft. on 0.98 acres
Great location. Drainage plan should not be a problem since the lot is completely paved!
Land - 2370 Blackburn Road SE, CLEVELAND, TN
$650,000
This site is located in beautiful Cleveland Tennessee.
Others - Gateway Ave, Rockwood, TN
$35,000
104,544 Sq. Ft.
2 acres in commercial site
Industrial - 1211 W Gaines St, Lawrenceburg, TN
$255,000
9,920 Sq. Ft. on 1 acres
Spacious Retail (2000 sq ft) and Warehouse space (7920 sq ft)
Others - 5651 Peavine Rd, Crossville, TN
$329,000
1,407 Sq. Ft. on 0.34 acres
Your opportunity to own a well established turn-key business – the "Custard Cabin"
Industrial - 171 Walnut Grove Rd, Christiana, TN
$1,222,000
TWO SOIL SITES IDENTIFIED. COMMERCIAL POTENTIAL (CURRENTLY RESIDENTIAL ZONING)
Industrial - 5760 Highway 109 N, Lebanon, TN
$1,300,000
1,234 Sq. Ft.
This property was recently surveyed into two parcels.
Land - 414 Shearon Ln, Clarksville, TN
$230,000
0.77 acres
Corner Lot with Excellent Road Frontage! Level 0.
Others - 606 Littrell Road W, Loretto, TN
$69,900
9,966 Sq. Ft. on 0.97 acres
WONDERFUL STORAGE FACILITY - IN NEED OF MINOR REPAIR.
Others - 124 S Main St, Loretto, TN
$330,000
3,600 Sq. Ft. on 0.18 acres
CHECK OUT THIS GREAT INVESTMENT OPPORTUNITY IN BEAUTIFUL DOWNTOWN LORETTO TN, 3 suites selling toget
Others - 0 Blythes Ferry Road, Dayton, TN
$550,000
2,800 Sq. Ft. on 0.72 acres
Great investment property in growing Dayton TN.
Land - 1555, 1569, 1570 Hull Ln, Knoxville, TN
$139,100
2.48 acres
Great location in West Knoxville for single family development. Two parcels zoned A with 2.
Land - Decatur Pike, ATHENS, TN
$1,050,000
This is a prime 32 acre corner parcel of commercial land located directly off interstate 75 at exit
Land - Decatur Pike, ATHENS, TN
$249,900
This prime spot is minutes away from Downtown Athens Tennessee and Tennessee Wesleyan University.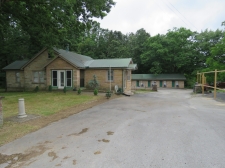 Hotel - 815 N York Highway, Jamestown, TN
$549,929
4,000 Sq. Ft. on 3.5 acres
Multi use income potential for historic hotel or possibly even studio apartments with 11-25 parking
Industrial - 6610 Asheville Hwy, Knoxville, TN
$995,000
15,000 Sq. Ft. on 1.43 acres
Store Your Stuff Self-Storage has 115 units with approximately 15,000 net rentable square feet.
Retail - 1313-1315 E Main, Humboldt, TN
$289,000
The Opera House is a premier destination to hold your event.
Others - 700 Beuerlein Street, Lawrenceburg, TN
$650,000
50 acres
Superb location in a growing area.
Tennessee has a fairly sizeable population of over 6 million, and, as a result, commercial real estate listings in the state are ample. The gross state product as of 2005 was $226,502 billion.
Predominant industries in this state include agriculture, and its rural commercial land is dedicated to poultry, soybeans and cattle. About 59% of the state's 82,000 farms produce beef cattle. Manufacturing and tourism are also essential industries to Tennessee's economy.
Memphis is the most populous city in the state with an estimated population of 674,028. There are a variety of large corporations with headquarters and industrial space in Memphis, Tennessee including FedEx, AutoZone and International Paper.
Other populous cities with Tennessee commercial real estate listings include Nashville, Knoxville and Chattanooga, with populations of 590,807, 183,546 and 169,884 respectively. Even some of the smaller cities in Tennessee are home to industrial space for major corporations. For example, Franklin is the North American headquarters of Nissan.
---