---
If you are looking for Utah commercial real estate listings, you will find that most of them are located on the Wasatch Front, which is around Salt Lake City. Approximately 80% of the state's residents live in this region. Other parts of the state are mostly uninhabited with few buildings. As a result, there are vast expanses of Utah with little in the way of commercial realty and investment properties.
In the 2010, the gross state product in Utah was $114.5 billion. The economy of Utah is based heavily on transportation, IT, government services, and mining. Much of the state's rural commercial land is dedicated to cattle ranching. Industrial space in eastern Utah is also dedicated to petroleum production, which is another important industry in Utah.
If you are looking for Utah commercial real estate listings, you will be interested to learn that Forbes ranked the state #1 for "Best States for Business."
Industrial - 1725 West 1500 South, Salt Lake City, UT
19,786 Sq. Ft.
Industrial/Warehouse with Fenced Yard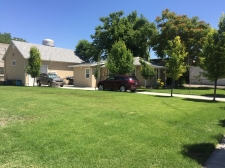 Industrial - 146-164 Crystal Ave, South Salt Lake, UT
$599,000
1,600 Sq. Ft. on 0.38 acres
2 Lots, home/office, warehouse with lifts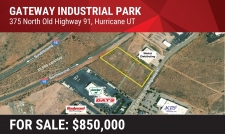 Land - 389 North Old Highway 91 , Hurricane, UT
$850,000
5 acres
5 Acres of Industrial Land in Hurricane
Land - 1229 N Main St., Cedar City, UT
$1,042,500
2.78 acres
Great commercial corner priced right at $375,000 per acre! Adjacent to Cedar City Hospital property.
---
Others - 380 E 1620 S, Salina, UT
$499,999
1.5 acres
Turn key ready to go Restaurant in fast growing commercial area, just off I-70 and Hwy 89 corridor.
Land - I-15 & 1300 N, Provo, UT
16.25 acres
I-15 INDUSTRIAL LAND IN PROVO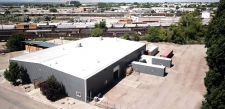 Industrial - 1122 South 900 East, Provo, UT
$1,700,000
0.41 acres
18,031 SF at Provo Warehouse with Yard
---
Office - 148 S. Vernal Avenue, Vernal, UT
6,000 Sq. Ft. on 0.63 acres
REDUCED!! Professional Office Plaza for Sale
Retail - 762 W. Smelter Street, Midvale, UT
$985,000
4,104 Sq. Ft.
Car Wash Investment - Short Sale
Retail - 3820 South Highland Drive, Salt Lake City, UT
2,700 Sq. Ft. on 0.36 acres
Free Standing Retail in East Millcreek
Retail - 7615 South State Street, Midvale, UT
6,875 Sq. Ft. on 0.46 acres
Retail/Auto Dealership on State Street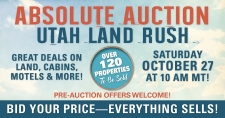 Hotel - 15 W Main Street, Duchesne, UT
Absolute Auction - 4 Motels Complexes, Office and Retail Priced To Sell
Others - 320 S US HWY 6, WELLINGTON, UT
$250,000
9.45 acres
LARGE ACREAGE IN CENTER OF WELLINGTON ON US HWY 6.
Others - 574 N Main St E, Moab, UT
$99,000
0.01 acres
PRICED TO SELL! Due to new family developments owners will be traveling twice a week.
Retail - 4699 South 4800 West, Salt Lake City, UT
2,650 Sq. Ft. on 0.45 acres
Salt Lake City Free Standing Retail
Retail - 2080 W. North Temple, Salt Lake City, UT
5,676 Sq. Ft. on 0.72 acres
Fully Equipped Restaurant/Bar
Motel - 54 West Main Street, Vernal, UT
18,059 Sq. Ft.
Motel / Retail / Restaurant
Others - 34 SWISS MTN, MIDWAY, UT
$29,900
0.46 acres
Great uphill Side lot priced to sell.
Others - 160 SWITZER, MIDWAY, UT
$59,900
0.68 acres
Great private lot in Swiss Mountain Estates.
Office - 6361 West 13400 South, Herriman, UT
13,748 Sq. Ft. on 1 acres
Multi Tenant Office Investment
---