---
Office - 1656 W. Whitlock Avenue, West Valley City, UT
900 SqFt
Central Valley Office
Industrial - 171 West 7065 South, Midvale, UT
6,500 SqFt
Midvale Warehouse with Office
Office - 3670 Quincy Avenue, Ogden, UT
1,000-6,000 SqFt
Ogden Office Space
Storage - 7202-7214 South 900 East, Midvale, UT
1,800 SqFt
Midvale Storage/Retail
Office - 1403 East Sego Lily Drive, Sandy, UT
5,519 SqFt
Brand New Medical/General Office in Sandy - Reduced!
Retail - 2607 South State Street, South Salt Lake, UT
920 SqFt
State Street Retail in South Salt - Reduction!
Office - 1894 West 2425 South, Woods Cross, UT
2,200 SqFt
Woods Cross Office Sublease - Reduced!
Office - 2040 E. Murray Holladay Road, Holladay, UT
1,600-2,679 SqFt
Holladay Office Suites
Office - 2880 South Main Street, Salt Lake City, UT
580-950 SqFt
Central Valley Office Space
Office - 2469 E Fort Union Blvd, Salt Lake City, UT
961 SqFt
Prime Fort Union Office Suite
Office - 747 East South Temple, Salt Lake City, UT
1,224-4,494 SqFt
South Temple Office Suite
Office - 850 East 9400 South, Sandy, UT
2,187 SqFt
Sandy Office Suites for Lease
Office - 1195 N. Spring Creek Plaza, Springville, UT
3,400-6,800 SqFt
Recently Remodeled Office in Springville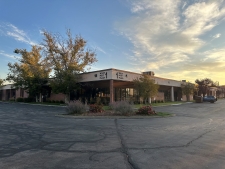 Industrial - 4750 West Wiley Post Way, Salt Lake City, UT
18,966-46,510 SqFt
Salt Lake City Flex Office Warehouse
Retail - 164 West 500 North, Provo, UT
5,300 SqFt
Freestanding Retail in Provo
Office - 1751 W. Alexander Street, West Valley City, UT
4,155 SqFt
Newly Remodeled Office in West Valley
Retail - 579 E. Fort Union Blvd., Midvale, UT
1,000-2,500 SqFt
Rare Fort Union Retail/Office Space
Retail - 8860 South Redwood Road, West Jordan, UT
2,190-7,492 SqFt
West Jordan Retail/Office on Redwood Road
Industrial - 4850 West 3500 South, West Valley City, UT
120,000 SqFt
Office/Warehouse
Retail - 339 East 2250 South, Ogden, UT
1,200-3,200 SqFt
Fully Equipped Restaurant in Ogden
If you are looking for Utah commercial real estate listings, you will find that most of them are located on the Wasatch Front, which is around Salt Lake City. Approximately 80% of the state's residents live in this region. Other parts of the state are mostly uninhabited with few buildings. As a result, there are vast expanses of Utah with little in the way of commercial realty and investment properties.
In the 2010, the gross state product in Utah was $114.5 billion. The economy of Utah is based heavily on transportation, IT, government services, and mining. Much of the state's rural commercial land is dedicated to cattle ranching. Industrial space in eastern Utah is also dedicated to petroleum production, which is another important industry in Utah.
If you are looking for Utah commercial real estate listings, you will be interested to learn that Forbes ranked the state #1 for "Best States for Business."
---