---
Office - 870 East 9400 South, Sandy, UT
1,050 SqFt
Sandy Office Suites
Retail - 7817 South Highland Drive, Cottonwood Heights, UT
1,610 SqFt
Cottonwood Heights Retail Sublease
Office - 1345 East 3875 South, Salt Lake City, UT
1,489 SqFt
Medical/General Office Condo
Industrial - 1435 S. State Street, Salt Lake City, UT
1,200-6,000 SqFt
Office, Retail, Warehouse/Flex Available
---
Office - 5872 South 900 East, Salt Lake City, UT
2,495 SqFt
Salt Lake City Medical/Dental Office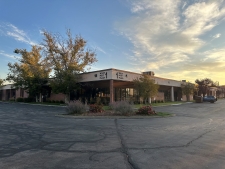 Industrial - 4750 West Wiley Post Way, Salt Lake City, UT
3,315-27,544 SqFt
Salt Lake City Flex Office Warehouse
Office - 292 East 3900 South, Millcreek, UT
500 SqFt
Central Office in Millcreek
---
Office - 3920 South 1100 East, Millcreek, UT
1,428-3,405 SqFt
Millcreek Office Suites
Office - 4100 South West Temple, Salt Lake City, UT
800 SqFt
Salt Lake Office - Reduced!
Retail - 678 East 7800 South, Sandy, UT
810 SqFt
Sandy Office/Retail
Office - 2040 E. Murray Holladay Road, Holladay, UT
1,095-2,679 SqFt
Holladay Office Suites
Retail - 339 East 2250 South, Ogden, UT
3,950 SqFt
Fully Equipped Restaurant in Ogden
Industrial - 600 North 680 West, North Salt Lake, UT
10,000 SqFt
Industrial with Drive-thru Access
Office - 7084 South 2300 East, Cottonwood Heights, UT
1,353 SqFt
Rare Fort Union Office Suite
Office - 280 North 200 West, Bountiful, UT
250-500 SqFt
Medical/General Office Space in Bountiful
Industrial - 9251 South 700 East, Sandy, UT
5,200-13,000 SqFt
Sandy Retail/Warehouse
Office - 279 East 5900 South, Murray, UT
1,900 SqFt
Murray Office Suite For Lease
Retail - 509-539 N. Harrisville Road, Ogden, UT
1,232-2,708 SqFt
Ogden Retail/Office Space
Industrial - 1050 South 200 West, Salt Lake City, UT
64,742 SqFt
Manufacturing/Distribution & Cold Storage
Office - 11449 South 1000 East, Sandy, UT
2,030-8,559 SqFt
Build to Suit Office Space in Sandy
If you are looking for Utah commercial real estate listings, you will find that most of them are located on the Wasatch Front, which is around Salt Lake City. Approximately 80% of the state's residents live in this region. Other parts of the state are mostly uninhabited with few buildings. As a result, there are vast expanses of Utah with little in the way of commercial realty and investment properties.
In the 2010, the gross state product in Utah was $114.5 billion. The economy of Utah is based heavily on transportation, IT, government services, and mining. Much of the state's rural commercial land is dedicated to cattle ranching. Industrial space in eastern Utah is also dedicated to petroleum production, which is another important industry in Utah.
If you are looking for Utah commercial real estate listings, you will be interested to learn that Forbes ranked the state #1 for "Best States for Business."
---