---
As far as land area and population goes, Vermont is one of the smallest states. In fact, at the time of the 2010 census, the population of the state was only 630,337. However, despite these statistics, there are still Vermont commercial real estate listings to be found. Much of this commercial realty will be found in Burlington, where approximately 211,261 people live.
The gross state product in Vermont is $26 billion, which this is lowest of all the US states. Agriculture makes up about 12% of the state's economy. Of all the types of agriculture in the state, dairy farming is most prolific. One of the major industries in Vermont is producing maple syrup, and rural commercial land and industrial space is dedicated to this endeavor.
The largest corporation in Vermont is IBM, which is located in Essex Junction. The company has office space and industrial space in Vermont. In fact, IBM alone makes up $1 billion of Vermont's economy on an annual basis.
Land - Wallace, Hartford, VT
$139,000
Pristine location with only minutes to downtown Hanover or White River Jct, yet privately situated i
Others - 2684 King George Road, Sutton, VT
$2,500,000
300 acres
Commercial Sale - Sutton, VT
Others - 00 northeast Highway, Newport City, VT
$225,000
Commercial Sale - Newport City, VT
Others - 1155 105 Route, Charleston, VT
$279,000
0.25 acres
Commercial Sale - Charleston, VT
---
Others - - Hancock Road, Brighton, VT
$750,000
500 acres
Commercial Sale - Brighton, VT
Land - Lot 5 Forest 5, Bradford, VT
$17,500
1.6 acres
Wonderful neighborhood setting with an opportunity to build your own home in this elite location.
Land - Lot 6 Forest 6, Bradford, VT
$22,950
2.2 acres
This is a wonderful location to build your dream home.
---
Land - 137 Hopson, Norwich, VT
$440,000
10 acres
Lovely 10+ acre parcel in the center of the Village of Norwich, VT with views into Hanover, NH of Ba
Land - 66 Meadow, Royalton, VT
$18,500
1.28 acres
Ready to build? This 1.28+/- acre parcel (Lot#5)
Land - Lot 4 Forest 4, Bradford, VT
$17,500
1.3 acres
Ideal location, not too far from I-91. This is a neighborhood lot with a beautiful setting.
Land - Lots 2&3 Forest 2&3, Bradford, VT
$21,500
2.2 acres
Sick and tired of not finding the right house out there? Maybe it is time to consider building?
Farm - 1521 South Windsor, Royalton, VT
$210,000
1,168 Sq. Ft.
Extremely well cared for 3 bedroom / 1 bath ranch style home less than 1.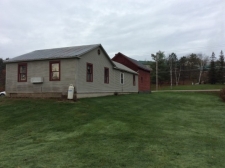 Retail - 1320 Waterbury Stowe Rd, Waterbury, VT
$595,000
2,000 Sq. Ft.
Super Location - Hi Visibility
Others - 142 Country Club Rd, Highgate, VT
$650,000
960 Sq. Ft. on 9 acres
This commercial/industrial 9 Acre lot is a unique opportunity!
Others - 205 US Route 5, Derby, VT
$175,000
0.31 acres
Commercial Sale - Derby, VT
Farm - 209 Tucker Hill, Thetford, VT
$315,000
2,184 Sq. Ft. on 0.53 acres
This wonderful 1843 antique cape has been lovingly cared for over the years.
Others - 2777 Route 7 Hwy, Ferrisburgh, VT
$399,000
This commercial building has a history of retail, light manufacturing, and most recently commercial
Farm - 930 Quimby Mountain, Sharon, VT
$285,000
2,812 Sq. Ft. on 10.1 acres
Charming contemporary Cape on just over 10 private acres.
Others - 4116 rte 105 Newport Center Vt, Newport Town, VT
$325,000
0.25 acres
Commercial Sale - Newport Town, VT
Farm - 487 Sugartop, Norwich, VT
$599,000
3,257 Sq. Ft. on 19.2 acres
Welcome to a beautiful contemporary, post and beam home that was custom built by the original owners
---