Search Results - Wisconsin
---
Although Wisconsin is often thought of as consisting of mostly farmland, there are many Wisconsin commercial real estate listings in the cities. Many of the commercial realty can be found in Milwaukee. According to the 2010 Census, Wisconsin has 5,686,986 residents. About 1/3 of the entire state's population is in the Greater Milwaukee area. Other cities in Wisconsin with ample investment property and commercial real estate listings include Madison, Green Bay, Kenosha, Racine and Appleton.
The gross state product in 2010 was $248.3 billion. The state's economy is based largely on manufacturing, healthcare and agriculture. Wisconsin is well known for its cheese production and industrial space and rural commercial land are both dedicated to its production.
Other important crops include corn, cranberries and ginseng. Some of the largest food brands have their office space and industrial space in Wisconsin, including Oscar Meyer, Tombstone and Kraft.
Retail - 1260 Milton Ave, Janesville, WI
$10/SqFt/Year
19,923 SqFt
Suites available in office and retail building at the controlled intersection of Milton Ave and Mt Z
Office - 101 E Milwaukee St, Janesville, WI
43,000 SqFt
Office space for lease at Prospect 101 in Janesville, WI, located in the heart of Janesville's downt
Shopping Center - 128 W 8th St, Monroe, WI
$8.4-9.6/SqFt/Year
2,400-6,980 SqFt
Monroe Retail Space for Lease - 4 spaces available from 2,400 SF to 6,980 SF
Industrial - 1312 Barberry Dr, Janesville, WI
$3.95/SqFt/Year
52,580 SqFt
Industrial space available for lease in Janesville, WI.
---
Office - 4465 Milton Ave, Janesville, WI
$10/SqFt/Year
9,532 SqFt
Modern, attractive, well-maintained, and energy-efficient office space for lease in Janesville, WI,
Industrial - 100 Innovation Dr, Janesville, WI
$4.75/SqFt/Year
100,000 SqFt
Proposed pre-cast industrial flex building available for lease on Innovation Dr in Janesville, WI.
Office - 20-24 S Jackson St, Janesville, WI
$10/SqFt/Year
9,256 SqFt
One of the first significant redevelopment projects in Janesville'
---
Industrial - 1923 Royce Ave, Beloit, WI
$3.75/SqFt/Year
7,200 SqFt
7,200 SF industrial building available for lease in Beloit, WI.
Office - 7201 Green Bay Rd., Kenosha, WI
$12.5/SqFt/Month
2,577-2,749 SqFt
Medical building on STH 31. 3 suites available. Built-out w/exam rooms and reception areas.
Retail - 330 Pearl Street, La Crosse, WI
$12-15/SqFt/Month
0-4,602 SqFt
Historic Downtown La Crosse
Office - 207 N Academy St, Janesville, WI
$8/SqFt/Year
23,760 SqFt
The Gray Goose is a newly-renovated former tobacco warehouse in downtown Janesville.
Office - 3008 30th Ave, Kenosha, WI
$0.8/SqFt/Month
2,500 SqFt
Professional office space in prime commercial area.
Industrial - 1519 S Washington St, Janesville, WI
$0.26/SqFt/Month
11,520 SqFt
Industrial property for lease at 1519 S Washington St on Janesville's south side.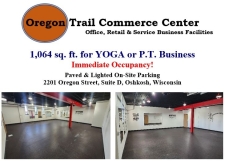 Office - 2201 Oregon Street, Oshkosh, WI
1,428 SqFt
Office Units - NEW space will be built to suit Tenants Needs. Asking Lease Rate is ONLY $8.50 Sq Ft.
Office - 902 Garland Street E, West Salem, WI
$0.01/SqFt/Year
1-137,500 SqFt
Former Healthcare Facility located on 15.63 acres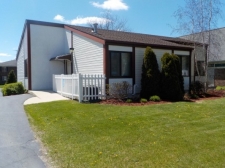 Office - 1415 Eastern Ave, Plymouth, WI
$240-485/SqFt/Year
304-550 SqFt
Office Space For Rent
Retail - 1009 Riders Club Rd, Onalaska, WI
$7/SqFt/Month
6,000 SqFt
High Visibility. Flexible Space. Great place to grow your business!
Office - 440 Chestnut St, Wisconsin Rapids, WI
$9.
Retail - 1905 Center Ave, Janesville, WI
$6/SqFt/Year
17,400 SqFt
Retail or office space for rent at 1905 Center Ave in Janesville, WI.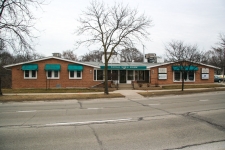 Health Care - 6080 S. 108th Street, Hales Corners, WI
$12.5/SqFt/Year
1,500-5,624 SqFt
Hales Corners Office Space for Lease - 1 space available from 1,500 SF to 5,624 SF
---