---
Office - 218 E 25th St, Cheyenne, WY
$348,000
1,551 Sq. Ft. on 0.14 acres
Great office space, wired for LAN, Multi phone lines, Off street parking with Handicap parking and r
Others - Block 1 Lot 3 Laramie St St, Cheyenne, WY
$1,500,000
10,000 Sq. Ft.
Commercial Pad sites available in College Business Park.
Others - 52 16th St St, Wheatland, WY
$1,500,000
17,107 Sq. Ft.
Extremely well maintained Board and Care facility (business and real estate)
Others - 45 N Main Street, Buffalo, WY
$229,500
0.08 acres
Office Building,Commercial - Buffalo, WY
Office - 5100 CY, Casper, WY
$699,000
12,982 Sq. Ft. on 2.99 acres
Excellent Highway Frontage built to be a auto dealership originally.
Others - 6634 Swan Ct, Cheyenne, WY
$2,200,000
17,600 Sq. Ft.
Tremendous industrial property located in Swan Ranch.
Retail - 5930 Old Highway 14, Beulah, WY
$1,750,000
5,133 Sq. Ft.
Call or text listing agent Rick Tysdal at 605-641-1030 or Jason Tysdal at 605-641-7260 at CENTURY 21
Others - 1623 Dillon Ave, Cheyenne, WY
$650,000
20,230 Sq. Ft.
Outstanding Light Industrial property located in the heart of downtown Cheyenne.
Retail - 445 Washington Street, Afton, WY
$460,000
Building in Afton, the center of town. Next to the famous Antler Arch.
Others - (No Address), Sheridan, WY
$350,000
1,513 Sq. Ft. on 0.19 acres
Ofc Bldg W/Apt,Commercial - Sheridan, WY
Industrial - 902 4th St S, Basin, WY
$90,000
2,562 Sq. Ft. on 3.17 acres
Two Commercial Lots being Sold together directly across from the Fair Grounds.
Office - 1701 E E Street, Casper, WY
$6,070
4,414 Sq. Ft.
High traffic office space!
Land - 9370 Hwy 220, Casper, WY
$380,000
Absolutely Picturesque Property! 29+ Acres West of Casper, 2880 sq. ft.
Industrial - 3667 Burd Road, Casper, WY
$3,000
1 acres
5,000 sq. ft. industrial building containing 1,000 sq. ft. of office and 4,000 sq. ft. of shop.
Others - 345 Meadow Drive, Alpine, WY
$495,000
Very unique opportunity with lots of possibilities! This .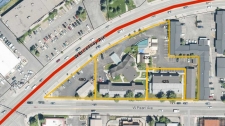 Land - 420 W Broadway, Jackson, WY
$19,000,000
1.91 acres
1.91 acre redevelopment parcel in downtown Jackson, WY
Others - TBD Valley View Drive Lot 6, Sheridan, WY
$399,000
5.02 acres
Commercial - Sheridan, WY
Land - Lot 9 Block 1 Pershing Blvd, Cheyenne, WY
$293,640
Co-listed with Ben Trautwein - 307-286-7112.
Office - 1907-1909 Salt Creek Highway, Casper, WY
$700,000
5,000 Sq. Ft. on 1.5 acres
This Property comes with two buildings 1 building is 5,000 sqft and the other is 9,000 sqft sitting
Others - 209 E 20th St St, Cheyenne, WY
$250,000
2,566 Sq. Ft.
Take a look - larger than it looks from the street. Very nice office building in visible location.
Although Wyoming has fewer residents than any other U.S. state, there are still commercial real estate listings in this state to consider. According to the 2010 US Census, about 563,626 people live in Wyoming. Wyoming also has the distinction of being the state with the 2nd lowest population density.
Since about 91% of state is "rural," Wyoming commercial real estate listings won't be found throughout the state. If you are considering investment property and commercial realty, you will want to consider the state's capital Cheyenne. This city has a population of about 60,000. Other populous areas in Wyoming include Casper, and Laramie.
The gross state product is in the neighborhood of $27.4 billion. Much of the economy is based on mineral extraction. Tourism also is essential to Wyoming's economy and generates over $2 billion per year. Agricultural endeavors also are a substantial part of the state's economy, and rural commercial land is dedicated to beef, hay, beets, grain and wool.
---