---
Industrial - Kelley, Dothan, AL
$99,500
1.84 acres

Industrial - 1148 US Hwy 231, Ozark, AL
$645,000
2,600 Sq. Ft. on 0.76 acres
Closed Pizza Hut on Hwy 231 in Ozark equipment and fixtures included
Industrial - Ross Clark, Dothan, AL
$39,900
31 acres
The price is $39,900 per acre. 5.
Industrial - 208 W Powell, Dothan, AL
$190,000
7,560 Sq. Ft. on 0.52 acres
Nicely finished office space with several large workspaces.
Industrial - 112 Obrannan Park Drive, Dothan, AL
$115,000
0.52 acres
Also available combined with four additional lots as a whole.
Industrial - 110 OBrannan Park Drive, Dothan, AL
$115,000
0.52 acres
Also available combined with four additional lots as a whole.
Industrial - 108-116 OBrannan Park Drive, Dothan, AL
$550,000
2.6 acres
Five lots on Obrannan Park Drive. Also available individually.
Industrial - 3 Westpoint, Enterprise, AL
$695,000
8,500 Sq. Ft. on 1 acres
Strip center parallel to Boll Weevil BLVD. Six suite bld formerly entirely used as church.
Industrial - Melba Dr., Dothan, AL
$345,000
0.83 acres
Prime location adjacent to Southeast Health with nearly an acre of wooded land zoned for office.
Industrial - 307 - 311 Haven Drive, Dothan, AL
$340,000
1.16 acres
Three wooded lots to be sold as one developable property on Haven Drive close to Southeast Health an
Industrial - 113 & 115 MCKINNON Street, New Brockton, AL
$15,000
2,900 Sq. Ft.
Located on McKinnon Street in the heart of downtown New Brockton, this property has endless possibil
Industrial - 913 Rucker Boulevard, Enterprise, AL
$3,300,000
62,004 Sq. Ft.
This Planet Fitness anchored center is a fabulous investors opportunity!! Excellent cash flow and 8%
Industrial - 2999 Ross Clark Cr, Dothan, AL
$3,750,000
59,534 Sq. Ft. on 5.32 acres
This is the Wells Fargo Bank property on the southwest side of RCC.
Retail - 733 13th Street, Phenix City, AL
$225,000
2,069 Sq. Ft. on 0.09 acres
Downtown Phenix City
Others - 2197 Denton, Dothan, AL
$207,000
8.86 acres
rental house fronting Denton Rd property extends behind the house utilities run along Denton Rd
Others - Co. Rd. 39 / Suggs, Headland, AL
$65,000
4.43 acres
Lot #48 Windmill Estate lots on the west side of Headland back on the market.
Others - 706 Dallas Street Northwest, Huntsville, AL
$250,000
Great Commercial Property in desirable Five Points.

Retail - 1710 S. Quintard Ave, Anniston, AL
$39,999
7,125 Sq. Ft. on 0.97 acres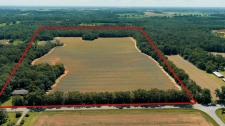 Land - 20150 County Road 55, Silverhill, AL
74.8 acres
74+ AC Prime Ag/Development Land with Home
Land - Mandy Drive 13A, Wedowee, AL
$75,000
1 acres
Almost 2 acres of lake front land on Lake Wedowee!
Alabama's economy is driven by a variety of industries all of which influence commercial real estate listings in the state. A variety of crops are grown in Alabama, ranging from peaches and peanuts to such staple crops as corn, soybeans and grains. Alabama's annual production is also driven by livestock products, accounting for about 82% of agricultural production. These two factors drive demand for rural land. Alabama's industrial sector is also diverse with automotive manufacturers; such as Hyundai, Honda, Toyota, Mercedes-Benz, and BF Goodrich Tire. These companies and their industrial space have a large presence in the state. Steel production, lumber and NASA's George C. Marshall Space Flight Center are all major fixtures in Alabama's economy. Thus, industrial space is plentiful in the region.
Major cities include Birmingham, Mobile, Huntsville and Montgomery. Those interested in commercial real estate listings will be interested to learn that the state's population has grown considerably since 1990, jumping by 12% in the last 20 years. Alabama's largest city is Birmingham with about 210,000 people, according to the 2010 Census, and the state capital is Montgomery. Office space, commercial property, retail space and investment property have all grown alongside Alabama's general population growth. Commercial real estate listings are plentiful in Alabama's largest cities.
---