---
The State of Florida ranks as the fourth most populous state in the United States with approximately 18.8 million people according to the 2010 US Census. This factor translates into a good deal of commercial real estate listings. Tallahassee, the state capital, is home to roughly 181,000 residents and a large portion of the state's commercial realty.


Florida's largest city is Jacksonville, which has over 1.3 million people in the area and about 820,000 residents in the city proper. Jacksonville's deepwater port makes it a leading hub for global shipping and a major contributor to the state's economy.


Other major cities include Miami, Tampa, Orlando and St. Petersburg as well as numerous smaller cities. There are a variety of substantial cities in Florida with a wide range of commercial real estate listings and opportunities for investment property.


Florida is an economic powerhouse with a gross domestic product in 2010 of over $700 billion dollars. Ports and tourism make up major parts of the Florida's economy. The strength of Florida's economy coupled with its numerous large cities makes Florida an interesting opportunity for investment property, as there is a strong supply of commercial realty, retail and office space.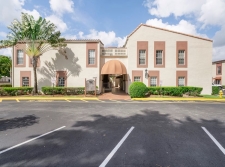 Office - 7707 N University Dr. #105-107, Tamarac, FL
$555,500
2,645 Sq. Ft.
Medical Office Condo for Sale, 2,645 SF
Industrial - 12509 NW 44th St., Coral Springs, FL
$925,000
5,753 Sq. Ft.
For Sale Office/Warehouse Condo
Multi-family - 271 NW 41st Street, Oakland Park, FL
$450,000
2,608 Sq. Ft. on 0.19 acres
$ Unit Multi-Family Oakland Park, New roof, Paint, Electrical System.
Office - 8199 W McNab Rd, Tamarac, FL
$2,789,000
3,885 Sq. Ft. on 1.8 acres
For Sale Freestanding Bank - 3,885 SF
---
Retail - 16930 SW 134 Avenue, Archer, FL
$120,000
3,000 Sq. Ft.
In commercial real estate we get accustom to the offices and warehouses that makeup larger cities li
Office - 2614 NW 43RD Street, Gainesville, FL
$2,291,700
15,278 Sq. Ft.
Currently the office of the USDA Natural Resources Conservation Services.
Office - 4440 & 2614 NW 25TH Place, Gainesville, FL
$4,710,900
31,406 Sq. Ft.
Two office buildings that currently house two departments of the USDA.
---
Office - 2814 SW 34th Street, Gainesville, FL
$1
15,402 Sq. Ft.

Office - 116 NE 3rd Avenue, Gainesville, FL
$284,895
1,671 Sq. Ft.
DUCKPOND LAW OFFICE. 1920 Contributing Structure in the City NE Historic District. Well maintained.
Industrial - 3905 E Main St, Wauchula, FL
$199,900
10 acres- 2 parcels sold together. 5 acres currently leased to farmer growing strawberries.
Industrial - 4024 W VINE STREET, KISSIMMEE, FL
$1,300,000
6,529 Sq. Ft.
Spectacular Location on HWY 192, access through 2 major intersections Hoagland and W. Vines St. (
Retail - 1515 LEE ROAD, ORLANDO, FL
$579,900
2,770 Sq. Ft.
LEE ROAD-Prospering location in area of re-developments.
Industrial - 12705 NW US Hwy 441, Alachua, FL
$1
1 Sq. Ft.
PRICE IS NOT $1 - to be determined by market. Bring offers!
Retail - 307 BROADWAY, KISSIMMEE, FL
$1,300,000
10,000 Sq. Ft.
Super Location on Broadway in downtown Kissimmee! Busy road in the Heart of Kissimmee! Approx.
Industrial - 5000 Overseas Hwy., Other City - Keys/Islands, FL
$3,339,000
Opportunity to own this high profile long established and well run hotel in Marathon in the heart of
Industrial - 2121 NW 67th Place, Gainesville, FL
$4,500,000
95,210 Sq. Ft.
State of the Art Shipping and warehousing facility with upgraded, energy efficient T5 lighting with
Office - 500 E UNIVERSITY Avenue Suite D, Gainesville, FL
$159,900
1,687 Sq. Ft.
Tastefully updated professional office downtown in walking distance to the courthouse and all the do
Office - 4550 NW 6TH Street, Gainesville, FL
$1,500,000
9,360 Sq. Ft.
Owner is preparing to retirehis loss is your gain!
Office - 7733 W NEWBERRY B-2, Gainesville, FL
$179,900
1,374 Sq. Ft.
Wanting to own your own space?
Office - 708 E University Avenue, Gainesville, FL
$524,895
5,092 Sq. Ft.
OFFICE or HOME/OFFICE in a contributing structure in the City's Northeast Historic District.
---