---
Retail - 1501 E Forsyth St, Americus, GA
$945,000
Call Mary Kathryn Davis 229-938-8541 to see this Large commercial building on two busy street with h
Office - 100 Plantation Ridge Dr, Americus, GA
$439,900
4,877 Sq. Ft.
4877+/- sq. ft office building.
Retail - 411 Tripp St, Americus, GA
$174,000
3,050 Sq. Ft. on 2.6 acres
Multi purpose property consist of 3,050+/- sq.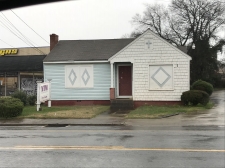 Office - 216 East Church Street, Cartersville, GA
$247,480
1,140 Sq. Ft. on 0.18 acres
216 E. Church St. - Office Building
Office - 205 Commerce Drive, Dallas, GA
$561,125
5,854 Sq. Ft. on 0.49 acres
Office Building with 14 office spaces, 4 restrooms, kitchen area, two entry ways with two waiting ar
Retail - 273 Railroad Street, Alapaha, GA
$84,500
EXCELLENT COMMERCIAL BUILDING!!! in a growing south georgia town!!!
Multi-family - 2325 Shady Grove Road, Carrollton, GA
$125,000
1 acres
Fully occupied Duplex in great condition. both units are 2 bedroom 1 bath units that lease for $
Farm - 2.3AC Hwy 75 North, Hiawassee, GA
$60,000
2.3 acres
2.3 Acres of unrestricted land with 144 State Highway frontage and 153 Old Forge Estates frontage.
Industrial - 2200 Osborne Road, St Marys, GA
$130,000
Approximately .45 acres (to be verified by the Buyer) of prime St. Marys real estate.
Industrial - 1135 North Way #C, Darien, GA
$2,000
Large office space for rent with about 17 inter offices. Space has his and her's restrooms;
Industrial - 1026 Blount Crossing Road #B, Darien, GA
$350
Busy Corner! Great location to have a shop or office.
Retail - 840 S Laurel Street, Springfield, GA
$175,000
2,182 Sq. Ft. on 0.98 acres
Former Gaffney's Cheap Seats is up for sale.
Farm - TR 6 Town Pl, Hiawassee, GA
$125,000
1 acres
This level COMMERCIAL lot is ready to build!
Others - 9.42ac HWY 61 & Dyer Rd, Carrollton, GA
$465,000
9 acres
9.42 Acres of undeveloped land on Hwy 61 between Carrollton and Villa Rica. 764.
Land - 0 Broad Street, Tallapoosa, GA
$315,000
120 acres
You can operate a SOD farm, Graze livestock or simply enjoy life.
Land - 0 Clem Lowell Road, Carrollton, GA
$57,800
5 acres
Come check out this prime location property on the corner of Clem-Lowell Road and Lowell Road.
Others - 7436 Fielder Road, Atlanta, GA
$150,000
1,190 Sq. Ft. on 0.63 acres
Assemblage with Fielder Road.
Others - 3408 Dixie Hwy, DALTON, GA
$169,900
2.13 acres
ONE 1800 SF COMMERCIAL BUILDING WITH METAL ROOF & 2 BATHS ON 2.13 ACRES WITH OVER 200' FRONTAGE.
Land - 4801 Pat Colwell Rd, Blairsville, GA
$399,900
16.09 acres
Location, Location, Location!
Land - 81 Big Buck Mountain, ELLIJAY, GA
$11,000
Lot 81, Big Buck Mountain Resort.
Many people do not realize that Georgia is an economic powerhouse with a gross state product of $602 billion and ample commercial real estate listings. One of the reasons that Georgia has such an impressive state economy is that 21 Fortune 500 companies have office space located in the state. Further, 30 Fortune 1000 companies have retail space and industrial space in Georgia including Coca Cola, Delta, and Home Depot.
Aside from the large corporations that have headquarters in the state, a great deal of Georgia's economy and commercial rural land is based on agricultural endeavors. The state is famous for outputs of a variety of foods including peaches, peanuts and tobacco. Industrial space in Georgia is dedicated to everything from food processing and paper product manufacturing to chemical products and equipment for transportation.
Much of the state's commercial real estate listings are based in Atlanta. This city is a major hub for transportation, government, industry and communications. Amongst the large corporations with office space headquarters in Atlanta are Rubbermaid, UPS, Chick-fil-A and Delta Airlines.
While the majority of the Georgia's commercial real estate listings may be in Atlanta, other highly populated areas include Augusta, Columbus, Savannah and Athens.
---