Search Results - Massachusetts
---
Massachusetts enjoys a healthy economy as its per capita income stands as one of the highest in the nation. This factor translates into many Massachusetts commercial real estate listings. Many of the nation's top companies, such as Liberty Mutual Insurance Group, call Massachusetts home, and the state is a leader in the technology arena. Tourism and agriculture play a role in the state's economy as well and consistently contribute to the state's gross state product, which was $365 billion in 2008.


Due to the overall health of the economy, there are numerous commercial real estate listings and investment property opportunities in Massachusetts. Retail space, office space and industrial space are plentiful in most areas including Massachusetts's largest city Boston, which is home to approximately 2/3rd of the city's population.


Thanks to its focus on technology and education, Massachusetts stands out as a economically healthy and vibrant state. Those interested in investment property and commercial realty will find much to be excited about when considering one of America's original states.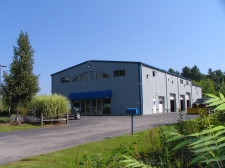 Retail - 2125 Bridge St , Dracut, MA
$1,400,000
6,800 Sq. Ft. on 1.43 acres
Auto body shop / commercial
Industrial - 325 Lakeshore Dr, Bellingham, MA
$250,000
1,646 Sq. Ft. on 0.72 acres
Presenting A Unique Opportunity to Recreate an Iconic Seasonal Landmark.
Industrial - 149 Main 2, Peabody, MA
$1,200
Retail space available for lease in desirable mixed use building.
Industrial - 33 Electric Ave 102, Fitchburg, MA
$150,000
1,928 Sq. Ft.
This professional office condo is centrally located with great access to Route 2 and surrounding hig
---
Others - 127 Congamond Road, Southwick, MA
$375,800
If you've been searching for a quant, very manageable sized restaurant to operate on a heavily trave
Office - 256 Concord Ave, Cambridge, MA
$2,400
Great opportunity to rent in long established Observatory Hill Building with mental health professio
Industrial - 162 Grove St, Franklin, MA
$2,500
4 acres
Commercial Office Space Features Convenience and Flexibility.
---
Office - 0 Confidential, Rehoboth, MA
$850,000
9,490 Sq. Ft. on 2.21 acres
Nicely maintained commercial building, first floor is completely leased with great long term tenants
Land - Nutting St, Fitchburg, MA
$225,000
3.1 acres
Small subdivision of 5 house lots on small cul-de-sac.
Others - 434 Bedford St, Whitman, MA
$249,900
Great Rte 18 location gives MAXIMUM EXPOSURE for this recently renovated commercially zoned 1284 sq
Industrial - 433 Broadway F, Everett, MA
$800
BROADWAY EVERETT SQUARE LOCATION. Prestigious Building. Office Space on the 2nd floor.
Industrial - 198 East Main St (rt 16), Milford, MA
$599,900
3,105 Sq. Ft. on 0.37 acres
Location ! Location ! Location ! Milford , first time ever on the market !
Retail - 368 - 374 Main Street, Medford, MA
$3,000,000
9,000 Sq. Ft. on 0.3 acres
Great opportunity for development or investment property in Medford on the Somerville line minutes t
Land - 10 Emery St, Palmer, MA
$60,000
4 acres
Palmer on Emery Street 4 Acre Lot!
Industrial - 271 Main St G-01, Stoneham, MA
$1,500
1,035 Sq. Ft. on 0.34 acres
RETAIL or OFFICE CONDO with highly visible FIRST FLOOR FRONT CORNER space with PRIVATE entrance, pri
Industrial - 467 Maple St, Danvers, MA
$539,900
3,216 Sq. Ft. on 0.26 acres
Unique Mixed Use Opportunity for a small business owner to own the building and generate income from
Industrial - 5 Powderhouse Ln, Sherborn, MA
$1,300
0.58 acres
Great Opportunity for a Business in Sherborn Center!
Industrial - 44 Whiting St, North Attleboro, MA
$200,000
0.37 acres
Calling all Doctors, Therapists, Aestheticians, Consultants!!!
Others - 3 Bourbon, Peabody, MA
$68,500
Excellent opportunity to own a TURNKEY well established beauty salon and spa.
Others - 97 Rawson Road, Quincy, MA
$199,000
ATTENTION CONTRACTORS & TRADES PEOPLE:
---