Search Results - Michigan
---
In recent years, Michigan has received a good deal of attention for its economic problems with cities, such as Detroit and Flint, making headlines; however, this issue does not mean that there are not commercial real estate listings of interest. Michigan has put a great deal of focus on making the state attractive to investors and tourist alike, and, as a result, there are indeed viable opportunities in Michigan including investment property opportunities. The state is quite large with approximately 9,888,640 residents, as estimated by the 2010 census.


Manufacturing remains strong in Michigan with many large automotive companies, such as Ford and General Motors, still maintaining a large presence in the state. It is not only the automotive industry that is maintains a large manufacturing base in Michigan, as there are many others major corporations in the state, such as Whirlpool.


As of 2010, the gross state product was estimated by the Bureau of Economic Analysis to be over $384 billion.Other economic drivers in Michigan include agriculture and tourism. Due to its large manufacturing base, Michigan is a state with much retail space, office space and industrial space to choose from.
Retail - 1160 S. Carpenter Ave., Kingsford, MI
$153,000
2,068 Sq. Ft. on 0.54 acres
Successful pasty shop/bakery in a prime location!
Retail - W8133 US Hwy 2, Iron Mountain, MI
$699,000
3,010 Sq. Ft. on 1 acres
Former fast food restaurant w/liquor license available.
Business - 1021 River Ave., Iron Mountain, MI
$480,000
3,700 Sq. Ft. on 0.27 acres
Turn-key plumbing & heating business!
Office - 12956 E Washington, Reese, MI
$109,900
2,300 Sq. Ft.
Golden business opportunity, 2300 sq. ft.
---
Multi-Use - 1075 Pyle Dr., Kingsford, MI
$349,900
5,376 Sq. Ft. on 1.3 acres
5300+ sf building can accommodate 2 businesses!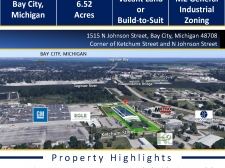 Industrial - 1515 N Johnson, Bay City, MI
$1,306,800
6.52 acres
6.52 Acres at hard corner of Ketchum Street and N. Johnson Road, Bay City, Michigan
Retail - 4576 US-31 S, Traverse City, MI
$847,000
1,584 Sq. Ft. on 10 acres
10 acres, with direct highway frontage of 343' makes this commercial property unique and a desirable
---
Office - 2910 N Saginaw Road, Midland, MI
$1,450
1,296 Sq. Ft.
A perfect office location!
Land - 2896 n Telegraph, Monroe, MI
$99,900
8.04 acres
Building site adjacent to the north of Ford dealership. Zoned commercial / light industrial.
Others - 534 N State Street, Alma, MI
$129,000
7,000 Sq. Ft. on 0.22 acres
Beautiful Church on corner lot close to downtown
Others - 6444 Farr Rd Heathlands Golf & Condo Development, Onekama, MI
$2,665,000
11,250 Sq. Ft. on 300 acres
The Heathlands Golf Course &
Land - 4510 James Savage, Midland, MI
$69,000
Developmental Opportunity.
Land - 14695 Mapleton Lane, Traverse City, MI
$399,900
20 acres
Are you the discriminating Buyer who wants to have an auxiliary building or start a bed and breakfas
Others - 6100 M-68 Highway, Indian River, MI
$269,000
9,177 Sq. Ft.
2 ACRE COMMERCIAL PROPERTY…WITH 16 MOTEL AND TRAILER RENTAL UNITS…AND 3 BEDROOM RESIDENCE. $
Others - 2051 Traversefield Drive, Traverse City, MI
$139,900
1.56 acres
VACANT COMMERCIAL PARCEL - MANUFACTURE & DISTRIBUTION CENTERS! Approx. 1.56 Acres.
Land - 175 S Main St, Village Of Brooklyn, MI
$47,500
Zoned C 2 commercial. Great location on M50 in the center of the Village of Brooklyn.
Others - 1857 & 184 W Higgins Lake Dr, Roscommon, MI
$294,000
5,000 Sq. Ft.
Two businesses, well established Pizza and sub shop and 3 unit vacation rental unit next door.
Others - V/L US 12, Edwardsburg, MI
$425,000
7.4 acres
Commercial Land - Edwardsburg, MI
Others - M-62, Edwardsburg, MI
$99,000
1.6 acres
Commercial Land - Edwardsburg, MI
Others - 220 S Michigan, Saginaw, MI
$284,900
6,406 Sq. Ft. on 0.23 acres
Business - Saginaw, MI
---