Search Results - New Mexico
---
Others - 1690 N BUTLER Avenue, FARMINGTON, NM
$299,500
3,863 Sq. Ft. on 0.37 acres
Office - FARMINGTON, NM
Others - 4810 E MAIN Street, FARMINGTON, NM
$280,000
2.16 acres
Land - FARMINGTON, NM
Industrial - 2501 Quincy Street NE, Albuquerque, NM
$250,000
2,200 Sq. Ft.
Corner frontage, great location and very well established business location.
Industrial - 96 Metro Blvd, SANTA FE, NM
$950,000
5,795 Sq. Ft. on 1.33 acres
This property with one commercial building and one residential building has a lot of potential.
Industrial - 24 Road 1956, Farmington, NM
$499,000
9,882 Sq. Ft. on 2.81 acres
Office/warehouse facility located on 2.
Land - Tract 1 Forest Rd 124, CEBOLLA, NM
$315,000
137 acres
Idyllic and private ranch with irrigated acreage bordering the Carson National Forest.
Land - 1209 Hueco Street, Chaparrel, NM
$45,000
Please check schools information. Septic tank on property; other utilities in place;
Multi-family - 2712 - 14 Eubank NE, Albuquerque, NM
$185,000
Investors Dream...Units were updated in 2014: Roof, Stucco, Water Heaters, Furnaces and carpet.
Multi-family - 13128 Wenonah Avenue SE, Albuquerque, NM
$280,000
3,400 Sq. Ft.
Gated Community -4Plex. Coin Operated Laundry. Grounds Maintained by Complex.
Others - 2690 UPPER FRUITLAND HWY, FARMINGTON, NM
$350,000
40 acres
Land - FARMINGTON, NM
Others - 7701 E MAIN Street, FARMINGTON, NM
$899,900
1,734 Sq. Ft. on 4.82 acres
Land - FARMINGTON, NM
Others - 1710 W Aztec Blvd, Aztec, NM
$370,000
4,350 Sq. Ft. on 1.37 acres
Excellent retail/warehouse location on Aztec Blvd. Pavement, fenced yard.
Others - 4010 E 30TH Street, FARMINGTON, NM
$535,000
4,080 Sq. Ft. on 0.45 acres
Office - FARMINGTON, NM
Others - 1004 S. Cottonwood, Carlsbad, NM
$375,000
3,750 Sq. Ft. on 0.35 acres
FULLY FENCED IN PROPERTY WITH NICE METAL BUILDING, BUILDING HAS 5 OFFICE ROOMS WITH KITCHENETTE AND
Retail - 1001 W Picacho Avenue, Las Cruces, NM
$449,000
So Many Possibilities! With high visibility this property has over 3000 sq. ft.
Multi-Use - 411-417 Bullard Street, silver City, NM
$395,000
12,500 Sq. Ft. on 12600 acres
Historic Theater with income
Industrial - 306 Lagunitas Lane SW, Albuquerque, NM
$485,000
6,311 Sq. Ft.
This is a unique property. Backing up to Valle de Oro National Wildlife Refuge 570 acres.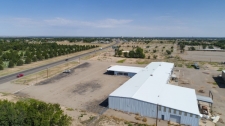 Industrial - 2801 SE Main St, Roswell, NM
34,577 Sq. Ft. on 10 acres
Online Only Commercial Auction
Multi-family - 500 Texas Street NE, Albuquerque, NM
$204,000
3,500 Sq. Ft.
Excellent income property! Four, 2-bedroom units including one with a backyard.
Others - 3751 N BUTLER Avenue 105, FARMINGTON, NM
$145,500
780 Sq. Ft. on 0.09 acres
Office - FARMINGTON, NM
As far as population density goes, New Mexico is one of the sparsest states in the nation with a total population of 1,984,356. However, there are still ample New Mexico commercial real estate listings to consider.
The government of New Mexico does a great deal to promote business in the state and offers tax credits and technical assistance. With the goal of creating new jobs, the law in New Mexico allows the government to provide buildings and commercial realty to businesses. In some communities, there is an Economic Development Gross Receipts tax that is collected in order to market areas for business development.
The economy of New Mexico is based largely on oil and gas. As the state is one of the largest producers of crude oil and natural gas in the country, much industrial space and office space is dedicated to these endeavors. In 2010, the Gross Domestic Product was $79.7 billion.
If you are looking for investment property in New Mexico, it is important to note that property tax will be assessed on commercial real estate listings. However, property taxes do not apply for personal-use property.
---