Search Results - New York
---
As the third most populated state in the country, there are ample commercial real estate listings in New York. In 2002, the gross state product was $1.16 trillion. Currently the population of New York City is estimated at 8.1 million, which makes it the largest city in the United States.
New York City is a major financial, manufacturing and transportation center, and, as a result, opportunities for investment property and commercial realty are plentiful. While the majority of New York commercial real estate listings are in New York City, the Buffalo area, Rochester, Albany also have strong markets for commercial realty.
In addition to outputs of items including chemicals, electronics, scientific instruments, and publishing, New York also has a strong agricultural side. Rural commercial land is dedicated to dairy, cattle, vegetables, and apples. Additionally, there are 30,000 acres of vineyards in New York and a large commercial fishing industry.
A great deal of the industrial space in New York is designed to help with its exporting of goods, which include food, commodities, diamonds, auto parts and electronics. In an average year, New York can export $71.1 billion in goods.
Multi-family - 133A Quincy Street, Brooklyn, NY
$4,300,000
9,750 Sq. Ft. on 0.06 acres
Coldwell Banker Reliable Commercial Division is pleased to offer 133A Quincy Street for sale.
Retail - 215 Washington Avenue, Endicott, NY
$575,000
6,250 Sq. Ft. on 0.88 acres
Have a restaurant or catering business but need a beautiful building to house it?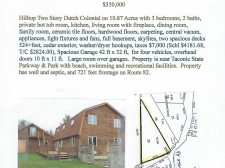 Multi-Use - 1300 route 82, Ancram, NY
$299,000
3,400 Sq. Ft. on 10.87 acres
ROUTE 82 NEAR TACONIC PKWY $299,000
Office - 99 N. Ocean Ave, Patchogue, NY
$950,000
0.18 acres
Located in the "Heart" of Patchogue. Profitable dental practice with active patients (40 yrs)
---
Retail - 47025 County Road 48, Southold, NY
$875,000
7,500 Sq. Ft. on 0.53 acres
MAJOR PRICE REDUCTION! Owner retiring. 47025 County Road 48 (1670 Furniture House)
Industrial - 130 W 10th Street, Huntington Station, NY
$2,880,000
30,000 Sq. Ft. on 1 acres
Ideal for warehouse or storage. In close proximity to the Long Island Expressway.
Retail - 266 Main Street, Center Moriches, NY
$625,000
1,700 Sq. Ft. on 0.17 acres
Prime Retail location located on southwest corner of high traffic intersection on Main Street in Cen
---
Office - 475 East Main Street, Patchogue, NY
$6,999,000
40,000 Sq. Ft. on 2.1 acres
All serious offers will be considered. . . Owner Motivated!!! Updated Pro-Forma Attached.
Industrial - 324 Doctors Path, Riverhead, NY
$1,200,000
13,400 Sq. Ft. on 2.5 acres
Price Cut!
Retail - 3431 Route 112, Coram, NY
$1,795,000
2 acres
Currently being used as a Auto Collision Retail Redevelopment Opportunity!
Industrial - 3030 Route 112, Medford, NY
5,000 Sq. Ft. on 1 acres
Prime Commercial / Industrial location for your business with excellent exposure and outside storage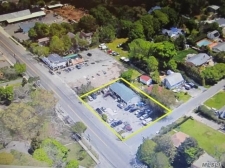 Multi-Use - 643 Montauk Highway, East Quogue, NY
$708,000
1,765 Sq. Ft. on 0.27 acres
Prime Commercial Corner Property w/ 3 Bay Service Garage
Office - 300 West Old Country Road, Hicksville, NY
$790,000
2,800 Sq. Ft. on 0.25 acres
Reduced! Now Available for Sale or Lease!
Office - 320 W Main Street, Sayville, NY
$869,000
3,450 Sq. Ft. on 0.56 acres
Commercial Building for Lease or Sale! 2,100 sq. ft. ground floor space with retail exposure.
Industrial - 155 Oval Drive, Islandia, NY
$1,353,600
14,400 Sq. Ft. on 1 acres
MAJOR PRICE REDUCTION!! Real Estate Taxes just reduced by 15%.
Retail - 28 Commack Road, Mastic Beach, NY
$849,000
3,500 Sq. Ft. on 0.4 acres
New on the market! Great retail location at the entrance of Mastic Beach Business District.
Industrial - 15 Middle Avenue, Holtsville, NY
$4,050,000
30,000 Sq. Ft. on 2.83 acres
30,000 Sf industrial building for sale on 2.83 acres.
Office - 85 Echo Avenue, Miller Place, NY
$795,000
4,800 Sq. Ft. on 0.35 acres
100% leased. Long term leases. Professional landscaped property. Excellent visibility and signage.
Retail - 625 Mastic Road Mastic Beach, Mastic Beach, NY
$600,000
2,000 Sq. Ft. on 25000 acres
Retail location with great visibility, high traffic count and a lot of street frontage.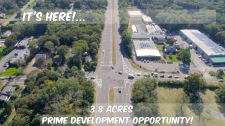 Multi-Use - 139 Main Rd, Riverhead, NY
$3,300,000
15,000 Sq. Ft. on 3.8 acres
3.8 Acres - L.I. Tourism Vortex HUB Prime Corner Property
---