Search Results - New York
---
Retail - 460 AIKEN AV, Rensselaer, NY
$275,000
4,500 Sq. Ft.
Office building in a residential area. Great location convenient to Albany and Regeneron.
Retail - 10340 STATE ROUTE 149, Fort Ann, NY
$199,000
1,122 Sq. Ft. on 2.5 acres
2.5 acre parcel with 1,122 sq. ft. restaurant, shed, and mobile home on property.
Industrial - 499 Beahan Road, GATES, NY
$1,500
800 Sq. Ft.
Property is also listed for sale. Sale of property includes two units of multi-unit building.
Industrial - 499 Beahan Road, GATES, NY
$89,900
1,680 Sq. Ft.
Sale of property includes two units of multi-unit building. Fully tenant occupied on a m to m lease.
---
Retail - 1617 UNION ST, Schenectady, NY
$395,000
4,281 Sq. Ft. on 0.12 acres
Great location. Premium Union St investment opportunity.
Retail - 654 2ND AV, Troy, NY
$279,900
2,220 Sq. Ft. on 0.08 acres
Building and business for sale. State of the art machines all coinless.
Retail - 72 MAIN ST, Hoosick Falls, NY
$214,500
3,800 Sq. Ft.
Previous use has been a Funeral Home. Ideal location lends itself to a variety of uses.
---
Retail - 0 State Route 31, Brutus, NY
$39,900
6.82 acres
Commercial property almost 7 acres! Property includes 2 other tax ids:
Industrial - 3193 East Genesee Street Road, Sennett, NY
$399,000
5,754 Sq. Ft. on 2.9 acres
ROUTE 5 BETWEEN AUBURN AND SKANEATELES NY. THIS TURN KEY FULLY EQUIPPED RESTAURANT IS READY TO GO.
Retail - 4700 STATE HIGHWAY 29, Johnstown, NY
$99,900
1,896 Sq. Ft. on 2.2 acres
**Owner Financing Available** Contact agent #2 for details!
Others - 37 Hatfield Ln, Poughkeepsie, NY
$849,900
13,285 Sq. Ft. on 4.15 acres
For decades, this industrial manufacturing plant produced some of the highest quality and uniquely d
Others - 1115 Lochland Road, Geneva, NY
$1,900,000
12,500 Sq. Ft. on 12.9 acres
Property is currently the Winnek 396 Post Home.
Industrial - 148, 142, 140 Chautauqua Ave., Lakewood, NY
$299,000
2,160 Sq. Ft.
Great 2,000+ sq ft commercial building with large buildable lot.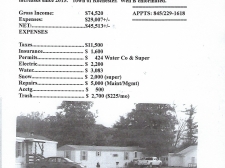 Mobile Home Park - ROUTE 209, ACCORD, NY
$500,000
7 acres
MOBILE HOME PARK $500,0000
Retail - 7812 Turin Road, Rome-Inside, NY
$350,000
47,916 Sq. Ft. on 1.1 acres
One of the last available commercial lots in the City of Rome.
Retail - 176 BATTER ST, Pattersonville, NY
$985,000
6,000 Sq. Ft. on 1.9 acres
Turn key B&B for sale with all operating equipment and furnishing included.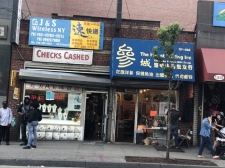 Retail - 135-03 Roosevelt Ave, Flushing, NY
$12,990,000
1,850 Sq. Ft.
Store Front At Busiest Location In Flushing
Industrial - 237-241 Grant Avenue, Auburn, NY
$1,800,000
52,800 Sq. Ft. on 9.5 acres
Sited on 9.5 acres of prime commercial property 237-241 Grant Ave. with land and 2 buildings.
Others - 1319 East New York Avenue, Brooklyn, NY
$1,350,000
130 Sq. Ft. on 0.16 acres
Coldwell Banker Reliable Commercial Division is pleased to offer 1319 East New York Avenue for sale.
Others - 435-3rd Street, Niagara Falls, NY
$725,000
13,991 Sq. Ft.
Located in the heart of Niagara Falls &
As the third most populated state in the country, there are ample commercial real estate listings in New York. In 2002, the gross state product was $1.16 trillion. Currently the population of New York City is estimated at 8.1 million, which makes it the largest city in the United States.
New York City is a major financial, manufacturing and transportation center, and, as a result, opportunities for investment property and commercial realty are plentiful. While the majority of New York commercial real estate listings are in New York City, the Buffalo area, Rochester, Albany also have strong markets for commercial realty.
In addition to outputs of items including chemicals, electronics, scientific instruments, and publishing, New York also has a strong agricultural side. Rural commercial land is dedicated to dairy, cattle, vegetables, and apples. Additionally, there are 30,000 acres of vineyards in New York and a large commercial fishing industry.
A great deal of the industrial space in New York is designed to help with its exporting of goods, which include food, commodities, diamonds, auto parts and electronics. In an average year, New York can export $71.1 billion in goods.
---