Search Results - New York
---
Multi-family - 1319 Newkirk Ave, Brooklyn, NY
$4,400,000
1319 Newkirk Ave is 20 Family, fully occupied 4 story brick building located in the heart of Ditmas
Retail - 5842 Camp Road, Hamburg, NY
$400,000
3,111 Sq. Ft. on 0.55 acres
POPULAR 3111 SQ. FT. TURN KEY RESTAURANT IN A GREAT LOCATION ON A BUSY (20,000+ CARS/DAY)
Retail - 3306 Lake Shore Road, Blasdell, NY
$650,000
3,432 Sq. Ft. on 0.13 acres
REAT OPPORTUNITY FOR A TURN-KEY GROCERY/DELI OPERATION ON HIGHLY VISIBLE AND TRAVELED ROAD.
Retail - 44 Towners Road, Carmel, NY
$200,000
2,000 Sq. Ft. on 0.46 acres
Priced to sell! 2000 square feet of retail or office space. Built in 1991.
Retail - 72 MAIN ST, Hoosick Falls, NY
$214,500
3,800 Sq. Ft.
Previous use has been a Funeral Home. Ideal location lends itself to a variety of uses.
Retail - 44310 State Hwy 28, Margaretville, NY
$249,000
2,700 Sq. Ft. on 3.01 acres
HIgh Visibility Building on Route 28 Located minutes outside of The Catskill Mountain Village of Mar
Retail - 53470 State Hwy 30, Roxbury, NY
$345,000
3,847 Sq. Ft. on 0.35 acres
This historic building was built circa 1845 and located on a high visibility Road in charming villag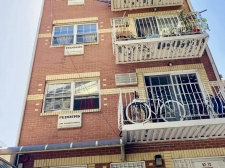 Multi-family - 52-12 Roosevelt Ave, WOODSIDE, NY
$1,800,000
0.04 acres
Prime legal 4 Family building in the heart of Woodside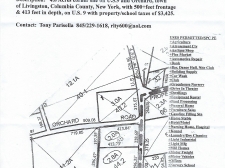 Land - U.S.9 & ORCHARD LN, LIVINGSTON, NY
$155,000
4.8 acres
4.8 ACRES (2 Lots)CORNER SITE (US9 & Orchard Rd) Hudson NY
Others - 270 N. Broadway Unit #PS, Yonkers, NY
$55,000
616 Sq. Ft.
This space with a little TLC would be a great spot for a professional.
Land - 2201 College Ave, Niagara Falls, NY
$850,000
25.53 acres
Located in the City of Niagara Falls & minutes from The Lewiston-Queenston Bridge &
Others - 538 COUNTY HIGHWAY 122, Gloversville, NY
$475,000
Ideal Business Opportunity...three buildings...one warehouse with upper level meeting space.
Others - 36 West Street, Gloversville, NY
$43,300
10,000 Sq. Ft.
Large brick warehouse.
Others - 246 S Kingsboro Avenue, Gloversville, NY
$99,900
1,200 Sq. Ft.
Come make this your business's new home!
Land - Lot 13 N SHORE RD Peck Lake, BLEECKER, NY
$50,000
Build your Adirondack home on this 8.4 acre parcel with lake access from Sunrise Bay.
Land - STATE HIGHWAY 29A Turkey Far, JOHNSTOWN, NY
$29,000
16.3 acres
16.
Land - 4243 STATE HIGHWAY 30, PERTH, NY
$54,000
This site on a heavily traveled portion of State Highway 30, would be ideal for professional, commer
Land - 183 FIFTH AV, GLOVERSVILLE, NY
$99,000
Ideal lot for new business, city water available across from Wellness center, great for medical offi
Land - STATE HIGHWAY 29 State high, JOHNSTOWN, NY
$21,500
6.3 acres
Like landscaping?
Land - NORTH COMRIE AV State High, JOHNSTOWN, NY
$399,900
18 acres
Across from the Steet Toyota and Treiber Nissan, great spot for another dealership or national franc
As the third most populated state in the country, there are ample commercial real estate listings in New York. In 2002, the gross state product was $1.16 trillion. Currently the population of New York City is estimated at 8.1 million, which makes it the largest city in the United States.
New York City is a major financial, manufacturing and transportation center, and, as a result, opportunities for investment property and commercial realty are plentiful. While the majority of New York commercial real estate listings are in New York City, the Buffalo area, Rochester, Albany also have strong markets for commercial realty.
In addition to outputs of items including chemicals, electronics, scientific instruments, and publishing, New York also has a strong agricultural side. Rural commercial land is dedicated to dairy, cattle, vegetables, and apples. Additionally, there are 30,000 acres of vineyards in New York and a large commercial fishing industry.
A great deal of the industrial space in New York is designed to help with its exporting of goods, which include food, commodities, diamonds, auto parts and electronics. In an average year, New York can export $71.1 billion in goods.
---