Search Results - North Dakota
---
Industrial - - Twin City Drive, Mandan, ND
$15
18.4 acres
Opportunity is Knocking! 18.4 acres of prime development land on Twin City Drive.
Others - 2005 30th Ave NE, Minot, ND
$899,900
Nearly 9000 sq feet of living space, showroom space, heated shop space plus cold storage area.
Industrial - 309 Jennings Avenue, Center, ND
$140,000
0.93 acres
OPPORTUNITY CALLS! Here's your chance to own a 24 unit storage building.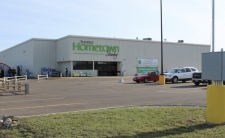 Retail - 702 Westview Lane, Stanley, ND
$1,795,000
26,004 Sq. Ft. on 2.53 acres
Almost new Shopko Hometown store. Shopko's loss can be your gain. 26,004 SH on +/-2.5 acres. Ready t
Industrial - 103 4th Avenue, Edgeley, ND
$96,500
Updated 2 Story - 6 Unit apartment building.
Industrial - 301 Gumbo Loop, Killdeer, ND
$1,975,500
8,500 Sq. Ft. on 2.65 acres
LOCATED AT KILLDEER: 2.65 ACRES! **
Industrial - 121/123 Main Ave S, Rugby, ND
$105,000
6,520 Sq. Ft. on 0.15 acres
2 BUILDINGS for the price of ONE!!
Industrial - 2808 Burdick Expy E, Minot, ND
$425,000
1.51 acres
Commercial Property in great high visibility location on frontage road along Burdick Expressway East
Others - 12 Emma Lane, Ross, ND
$400,000
Commercial property -5.
Industrial - 430 5th SW Avenue, Garrison, ND
$2,140,000
25,890 Sq. Ft. on 3.42 acres
Are you looking for a great investment on 2 motels and rental cabins just minuets from the lake?
Office - 1128 Westrac Drive, Fargo, ND
$680,000
5,678 Sq. Ft.
1128 Westrac Drive is a one-story office building that currently has three Tenants and 100%
Industrial - 608 7th NE Street, Hazen, ND
$100,000
1,664 Sq. Ft. on 0.42 acres
A great opportunity in Hazen. This commercial building features 1,664 square feet off office space.
Industrial - 1595 40th NW Avenue, Garrison, ND
$415,000
10,289 Sq. Ft. on 3.78 acres
COMMERCIAL BUILDING WITH 4+/- ACRES LOCATED EAST OF GARRISON.
Office - 3210 18 ST S, Fargo, ND
$280,000
2,552 Sq. Ft. on 7906 acres
Investment or Owner Occupied Office condo
Multi-family - 26615 Hwy 52 N 100 Main St, Carpio, ND
$500,000
Completely remodeled 21 unit apartment complex right off of a main road in Carpio.
Multi-family - 100 Main St 26615 Hwy 52 N, Carpio, ND
$775,000
Perfect business opportunity on a main trucking highway in Carpio.
Industrial - 502 S 1st Avenue, Jamestown, ND
$890,000
FOR SALE OR LEASE - Property Only!
Industrial - 1309 E Business, Jamestown, ND
$180,000
Build your New Business Here! with 5,100 Sq. Ft. Steele building and 149 Ft.
Industrial - 12 Heidi Lane, Ross, ND
$275,000
5,200 Sq. Ft. on 4.99 acres
Awesome oil company spot with heated warehouse and offices already to move into and get to work.
Industrial - 320 8St W, West Fargo, ND
$875,000
15,000 Sq. Ft. on 2 acres
West Fargo Investment Property
While North Dakota stands as the third least populated state in the US, there are still valuable commercial real estate listings available. North Dakota has had a substantial economic presence for over 10 years. There are fewer unemployed people in North Dakota than there are in other states. In fact, North Dakota has the lowest unemployment rate in the country.
One of the reasons the economy is thriving is due to the Bakken oil shale fields. A great deal of the industrial space in the state of North Dakota is dedicated to either food processing or petroleum. Rural commercial land is plentiful in the state, and production of cereal grains like barley, durum wheat, buckwheat and oats is strong.
Those looking for investment property in North Dakota should know that Fargo is by far the most populous city, with an estimated population of 105,549. Bismarck and Grand Forks follow, with populations of 61.272 and 52,838 respectively.
---