Search Results - North Dakota
---
Retail - 209 Wall Street Avenue NW, Moorhead, ND
$750,000
2,940 Sq. Ft. on 1.73 acres
Property is located right off of Wall St Ave and Broadway St near the Red River.
Industrial - 4240 21st SE Street 208, Mandan, ND
$190,000
1,072 Sq. Ft. on 0.04 acres
Are you looking for a great place to store you water toys, campers, etc? Look no further!
Others - SE 4th St & 5th St, Stanley, ND
$265,500
1.76 acres
Shovel Ready project in the heart of the Bakken. Located with easy access from Highway 2 in Stanley.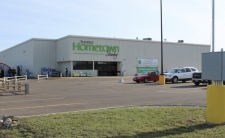 Retail - 702 Westview Lane, Stanley, ND
$1,795,000
26,004 Sq. Ft. on 2.53 acres
Almost new Shopko Hometown store. Shopko's loss can be your gain. 26,004 SH on +/-2.5 acres. Ready t
Industrial - 1309 E Business, Jamestown, ND
$180,000
Build your New Business Here! with 5,100 Sq. Ft. Steele building and 149 Ft.
Industrial - 117 Main Street, Turtle Lake, ND
$150,000
Here is your opportunity to be YOUR OWN BOSS.
Others - 120 N Central Ave, Kenmare, ND
$100,000
This building is massive and was once the lavish Old Opera House, and had been turned into apartment
Others - 2825 South Broadway, Minot, ND
$750,000
5500 sf Commercial Property-High Quality Construction. Great S.
Others - 200 Central Ave, Finley, ND
$75,000
Storage unit commercial property: 15 units and 2 office spaces. Great rental history.
Others - 12 Emma Lane, Ross, ND
$6,500,000
Commercial property -5.
Industrial - 1365 Tacoma Avenue 4, Bismarck, ND
$349,900
4,000 Sq. Ft. on 2.48 acres
Large shop condo, 4,000 Sq. Ft. total. Shop area 3,200 sq. ft. (40ft. x 80ft.) Loft area is 800 Sq.
Industrial - 1191 1st NW Avenue, Beach, ND
$475,000
30,296 Sq. Ft. on 1.17 acres
Great business opportunity in Western ND! This motel offers 25 single rooms and 14 double rooms.
Industrial - 2700 State Street M3, Bismarck, ND
$65,000
5,815 Sq. Ft.
Business that has been in operation for 30 years, positive sales history.
Industrial - 117 Main Street, Turtle Lake, ND
$150,000
5,210 Sq. Ft. on 0.27 acres
HOME COOKING AT IT'S BEST, LOOKING FOR A PROFITABLE INVESTMENT HERE IT IS.
Hotel - (No Address), Central ND, ND
Are you looking for an investment property?
Industrial - 2801 SW 3rd Avenue, Jamestown, ND
$1,990,000
4.91 acres
Investment opportunity to own a building that is fully occupied with lease through 2022.
Industrial - 2505 SW 3rd Avenue, Jamestown, ND
$1,495,000
15,680 Sq. Ft. on 2.84 acres
With current owners planning to RELOCATE their business in Jamestown, a GREAT OPPORTUNITY to invest
Land - Lot 38 Krumwiede Acres, Velva, ND
$32,900
Looking for 2 acres or more but close to small town living?? This is it!!
Industrial - 210 Main W Street, Beulah, ND
$48,500
GREAT NEW PRICE!
Multi-family - 212 Church Street, Flasher, ND
$225,000
4,077 Sq. Ft. on 0.17 acres
Have you been looking for an investment that is easy to maintain.
While North Dakota stands as the third least populated state in the US, there are still valuable commercial real estate listings available. North Dakota has had a substantial economic presence for over 10 years. There are fewer unemployed people in North Dakota than there are in other states. In fact, North Dakota has the lowest unemployment rate in the country.
One of the reasons the economy is thriving is due to the Bakken oil shale fields. A great deal of the industrial space in the state of North Dakota is dedicated to either food processing or petroleum. Rural commercial land is plentiful in the state, and production of cereal grains like barley, durum wheat, buckwheat and oats is strong.
Those looking for investment property in North Dakota should know that Fargo is by far the most populous city, with an estimated population of 105,549. Bismarck and Grand Forks follow, with populations of 61.272 and 52,838 respectively.
---